Mayor reflects on first 200 days in council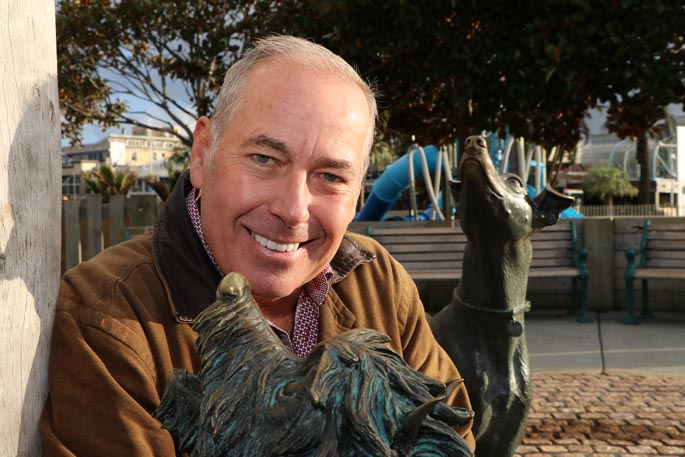 Almost halfway through the first year of the Council's triennium, and Tauranga Mayor Tenby Powell is taking the time to reflect on the events, activities and decisions of what has been a tumultuous time for the community, region and country.
He says it's also opportune to think about the future challenges the city will need to overcome.
"When I stood for election as Mayor, I was under no illusions about the scale for the task ahead, but I certainly hadn't factored the Whakaari eruption, an escalation of gang violence and a global pandemic into my thinking."
Ready or not, those events had to be dealt with and in the case of COVID-19, Tenby says the council will be responding to the economic impacts on the community and business sector for many months to come.
"As most people will know, I have a business and military background and many aspects of 'politics' do not sit naturally with me. It's my inclination to develop sustainable relationships, work as team, move forward at pace, and get things done.
"The Mauao base track was an example of that approach and after years of indecision, full accessibility was restored in eight weeks with resilient repairs, which cost just 12 per cent of the estimated cost for this work of $5.5 million."
Tenby says another example of working with key people is the gains council has been able to make through regional and national collaboration.
"Our partnerships with neighbouring councils have never been better and our improved relationships with Government ministers and departments have delivered significant infrastructure funding – more than $900 million for key roading improvements and Tauranga and the Western Bay of Plenty – with the likelihood of more investment to come.
"In a similar vein, the collaboration between community groups, council and Waka Kotahi NZ Transport Agency which has resulted in the re-inclusion of an underpass at Bayfair, to provide safe and convenient access for cyclists, pedestrians and people on mobility scooters across the Baylink section of SH2, shows just how much can be achieved through a cooperative approach."
Tenby says fostering trusting and cooperative relationships with iwi and hapu is another key goal.
"Let's be frank, while some may disagree with this approach, tangata whenua have a key role to play in virtually every significant decision Council makes.
"The Council's move – again after many months of inaction and contradictory decisions – to transfer the title of 11 Mission Street to a Ngai Tamarawaho trust, with the provision that the land be leased at a peppercorn rental to The Elms, was a small but highly symbolic gesture that as an organisation, we were willing to recognise and do the right thing.
"I would also like to recognise the appointment of Bruce Robertson as the independent chair of Council's Finance, Audit and Risk Committee."
Tenby says Bruce brings deep experience in the local government context to this key role and is contributing strongly to our management of audit and risk activities.
He says dealing with the homelessness issues is also a pressing need.
"Again, this is an area where a team approach is beginning to see some real progress made. Local government, central Government agencies, local philanthropic funders and community organisations have joined forces with the aim of eliminating homelessness through a 'Kāinga Tupu' regional strategy and action plan, which will be implemented by the Mayoral Taskforce on Homelessness.
"More detailed information on Kāinga Tupu will be released soon and I'm confident that this multi-disciplinary team of committed people and organisations will make a real contribution to the issues which have been all too obvious in our city for too long.
"We've all seen what the 'team of five million' can do when there is a concerted will and a clear goal."
New Zealand has not just flattened the COVID-19 infection curve – we've obliterated it, says Tenby.
He says that's now paying off through a progressive opening up of our economy, but there's a massive job ahead to get our business sector and community back on its feet and repair the damage caused by the closure of our borders and the pandemic lockdown.
"Here in Tauranga, it's time for the team of 140,000 to step up.
"Our three Mainstreet organisations are collaborating in a 'Buy Tauranga: Buy Local' campaign, which has had my full support, as have other initiatives, like Tourism BOP's 'No Place Like Home campaign.
"These initiatives are designed to support small- to medium-sized businesses, the backbone of the economy and our employment market. So, when you are purchasing, please spend locally and help support the businesses that support our livelihoods."
He says the council is committed to assisting in the recovery in any number of ways – check out the website for details – but council's most significant role will be in working with the Government to get 'shovel-ready' infrastructure projects underway that will create jobs and deliver lasting benefits for the community.
"That's still taking shape, but it's encouraging that most of the $1.1 billion-worth of projects we put forward for funding consideration have made it through to the next round for Government consideration.
"To play our part, we will have to have 'skin in the game' as a co-investor with government, so it's important that we retain the necessary financial capacity to contribute to the future of our city.
"It's also crucial that we continue to address the city's fast-growth infrastructure needs and that means we have to focus on revenue, so that we can fund the debt needed to deliver the water, wastewater, roading and amenity projects we need."
At the same time, elected members recognise the landscape has changed dramatically post COVID-19 and many residents have been adversely affected by the lockdown.
Tenby says at last week's annual plan meeting, the proposed average increase had dropped to 4.9 per cent and it would be great to get it lower still through critically assessing our services and projects.
He says there'll be another round of community consultation before we settle on our final budgets for 2020/21.
"So please get involved, and please also think about the things we need to do to ensure Tauranga remains a great place to live, work, learn and play."


More on SunLive...