Squash star eager to get back on the court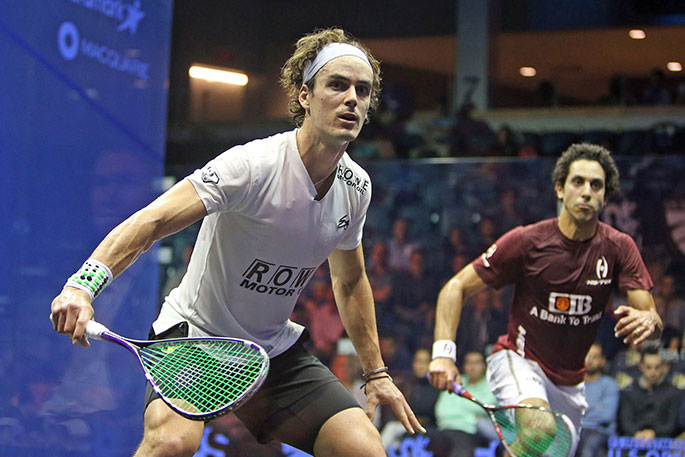 Paul Coll is itching to get back on the squash court - and excited that the world teams championship remains on track to be held in Tauranga late next year.
New Zealand's No1 male squash player has been in lockdown in Amsterdam, with his squash playing partner Nele Gilis, since mid-March.
It's the longest he's gone not playing and he reckons the walls are closing in on the couple's apartment.
"I've had the racquet in my hand and been visualising what it feels like to be playing, and for the first couple of weeks I was okay with that, but now I'm done. I want to get back on the court."
Life in the Netherlands is slowly opening back up, restaurants are open again, and golf and tennis are allowed.
"The outdoor stuff is fine but they are still quite strict on indoor activity because of the sweat."
The enforced COVID-19 break came at a time when 28-year-old Coll was enjoying a good run of success with his last match a five set loss to Egypt's Ali Farag in the final of the Windy City Open Chicago.
He's on the shortlist for voting for the PSA's male player of the year alongside four Egyptians.
He admits he is worried it could take time for his touch to return, but hopes the PSA will be on again by October and wants to return to New Zealand to play in the nationals in August.
And he is excited about having the best men in the world at the World Squash Federation Men's World Squash Team Championship in New Zealand next year.
"I can't wait to be honest. We will have a strong team on our home turf and it will be great to make the other guys travel across the world to play us."
Coll knows Egypt will be the team to beat as they have the top four players in the world and five in the top 10, but says it's a tight tussle among the rest of the pack and he expects New Zealand to be "right up there".
The WSF Men's World Team Squash Championship is one of squash's most prestigious events and attracts the top male players from around the world.
The event has not been hosted in New Zealand since 1983 but will run from December 13-18 next year.
Tauranga has a proven track record of holding squash world championship events, successfully hosting the WSF World Junior Squash Championships in 2017.
The principal venue for next year's teams world championship will again be the Devoy Squash & Fitness Centre, which boasts six glass-backed courts.
The Te Puke and Mt Maunganui Squash clubs will also be utilised. The impressive all-glass court will be the show piece for the event.
More on SunLive...