Calls for early WBOP dog registrations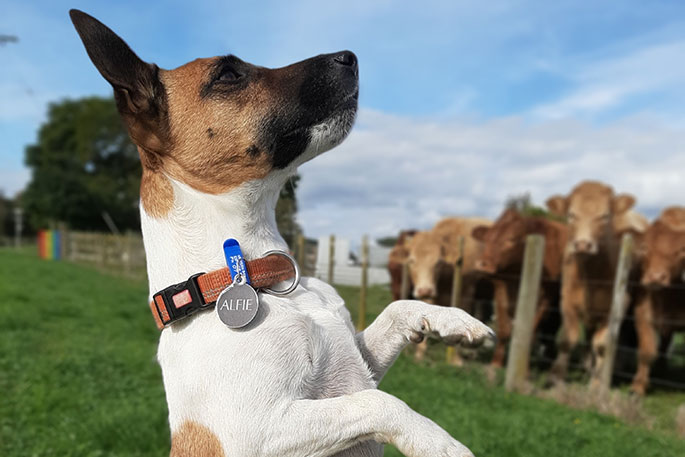 People are being encouraged to register their dogs early for a chance to be a "pin-up" star for the Western Bay of Plenty District Council's animal services.
All Western Bay dogs must be registered with a blue tag by the end of June to have a chance for their best mate to team up with Council's spokesdog Alfie as the face of Western Bay dogs in 2020/21, including the Western Bay Wander Dogs Summer Series.
Alfie is first off the blocks with his new blue tag to remind Western Bay dog owners it's time to register to make them legal beagles for 2020/21.
Registrations are open and there's no change to the fees this year.
"Your dog needs to be registered with its blue tag by 1 July 2020. Existing dog owners will receive their information pack in the mail this week along with Alfie's newsletter with the latest on what's up in his team," says Council's Compliance and Monitoring Manager, Alison Curtis.
"Our dogs help keep us happy and healthy and we highlight some tips and tricks in our newsletter to keep them happy and healthy too. If you need more advice you can always contact the animal services team at Western Bay to give you a helping hand."
Register by the end of June, snap a photo of your pooch sporting the blue tag, post on Facebook and tag @westernbaycouncil and your dog will be up for selection as Alfie's bestie for the coming year. The pin-up-pooch's owner will receive an illustrated portrait of their dog and a bag of Blackhawk dog food.
If your or your dog/s details have changed from last year you can update your information directly on this online link https://www.westernbay.govt.nz/rules-regulations-and-licenses/animal-services/registration or on your registration form when you make payment.
All information on fees and how they apply to different dogs (de-sexed, unneutered, dangerous, working and assistance dogs etc.) is available on Council's website.
For any queries please contact Council's customer services team, phone 0800 926 732 or email customerservice@westernbay.govt.nz
More on SunLive...