Council proposes spending cuts, reduced rates rise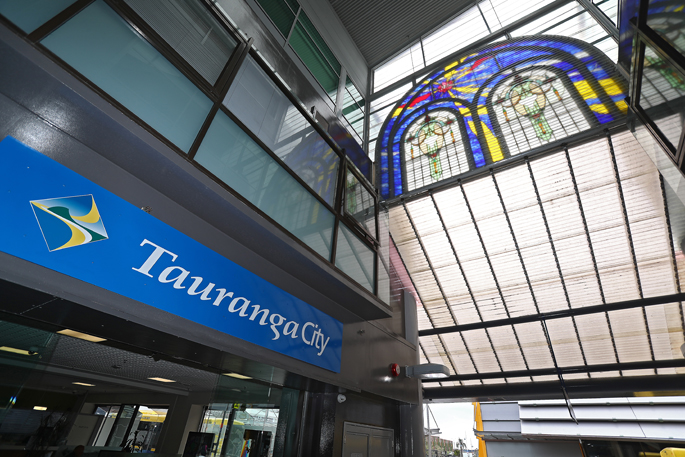 Tauranga City Council will consult with the community on a draft Annual Plan 2020-21 that has been heavily revised in response to the impacts of Covid-19.
The council is looking to cut $10 million from its operational budget while restricting the median residential rates rise to 60 cents a week and the median commercial rates rise to $9.40 per week.
It is considering many other changes to its original draft plan to balance its books against an expected $20 million drop in revenue during the coming financial year.
If approved after consultation, the revised budget would cap the council's debt at 2.5 times its annual revenue with $225 million planned for infrastructure building projects related to transport, water supply, wastewater, parks and other facilities considered crucial for our growing city.
The rates impact on residential and commercial ratepayers can be viewed in the table in paragraph 135 on page 46 of the council agenda, accessible on this link.
Mayor Tenby Powell says the proposed budget cuts would help restrict rates rises while providing a platform for recovery.
"We recognise the very real difficulties facing many people in our community," says Powell.
"At the same time, it's vital that we provide for our growing city by investing in infrastructure."
As well as helping to stimulate the local economy, supporting businesses and providing jobs, Mayor Powell says it will also send a clear message to central Government that the council is a rational co-investment partner in Tauranga's recovery.
The council is working with central Government on a partnership to invest in Tauranga's future. The Government expects councils to contribute towards such partnerships from their balance sheets and rates.
Councillor Kelvin Clout says that council has "effectively agreed on a base case of 4.9 per cent average rates rise, meaning quite a reasonable 1.3 per cent for the median residential and 11 per cent for the median commercial ratepayer".
"This is before the decisions we made on Thursday to reduce some of our operational expenses."
Kelvin says the final rates figure will be set after they have received submissions from public consultation and then deliberate in July.
"My personal view is that there is a limit to how far down we can push rates, particularly with the significant investment we need to make in both hard and soft infrastructure, and the need to restore our risk reserve which is well in deficit, primarily due to ongoing leaky home liabilities or contingencies carried by council," says Kelvin.
"The 250 per cent debt to revenue ratio still allows good headroom from the revised LGFA borrowing limit of 300 per cent."
The council meeting agenda document shows there are five options provided for setting a total rates requirement. The median residential rates range from -3.5 to 4.1 per cent and a range of 7 to 14 per cent for commercial median rates with five options.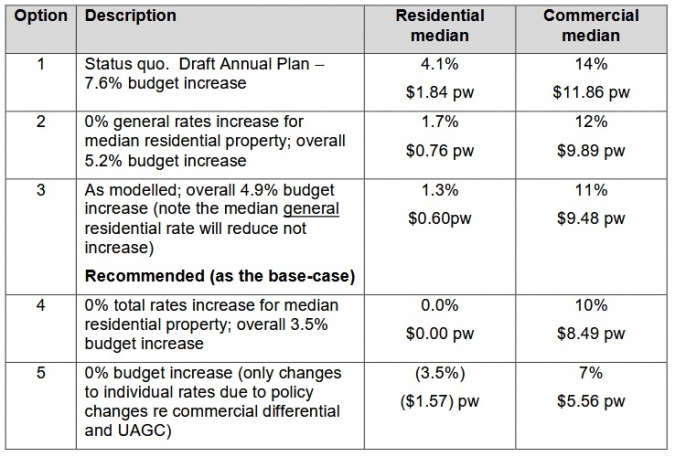 These options all exclude water rates. One of the five options will be selected through voting by councillors. Table: Section 135, Pg 46 of the Ordinary Council Meeting Agenda Thursday 28 May 2020.
Option 1 is a 7.6 per cent rates increase across the board. Option 2 is a 5.2 per cent rates increase across the board. Option 3 is a 4.9 per cent rates increase. Option 4 is a 3.5 per cent total take.
Looking at page 96 of the report, the median commercial rates are going to go up by an average of 23.7 per cent. On page 98, the commercial rates under Option 5 will be 12.4 per cent or 5.6 per cent less than what the staff recommended at Option 3. There's a 5.6 per cent saving under Option 5.
In Option 5, for the lowest residential rates for properties under $320,000, the rates will drop 10.6 per cent.
"Option 5 is the only one that shows no extra money taken from the community," says Councillor Andrew Hollis. "Commercial property will pay more and residential will pay less.
"For the residents, Option 5 is the best, but businesses will get hit whatever option is chosen."
The two options at the low end (Option 4 and 5) are an overall zero percentage average rise or a zero percentage median residential rates rise.
Option 5 is an overall zero percent rates rise for residential and commercial. There's no increase in the budget.
Option 4 is a zero percent rates rise for residential only, with an overall 3.4 per cent budget increase.
"It's interesting to note that there is no option for a rates freeze," says Andrew.
"At this time, post COVID, it is unreasonable to increase rates at all. It is insanity to spend large sums on amenities such as Elizabeth St rain gardens and footpaths.
Andrew believes it "is the right time to trim the fat, to hone procurement processes and to make systems efficient for the city and its residents".
"Even increasing one per cent is missing the opportunity to show solidarity and empathy with the residents and ratepayers of this city and I hope that my colleagues feel the same and do not fall prey to the spenders on council," says Andrew. "I note that there must surely be a way to operate this city without cutting costs such as the hanging baskets, the tropical Display House in Robbins Park and New Years' Eve fireworks."
Councillor Dawn Kiddie wants to see robust consultation with the community in order to ensure the best outcome for both the residential and commercial ratepayer.
"As a councillor and ratepayer in our beautiful city, I along with some of my amazing colleagues are committed to ensuring that we do whatever it takes to consult with our communities for the best overall outcome for us all," says Dawn.
"We need to keep an open mind as we enter into the Annual Plan strategy and process as we are in uncertain territory as a result of Covid. We must listen to all sectors of society and the pain points they present.
"Our business community is the backbone of our economy and we must ensure they are getting the help and support they need to survive and once again flourish as soon as possible! Now is the time for empathy, compassion and fiscal responsibility and we must all work together as a team to get the best outcomes possible, for Tauranga deserves us to all stand up and be the leaders that we were elected to be! Tauranga deserves better leadership!"
Councillor Steve Morris is also looking forward to the consulting with the community.
"it's taken a while but I'm pleased colleagues have abandoned an out of touch 12.6 per cent then 7.6 per cent rates increase at a time that our community and businesses are stressed," says Steve. "There is still room to do better and I welcome the public having their say, I'll certainly be considering the feedback very carefully."
The council is proposing to include some additional service cuts and funding options in the annual plan. People will be able to have their say on these proposals when the new draft plan goes out for consultation, likely towards the end of June.
The original draft plan was based on a pre-Covid environment. Consultation finished on May 3, but hearings and deliberations have since been placed on hold. People who submitted on this earlier plan will be given the option of retaining, revising or retracting their submissions.
More on SunLive...