Services to education honoured in Queen's awards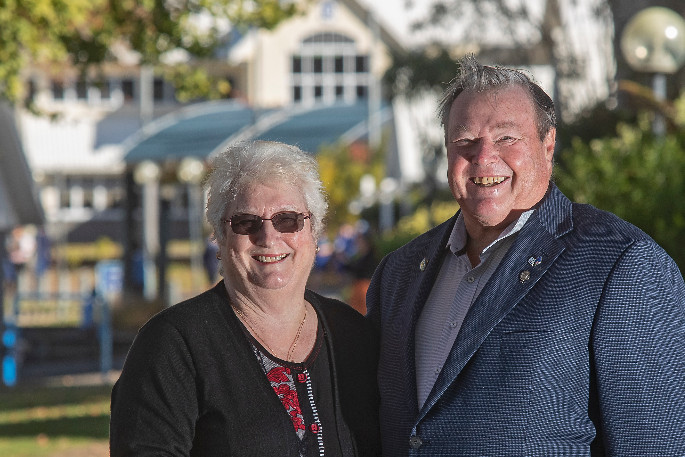 "I'm grateful that someone felt that I was worthy enough to be nominated," says Graham Preston on hearing that he was being awarded the New Zealand Order of Merit for services to education.
Graham was the key driver of the establishment of the Bethlehem Educational Campus in Tauranga.
"It is representing a special type of education, a special character and faith-based education. We're grateful that New Zealand is a country where Christian families can choose a Christian education, and it's supported by the Government to allow us to do it," says Graham.
The Christian Education Trust was formed in 1986 to acquire a suitable site for Graham's vision of an independent school founded on Christian principles. Campus development began in 1988 and today the campus includes Bethlehem Tertiary Institute, an onsite early childhood learning centre, and four other centres.
"Once we took the plunge then Government supported us later. So we're very grateful that we can provide a quality Christ-centred education."
Graham and his wife Vicky have been married 52 years and have tried to do everything together.
"When the vision of Bethlehem became urgent I asked Vicky if she would release me to do this because it would be demanding, not just a nine-to-five job, and we had two children who were coming in towards their teenage years.
"She made it possible, she never grumbled, she never stopped me. She was always there, when I was down, she always encouraged me. So it was a joint endeavour."
Graham also acknowledges that it was far more than just the two of them.
"There were literally hundreds of people that were a part of what I would call the Bethlehem campus governance team and leadership team, and all volunteers, all committed and all singing from the same song sheet and not worrying about who was getting the credit.
"I stand totally amazed at the team that surrounded me. It was just a joy."
Graham first had the vision for the college early in his adult life.
"I came to the Lord when I was 20 and I sensed a call, literally a voice in my hearing and I looked around and wondered who was talking to me – telling me that my destiny lay in developing a Christian school.
"I didn't know what that was, I just assumed it was church-based.
"About 17 years after that word, I sensed God say 'do it'. And 'do it now'. And so that's what we did.
"The Christian Education Trust was formed in 1986. It was charged with fulfilling the dream. In 1987 we purchased the first block of 120 acres to get the job done and in July 1988 the first student started."
Graham was Principal of Bethlehem College from 1988 until 2006. In 1999 Bethlehem College became a state integrated school and now has a roll of more than 1,700 with 60 international students.
From 2009 to 2016 Graham helped establish Chapman College in Rotorua. He established a network of smaller Christian schools across Gisborne, Taupo, Rotorua, Matamata, Paeroa, Whakatane, Hamilton and Te Awamutu for sporting and cultural event exchanges.
Graham has been Chairman of the New Zealand Association of Christian Schools and the Association of Integrated Schools. He helped establish the New Zealand Christian Proprietors Trust for the extension and support of non-denominational Christian education. He has also undertaken reviews of special character schools in New Zealand and Australia, and initiated professional development opportunities for educators in Christian Education through the Koinonia Institute. He was also involved with the establishment of the Amped for Life Drug Education Trust.
"The Bay of Plenty is the most wonderful place, and if I had to choose any other place in the world it would still be here," says Graham.
"To be able to work with people who are so positive and warm, and people who have made the dream possible is just so enormous. It's just mind-boggling really.
"I thank all of those people, and governments, and civil authorities – even though they were hard at times, we did get there, and came to our rescue on many occasions.
'It is a community effort, and to each and every one who made it all possible and continue to do it by supporting us, a big thanks."
More on SunLive...