Medicine, music and philanthropy honoured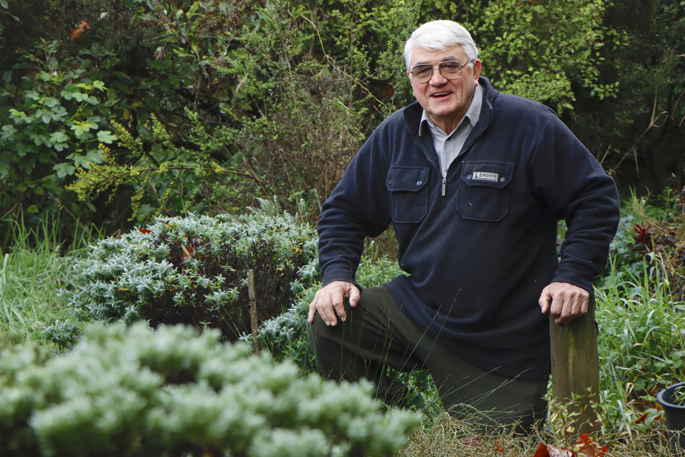 Traditional Maori medicine expert Robert McGowan reckons getting recognition from the Queen could encourage more people in Tauranga to help take care of the whenua.
The Tauranga man has been recognised for services to Maori and conservation on the 2020 Queen's Birthday Honours List.
Robert has been involved with Nga Whenua Rahui since 2006, a Ministerial fund established in 1991 to provide funding for the protection of indigenous ecosystems on Māori land.
Over the past 25 years, he has worked to help restore the practice of rongoa Maori - traditional Maori medicine - in New Zealand.
Robert was "a bit embarrassed" when he first found out he had made it onto this year's Queen's Birthday Honours List.
But then, he realised it could encourage people to help protect the planet.
"The recognition is a way of getting the message out there, and encouraging and involving people. But also giving them hope that we can turn things around."
A guiding principle Robert lives by is 'Ka ora te whenua, ka ora te tangata - When the land is well, the people will be well'.
All the things we need to stay alive come out of the earth, he explains. If she is not well, then we cannot be well.
"If we make looking after Papatunuku the most important thing in our lives, then we all have a much better chance of surviving the future."
Robert says indigenous medicinal plants can be used to help regenerate bush, and are good indicators for the state of the environment.
"Medicinal plants are really good indicators about the state of our environment because their main job is to heal the land."
He commends environmental care groups across Tauranga and the rest of New Zealand that put the work in to look after the earth.
"In Tauranga Moana, and throughout New Zealand there's hundreds of thousands of people involved in groups doing their little bit. Look at the Aongatete Forest Project."
Robert says his biggest concern is the indifferent approach some Kiwis have towards looking after the environment.
"The biggest worry is lots of people are quite indifferent and don't actually stop and think about it. We have got to really try and reach those people - so they can listen and get involved.
"The most important thing for me as an older person is to pass on what I know to those that follow on."
Robert was the founding Chair of the Kaimai-Mamaku Catchments Forum from 2006 to 2018 and was involved in ensuring that the Tauranga Harbour and Waihou Catchments were managed sustainably.
He was also awarded the Loder Cup in 2018 for 25 years of contribution to investigating, promoting, retaining and cherishing New Zealand's indigenous flora.
Morris McFall
A Tauranga philanthropist says building a rehabilitation centre for people with disabilities is one the most important contributions to the community he has made in his lifetime.
Morris McFall has been recognised for services to the community and philanthropy on the Queen's Birthday 2020 Honours List.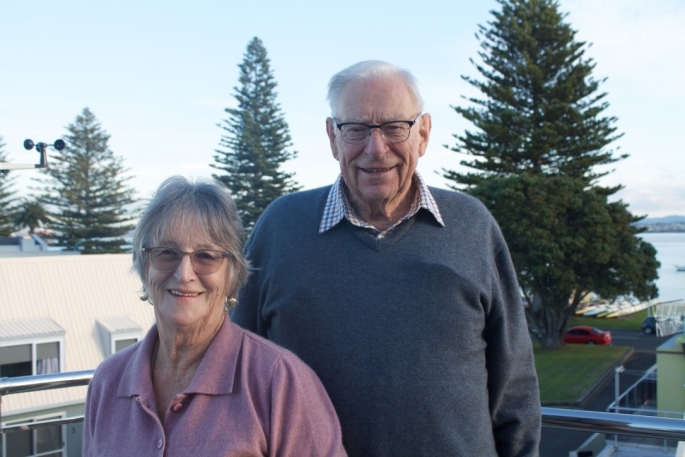 Tauranga's Morris McFall has been recognised for his services to the community and philanthropy. Pictured: Morris and his wife Hilary McFall.
But rehabilitation centre Next Step Gym isn't the only cause the former Te Awamutu dairy farmer has contributed funds, time and resources towards.
The founder of the McFall Group of Companies has supplied Waipuna Hospice, Westpac Helicopter Trust, Starship Hospital and the St John's Ambulance with much-needed resources to help improve their services.
Inspiration for establishing the Mount Maunganui gym came about after a traumatic farming accident in 2002 that left Morris' son Bryce McFall tetraplegic.
"Our middle son was the only farmer of the three boys and he was about to take over our dairy farm. Then he had a quad bike accident and became a tetraplegic.
"We went through the process of having doubt that he would even survive."
But Bryce did survive, and Morris says part of this is thanks to the aftercare he received following the accident.
"He has very considerable disabilities, but he has made a real success of his life. Our son is an example of what can eventuate of good rehabilitation and aftercare."
Morris says the facility has been a "success story", and continues to give people in Tauranga with living disabilities a lot of pleasure.
"I guess you would have to say that it is one of the important things we have done in life."
Next Step is for people with all forms of disabilities, particularly those with spinal injuries, post-operative care and congenital problems.
Morris and his wife Hilary McFall have also been major sponsors for Paralympics New Zealand in recent years.
He is both a Fellow and Life Member of the Chartered Institute of Logistics and Transport and was awarded the Sir Bob Owens Trophy for an outstanding contribution to the logistics supply chain, transport sector, and the community.
"This is one of the most prestigious awards I have received - it is pretty special," he says.
Morris was also a Waikato Regional Councillor from 1992 to 2001 and chaired the Regional Land Transport Committee for this period.
"It has been a nice surprise getting this recognition," says Morris.
"I don't go to a lot of trouble seeking kudos, but I must say I have been very blessed to have a wife who has been so supportive. That has helped to no end."
Morris and Hilary have just celebrated 61 years of marriage.
The pair say they prioritise making substantial contributions to the organisations that need them most, he says.
Morris joined Te Awamutu Rotary Club in 1978 where he was a founding member of the Pirongia Forest Park Lodge.
He personally carried out all of the site development and access roading. He also constructed and installed the viewing platform for the Te Awamutu Rose Gardens as a Rotary project.
Coreen Gray
Music has brought Coreen Gray a lifetime of joy, but never in a million years did the Tauranga woman expect to receive recognition from the Queen for her choral contributions.
Coreen, who has been a singer and voluntary music teacher since the 1980s, says she is "absolutely staggered" to have made the Queen's Birthday Honours List this year.
"I just can't imagine that I have done enough to be awarded such a wonderful thing. I am just so thrilled about it," she says.
Coreen joined the Tauranga community choir Oriana Singers in 1985 and lead them until 1996 – she was a member for a total of 29 years.
She also helped establish the Tauranga Women's Institute choir in 1993, of which she was choir mistress and conductor.
One of the many highlights of Coreen's career was judging the young Kiri Te Kanawa at a singing competition in Te Awamutu.
"She was just a young girl, and I will never forget how impressed I was with her voice."
Musical involvements continue to keep Coreen busy nowadays, with her volunteering as a singing instructor for people with dementia at Bayswater Retirement Village, as well as working with general residents to stage musical productions four times a year.
The singing teacher says music will always be a part of her life simply because she just loves it.
Every Sunday she plays the organ at St Mary's Anglican Church in Mt Maunganui.
The singing teacher says music will always be a part of her life simply because it makes her happy.
"I just love it. I am only so sorry that as one gets older it is just not the same as it used to be, but I still sing."
Coreen was a vocalist and accompanist with the Tauranga Civic Choir for 10 years and was made a Life Member in 2013.
She is part of Registered Music Teachers New Zealand, and a member and past conductor of the Te Puke Lyceum Choir.
Coreen reiterates that anyone can get joy from music – whether that be from participating or listening.
"It just one of those things that really is a joy of life. And there can be enjoyment from both participating and listening."
More on SunLive...