Plants, recovery and education earn people OM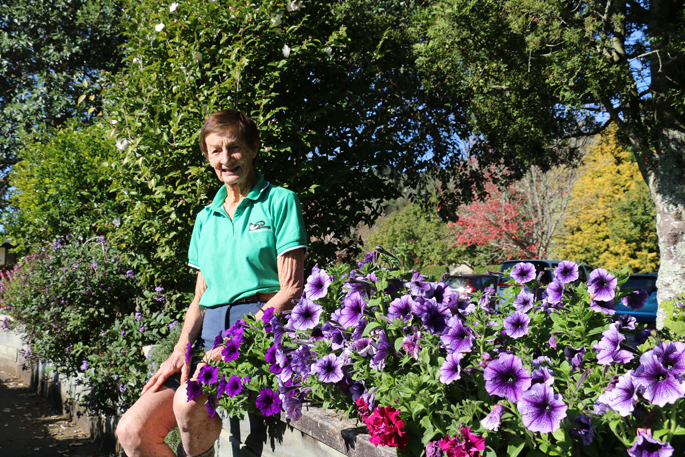 "I can't use a computer but I'm very good at weeding."
With a sentiment like that it is no surprise that Jo Dawkins is being made a Member of the New Zealand Order of Merit for services to horticulture in the Queen's Birthday Honours.
She has dedicated her life to plants and co-founded the Te Puna Quarry Park with Shirley Sparks in 1995.
Jo says at least three years of planning went into converting the quarry into a park before it opened in 1997 and the first tree planted is a pohutukawa that now stands tall over the carpark.
The 83-year-old still spends three days a week weeding, planting and caring for the major horticulture and floriculture destination.
"I love doing it. I'm a Gardner, I'm a worker rather than a sitter. Well it's in your blood."
She is humbled at receiving the Order of Merit but says it is also a reward because she has been involved since the start and does more hours than anybody.
Jo says you're not allowed to cry at the quarry because it's a happy place and she loves to see children and adults alike revelling in the beauty.
"It's wonderful to see people enjoying it so much."
Jo was born in Tauranga in 1937 and has lived here ever since, her love of flora started from her father and their large garden in Oropi.
"My dad was a prisoner of war and one of the things that kept him alive, he'd write home and say, 'I think we should plant delphiniums by the fish pond,' or silly little things like that."
He had a small box of water colour paints and would paint what he thought were the delphiniums with a view of the mount in the background and that's what kept him going, she says.
Jo has also been New Zealand's president of the International Plant Propagators Society, an association of plant production professionals.
"That was very, very interesting. I learned a lot from all the other people who were far more expert than me."
Jo and her sister also had a florist shop and Jo had a nursery when she lived in Te Puna not far from the quarry.
She and her husband of 61 years Keith have made two of the 47 sculptures in the park including the mosaic China Family - the most photographed sculpture in the park.
The park relies heavily on donations grants and volunteers to run and they are looking at getting an Eftpos system for donations because cash is becoming less common.
We keep asking for a pay rise but we don't get one, jokes Jo, seeing all her time is volunteered.
Despite spending so much time working the park Jo does take time to enjoy it and take in the view when she eats her lunch on Saturdays.
"The view is what we consider our number one asset."
David Benton
David Benton didn't think he had a problem with alcohol let alone class himself as alcoholic but in his 40s he came to that realisation with the help of a counsellor.
"I was heavily involved in rugby and sports. So alcohol was part of the scene, and I was very good at drinking alcohol.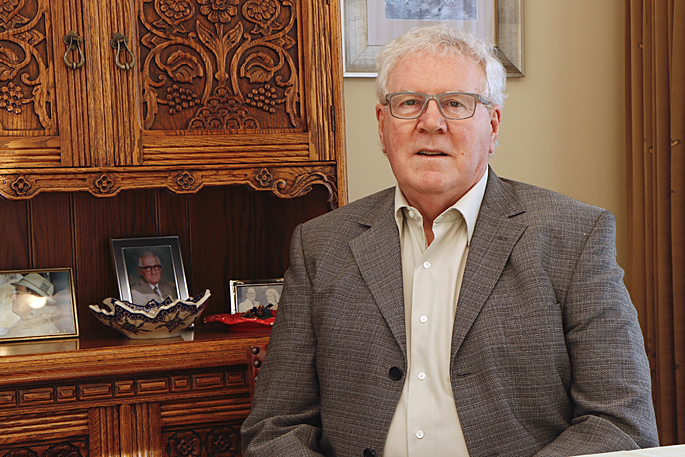 David Benton has dedicated over 30 years to addiction support and treatment Image: Daniel Hines/SunLive.
"I wasn't totally sure that I was alcoholic at all. In fact, I didn't want to be thanks very much."
His journey to sobriety inspired him to help others and he and his wife Michael Ann dedicated their 30 year marriage to addiction support services.
His career changed tack from school principal when he moved to the United States and started working in a drug and alcohol outpatient programme.
David and Michael Ann received a lot of training during their time in the US but found New Zealand had a different approach and attitude towards recovery on their return in 1992.
"People weren't really as accepting of people in recovery as they were in the States and as they are now."
In 1995 they moved to Tauranga and in 1999 they opened the Hamner Clinic a mental health and addiction service.
"We had this vision of something that would provide longer term and a more gentle kind of support.
"It's been a great work really and there's been some and there are wonderful people working there today, they're very dedicated.
"The thing that really keeps you going is the enthusiasm and the courage and connection that you have with the clients who come to us."
At 74, David is still working full time as the clinic director and it is this dedication that has earnt him a place as Member of the New Zealand Order of Merit for services to addiction support and treatment in this year's Queen's Birthday Honours.
"I'm really chuffed to get it for me. I think it's also good that this kind of work does get recognised.
"My regret is that Michael Ann is not alive to share in it. She was an inspiration and my companion in this work."
Michael Ann passed away in 2017 and David recalls the last time they went to see a show at Baycourt.
They were approached by a couple and the man said to them "thank you for saving my life" and his wife said "and for saving our marriage".
"We know that recovery does that and that sort of a recognition is great," says David.
David has decided it's nearly time to retire and plans to garden, play golf and he has wanted to get back into painting for years.
"This is the year."
Ngareta Timutimu
Matapihi woman Ngareta Timutimu has dedicated five decades of her life Maori education and she continues to do so.
She is passionate about Maori culture and reo and says she has never been unhitched from Maori education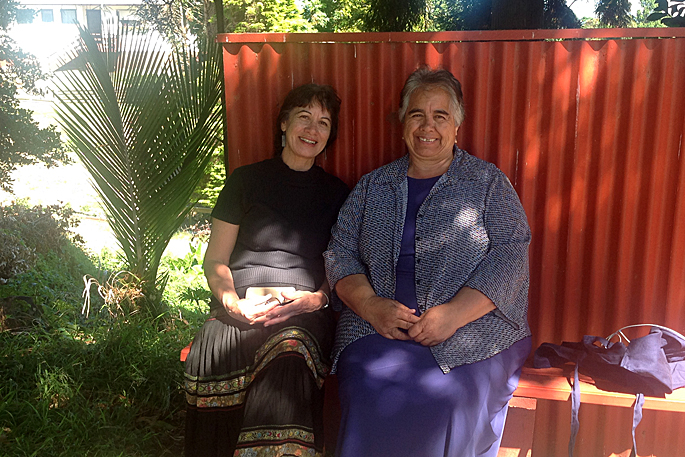 Ngareta Timutimu, right, with her cousin Susan Mlcek at their marae Hungahungatoroa. Supplied image.
"It was an exciting time to go into education in the seventies. That's when I first went into teaching so it's really stemmed from there.
"I have a passion about our young people and their whanau and our Maori communities and that education is a great help to our wellbeing."
Her devotion to Maori culture and education is being rewarded with a place in the New Zealand Order of Merit for services to Maori and education.
At first Ngareta was a little ambivalent about receiving the award because she doesn't think she has done more than anybody else but she decided to accept it to profile Maori education and te reo.
One of the roles she is particularly proud of is her time as principal at St. Stephens a Maori boarding school.
"Those are some of the educational kaupapa that were operating in the eighties and nineties and that were producing leaders."
She says some people might not be proud of being principal there because it closed down but she says the school produced leaders like NZ First MP Shane Jones.
Ngareta is disappointed by the closure of the school and other Maori boarding schools including Queen Victoria and more recently Hato Petera and Turakina.
She says the schools were unique and she hopes at least two reopen because they create leaders that are knowledgeable and confident in both Maori and Pakeha worlds.
In her current role as education manager for Te Runanga o Ngai Te Rangi Iwi Trust Ngareta works with around 40 schools and early childhood centres around Tauranga to support Maori learners.
She says in the last 10 years there has been a return to a focus on reo and Maori culture in education but more work needs to be done to improve Maori education outcomes.
Ngareta was a foundation member in establishing Te Kohanga Reo o Matapihi, Te Wharekura o Mauao and was on the council in the early years of Te Whare Wananga o Awanuiarangi.
She also develops reo activities in her Mataphihi community, one of them is meeting with a group of seniors to speak in Maori to keep reo alive for that generation.
"I recognise that older people, many of them were the ones that were not allowed to speak Maori in schools. We needed to build our confidence for our generation in speaking Maori.
"We meet to talk in Maori, we have a lovely time."
Ngareta also hold reo classes whenever she can and plans to continue strengthening Maori education.
More on SunLive...