Coromandel braces for heavy rain onslaught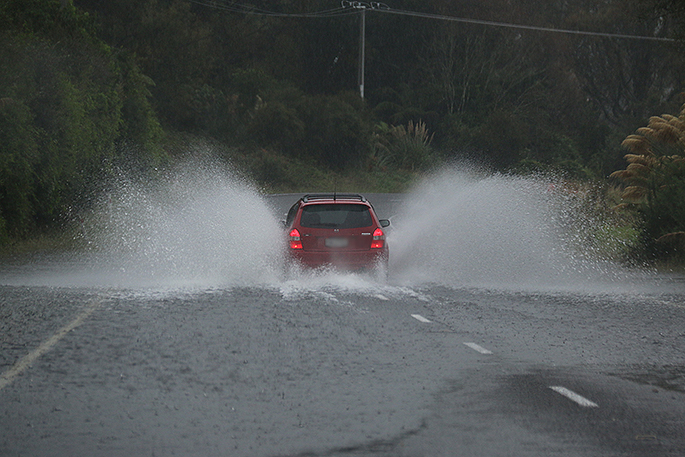 It's time to batten down the hatches and prepare for another onslaught of rain, as people across the Coromandel peninsula brace themselves once again following flooding on Saturday night.
"The weather on the Coromandel is worsening and our Emergency Operations Centre has been activated with Civil Defence and Emergency Services personnel preparing for flooding, slips, gale force winds, road closures and power outages," says a Thames-Coromandel District Council spokesperson.
"We are requesting people plan their journeys safely if they need to travel today."
Civil Defence Controller Garry Towler has issued a plea to all travellers, especially motor home travellers to stay put and do not attempt to get off the Coromandel until the bad weather passes.
A deepening low and associated fronts are moving south onto the upper North Island today. This system is forecast to bring rain and strong east to northeast winds to much of northern New Zealand.
The heaviest rain is likely in Coromandel Peninsula and a Heavy Rain Warning is in force.
"The worst of this storm will be overnight so it is essential everyone takes all precautions to mitigate what will at best be an uncomfortable night ahead," says Garry.
"Secure outdoor furniture, check gutters and drains in your neighbourhood.
"Check that your neighbours are ok, set up gas appliances and torches in case power goes out, charge phones and then just hunker down.
"It will be over by mid-afternoon on Monday," says Garry.
He advises that driving conditions are expected to be tough with wind gusts in excess of 100 km per hour, enough to tip motor homes, as well as caravans and trucks.
"We have been safe with Covid-19, let's be safe with this one as well, it will pack a punch," says Garry.
For Information on the State Highway network (SH25) go to the NZTA website
"Our Council will also be providing updates on our Facebook page here," says a Thames-Coromandel District Council spokesperson.
SH25 from Hikuai to Whitianga was closed on Saturday night due to flooding. Although now reopened, motorists are advised to take care, and try avoid the area, delay travel, and detour via Coromandel township. Rain is expected to become heavier again from this afternoon for the Coromandel Peninsula with 120-160mm of rain to accumulate with peak rates of 20 to 25 km per hour.
More on SunLive...