Mapping the trees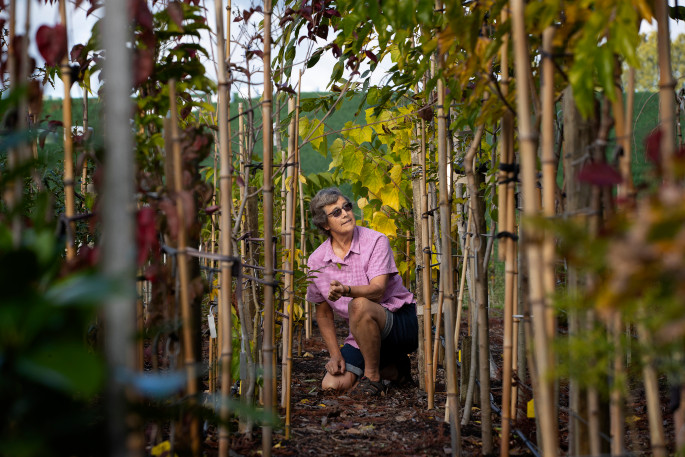 The ever-expanding forest at McLaren Falls Park is about to reach orbit.
The park was nothing but farmland in 1965 when it was formed. Since then the Bay of Plenty Tree Society has planted thousands of trees of every kind – exotic and native.
Now, every single one of those trees is being precisely mapped into a GPS system so that people can not only admire it but look up its personal details on a special app.
Society president Chris Reynolds says, considering the number of trees that have been planted, it is a "huge undertaking".
It has been underway for several years and could be several more before the catalogue is complete.
About 100 rare trees will get physical plaques.
You can't see the volunteers for the trees at McLaren Falls Park.
Summer picnics beneath the thick canopies have given way to the glorious spectacle of autumn.
Now, as the last of the leaves fall, it is time for the volunteers to emerge with their shovels and seedlings and start the process all over again.
The Bay of Plenty Tree Society was established at the same time as the park, back in 1965.
Since then thousands upon thousands of exotic and native trees have been planted, one-by-one, by hundreds of volunteers, for 55 years.
Now there are just six volunteers and it is time for a fresh crop of tree lovers to come to the party.
Society president Chris Reynolds says volunteers had "quietly" gone about planting a huge array of trees on what used to be farmland.
"There are now thousands of different sorts of trees, both introduced and native. The park is recognised as one of the best botanical collections of trees in the North Island," she says.
A project is now underway to create a GPS map of the trees at McLaren Falls Park.
Chris says this will mean people can download an app which then gives them details of the tree they are standing under.
The society doesn't need a huge number of people but it is short of volunteers. It needed younger people, with a love of trees, to ensure the work continues.
"This is a unique opportunity to create beauty and leave a lasting legacy for future generations."
Rain earlier in the week was a welcome sign that winter planting could soon begin. Chris says it has been too dry up until now to plant trees.
Planting takes a few hours on the weekends and trees are provided by the Tauranga City Council. The council owns and manages the park and hires arborists for the larger tree maintenance jobs.
For more information contact Chris on: 5443207 or: 0279180589
More on SunLive...