Te Puke boy skydiving for animal welfare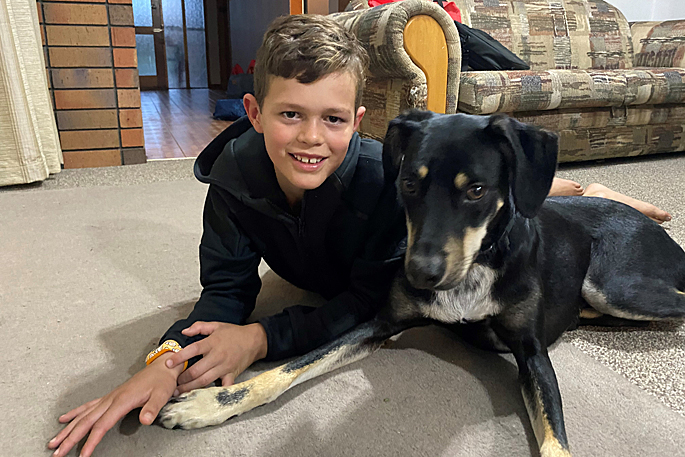 Jumping out of a plane is a lot of people's worst nightmare but one Te Puke kid is really excited about it.
Teina Williams is doing a tandem skydive to raise money for the SPCA as part of their Jump to the Rescue fundraiser.
"I'm feeling excited. I'm just worried about looking out of [the plane] before [the jump] that I might feel a bit nervous. But when I jump I'll probably feel excited."
The 10-year-old says he loves animals and wants them to have great lives like his dog Lucky who they adopted from the SPCA.
Lucky has been part of the family for seven months and Teina says he is loyal, playful, cuddly and has lots of energy.
The William's have a history or rescuing animals with their 13-year-old cat Alfie coming from the SPCA as well.
So far Teina has raised $754 dollars towards his $800 goal but now he's so close he's going to extend it to $1000.
His mum Helen has no qualms about Teina skydiving because she did one last year as a Mother's Day present.
"I'm really excited because I'm an animal lover as well and so is Teina, so anything we can do to, help support any of them we do.
"I did a skydive last year so I've done it and I thought he'd really enjoy it too, so [it's] two awesome opportunities that go together."
Teina is the youngest skydiver in the event's six year history and SPCA events and community fundraising manager Lucie Fowler says he is really brave for doing it especially seeing she has avoided during her three years at the organisation.
"At 10-years old the fact he's doing it just absolutely blows my mind. It's really cool that at such a young age he's wanting to do something for the animals and really make a difference."
She says it is awesome that Teina has found a way to help because it's often hard for kids to contribute because they don't have the money and are too young to volunteer.
Before Teina the youngest person to take part was 14.
So far this year there are 103 participants with the oldest being 77 - they have until August to reach their fundraising goal.
Lucie says the SPCA is facing a $1 million loss in fundraising revenue because of COVID-19 and the lockdown which meant their charity shops had to close.
Their goal is to raise $80,000 through Jump to the Rescue, so far nearly $39,000 has been donated.
Last year they raised more than $100,000 but with COVID-19 impacting so many Lucie says they're grateful for any support people give.
Normally the skydives are held in June but this year they have been pushed to August because of the lockdown.
People are still able to register and Lucie says it is great way to try something new and support animals at the same time.
More information on jump to the rescue can be found here and Teina's fundraising page is here.
More on SunLive...