Organic Maori orchard along the Kaituna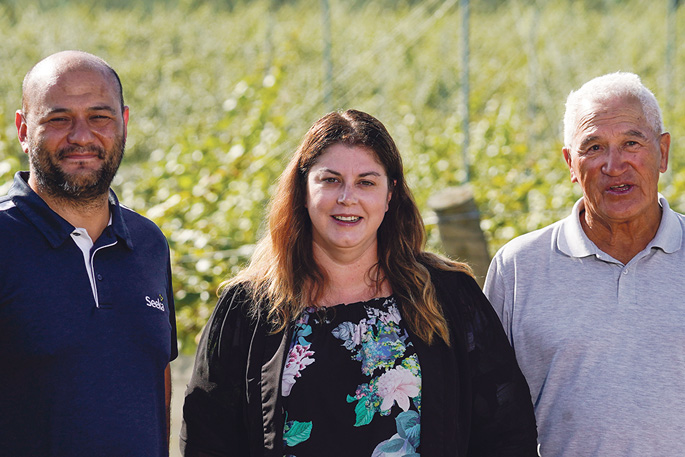 Having an orchard backed by the Kaituna River makes for quite a site – one that Ahuwhenua Trophy finalist Otama Marere are very proud of.
What used to be a golf course for 60 years up until the 1980s, has been transformed to reflect how Otama Marere ancestors used the property – to benefit the land and its people.
Otama Marere (Paengaroa North A5) Block was one of the first Maori-owned orchards to grow organic SunGold G3, starting in 2018.
Now they're considered leading organic growers by Zespri, which invite overseas growers to tour the orchard.
Otama Marere dedicate 7ha to growing organic SunGold, which produces around 418,435 gross kg per year. They also grow 11.87ha of non-organic Hayward Green, and 2.21ha of non-organic SunGold.
Leading the mission is Otama Marere trustee, orchard manager, and one of the orchard's 452 beneficial owners, Homman Tapsell. He's been working on his ancestral land since 2006.
"This year we will convert a further 2.1ha of our SunGold kiwifruit to organic. I'd love to be completely organic, but unfortunately the Hayward Green variety doesn't produce well in organic conditions," says Homman.
Organic red?
"Finding out how the fruit grows best is part of the challenge. We are looking forward to taking on Zespri Red to see if it's a viable organic option."
The six Otama Marere trustees welcome the introduction of the Organic Products Bill, announced in February. The Bill will set a national standard that NZ organic growers will have to meet in order to be certified, which Homman says will be good for the industry.
"Organic growing is important to our trust, because it ensures we return what we take from the land. If you look after the land, it looks after you."
The name Otama Marere originates from a pa site once occupied by Rangiiwaho, a koromatua of the Ngati Whakaue iwi, and his whanau. The pa's surrounding wetlands thrived with an abundance of vegetables and tuna, before being converted.
"The area was used for many things over the years, including for grazing and corn in the 1980s," says Homman. "It's so wet, we decided that returning it, so it can function to its full potential, just made sense."
The wetlands are now home to 7600 native plants. "It catches the leaching from us and neighbouring orchards before it reaches the Kaituna River. As a result the water is remarkably clear, and we are almost in a position to introduce crayfish."
The trust has a forestry block, where they've replaced pine trees with Kauri and Manuka. "Pine isn't great for the environment, so replacing them with native trees was certainly in line with what we're trying to achieve."
Giving to the people
Just as they take care of their land, Otama Marere prioritise their people. "While we get most of our workers through Seeka, we employ as many whanau as we can on a semi-permanent basis. Giving them a place of employment is part of our contribution to them."
A percentage of profits are designated to the people of Otama Marere through a variety of avenues, from giving away education and kaumatua grants, to sponsoring sporting events.
"We get an immense sense of pride from helping our people. Our education funding has helped people achieve at all levels – we now have a few doctors and engineers."
Homman says becoming Ahuwhenua Trophy finalists in its first year in horticulture has been encouraging for the trust. "It has reminded us of what we have accomplished and to be pleased with what we have achieved.
"We're disheartened that naming the winner has been postponed due to COVID-19, but we look forward to hearing the results."
More on SunLive...