Rideshare drivers trained to be COVIDsafe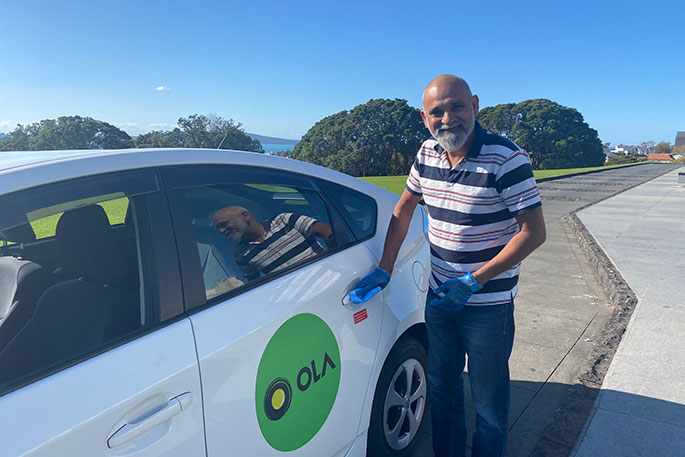 Thousands of Ola drivers have completed a specialised COVID-19 Hygiene Awareness training module, designed to keep them, their cars and their passengers COVID-safe.
Ola, one of the world's largest rideshare companies, has partnered with DRVR Training to customise a driver training module which outlines best practice hygiene protocols to undertake before driving and while on the road to minimise the risk from COVID-19.
Managing Director of Ola New Zealand Brian Dewil says with more people beginning to travel around their cities, the top priority is to provide a safe and high-quality experience for all riders and drivers.
"Our drivers have been struggling during this crisis like many other small business people, so it was really important to equip them with the skills and knowledge they need to get back on the road with confidence - knowing how to keep themselves and their passengers safe."
The training module covers vehicle sanitisation including a detailed breakdown of the surface areas each driver must clean and wipe down before and after every ride. These high touch points include door handles, seat belts and upholstery.
"The training also runs through the best products to use to safely clean your vehicle, how to communicate with passengers and other tips and tricks to minimise the spread of the virus."
Ola driver Manoj Trivedi says the online training has prepared him with all he needs to keep his passengers safe.
"Ola's training module gave me a lot of confidence about keeping myself, my car and my passengers COVID-safe. After every ride, we wipe down all surfaces and passenger seats with a disinfectant, so the next passenger can feel safe about sitting in my car.
"I am looking forward to busy days driving around the city. During the lockdown, the city lost its buzz and the streets were so quiet except for essential workers. Now that the bars and malls have opened up, people can finally get out."
Ola has also launched its '8 steps of safety' initiative that highlights safety and wellbeing as a shared responsibility between both drivers and riders, particularly as we navigate a post- pandemic world.
As well as online driver training, Ola drivers are following four steps to help keep their customers safe, including regular cleaning and utilising Ola's 'Start code' feature.
Ola is also asking its customers to follow four simple steps for safer rideshare. These include traveling solo, sitting in the back, turning ACs off and opening windows, and rating the ride.
Ola operates in Auckland, Wellington and Christchurch as well as Hamilton, Tauranga, Rotorua, Taupo, New Plymouth, Napier, Hastings, Palmerston North, Nelson, Queenstown and Dunedin.
More on SunLive...