Te Puke farmers send hay to Hawke's Bay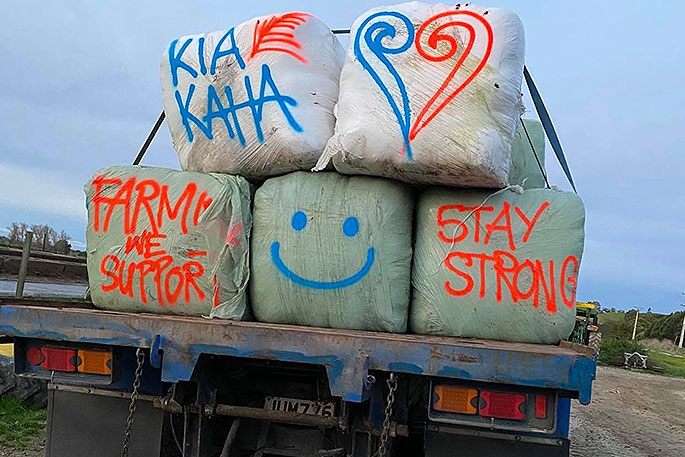 Te Puke farmers – who themselves have been fighting drought conditions and feed shortages this season – are today sending hay bales to their Hawke's Bay counterparts in what's being called one of New Zealand's driest starts to the year.
Te Puke Young Farmers president Andre Meier pitched the idea of a Hawke's Bay Drought Support Run of donated hay bales to his partner Natalie Cameron, who is the organisation's secretary, in mid-May.
"I'd seen other districts donating hay bales on Facebook and we thought we could do something ourselves," says Andre, who called on a local contractor to supply a truck-and-trailer and driver to transport the bales.
"I rang up Japie Jordaan from Jordaan Contracting Ltd and he didn't hesitate once, in fact he was more than happy to help out."
Flyers were created, a Facebook post went up, and Andre started calling farmers in his district he knew had a few surplus bales.
Today, the first load of a combined total 85 bales from 25 farmers in his district are making their way to Hawke's Bay – with messages of support from Te Puke spray-painted onto the wrappers.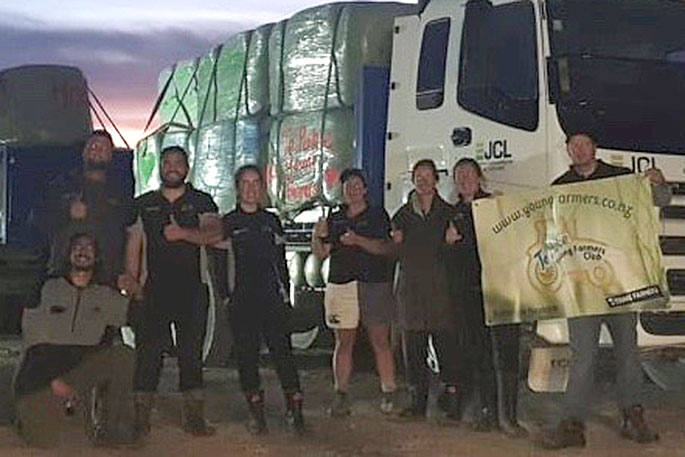 The team from Te Puke Young Farmers after they finished loading up the first truck and trailer of bales last night – ready to head to Hawke's Bay today.
Andre says feedback to the campaign has been great, especially when many Western Bay of Plenty farmers have also been doing it tough in the driest first four months of a year that Tauranga has seen in 131 years.
"Every farmer who was able to donate was happy to, and was very supportive of the whole initiative. Some farmers we did ring weren't in a position that they could give us bales; due to the tough summer we've just experienced.
"A lot were gutted they couldn't support this time and made sure we would continue to contact them in the future. Farmers always support each other and their communities when possible, an example of this was the Edgecumbe floods where farmers rallied together."
But while farmers across the North Island are not in the best of position when it comes to feed surplus going into winter, Andre says many who've donated knew a few bales missing won't hurt.
"A couple of bales out of each farming system isn't as much as a big quantity, and we're still doing a helluva lot better than the Hawke's Bay farmers."
So far farmers from Te Puke, Otamarakau, Pukehina, Pongakawa, Paengaroa, Rangiuru and Maketu have donated bales, and a second truck-and-trailer will leave for Hawke's Bay next week thanks to BOP Groundspread Ltd.
"We had the first truck filled up within a couple of days. Then we had Patrick Wilson from BOP Groundspread Ltd give us a call and say he's also more than happy to take a truck-and-trailer down at his cost."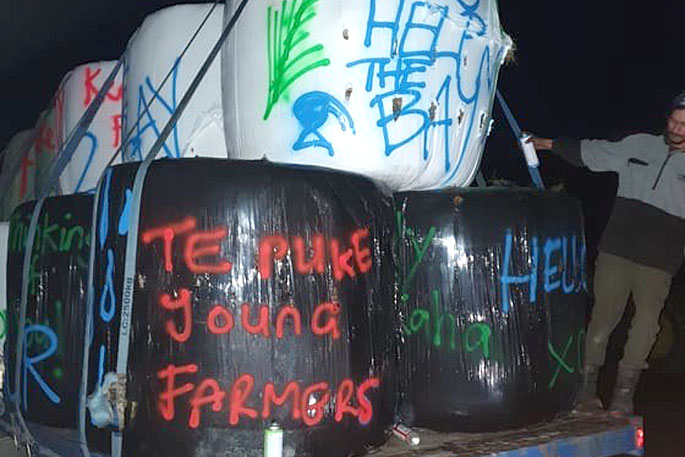 'The Bay helping the Bay' has been the catchphrase of the campaign.
To find out where to donate the bales, Andre contacted the Rural Support Trust branch in Hawke's Bay.
"They have a committee in charge of delegating where the bales go. The man I spoke to said they've been overwhelmed by the support from Young Farmer clubs of NZ.
"He also said the farmers in the Hawke's Bay are in real need and they are proud and would prefer to pay something for the bales but they are now in a situation where they have to accept the donated bales – they are that short of grass," says Andre.
"And while's there's been a little bit of rain down there, there's been nothing sufficient enough to halt the drought. Temperatures have dropped right down and they start lambing within a couple of weeks – so it's a serious situation down there."
In Te Puke, Andre says most fellow farmers are heading into June with slight feed pinches. "It was as dry as anything on the farm I run with 1300 cover during the drought but we've bounced back a bit. I've done a vigorous, aggressive undersowing programme and it's definitely paid off.
"Most of the guys I'm talking to in Young Farmers are now in a reasonably good feed supply situation. "But the winter feed supply of supplement is a bit lower because they've had to dip into it during summer to get them through. So I think everyone is just praying for a good winter now to brighten things up."
Watch a tie lapse video of the bales being loaded up last night at: https://www.facebook.com/TePukeYoungFarmers/videos/576815239933358/
More on SunLive...