Mainstreets launch Buy Local video series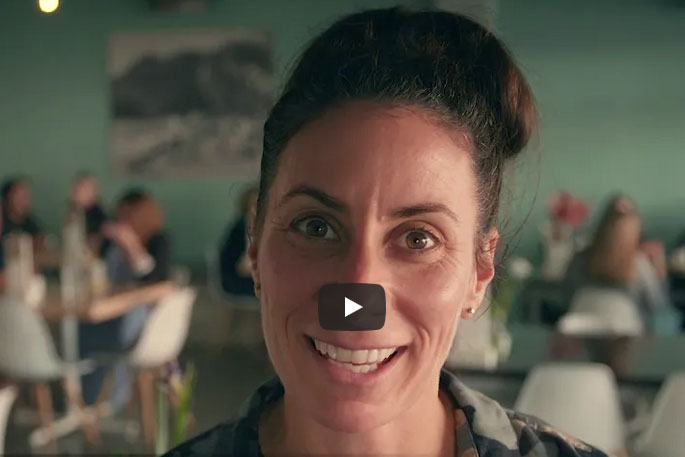 Tauranga businesses will now feature in a series of videos as part of the Buy Local Buy Tauranga campaign.
The first of the 'Buy Local. Buy Tauranga' videos features several local business owners across Downtown Tauranga, Greerton and Mount Mainstreet.
Downtown Tauranga spokesperson Sally Cooke says it's all about putting a human face on a campaign that connects emotively with residents.
"Our local business community is made up of mums and dads, grandparents, sons, daughters, entrepreneurs and risk takers who open their businesses every day and work tirelessly to provide products and services for our residents, visitors and tourists.
"COVID-19 has knocked our business community sideways and now, more than ever, we need to encourage residents to spend what they can on local business because when you spend locally you are helping to save local businesses."
Sally says the video is the latest release from the campaign that features billboards, radio, press, signage, digital, social media feature editorials and showcase profiles all designed to highlight the importance of our community reaching out to support the business community.
"During the COVID-19 lock down, as a nation we acknowledged and celebrated our essential workers at the front line.
"Now as we move through Level 2 and our business community strives to get back on its feet it is time for us to acknowledge and celebrate their tireless work, everyday, to provide products and services to the public and to try and resurrect their businesses to a level of viable sustainability. It's a very challenging time for many people in our community."
The first video is fronted by Tauranga Mayor Tenby Powell who says it's encouraging to see the city working together on a campaign focussed on rebooting our SME sector.
"Buy Local; Buy Tauranga is squarely aimed at encouraging support for our critically important small businesses, the backbone of our economy, and who create jobs and support so many livelihoods. I have worked for years to support SME's so I'm delighted to support this campaign."
Sally says the campaign reminds us that local business owners are a huge part of our community.
"Spending locally saves local jobs. Our local business owners are mums, dads, grandparents, sons, daughters, entrepreneurs and risk takers and right now they are depending on us to spend what we can and spend it locally. Let's face it, Tauranga residents, visitors and tourists shop 'across our city', so when you shop in Greerton Village, The Mount or Downtown Tauranga our community benefits."
Mount Mainstreet Manger Mandy Gillgren agrees.
"We have a number of local business owners with businesses in more than one centre. Let's celebrate that.
"This campaign, because it is collaborative, gives us a stronger voice collectively, yet it still allows us to showcase our individual Mainstreet centres and the businesses within them."
Greerton Village Mainstreet Manager Sally Benning says it's about profiling our courageous local businesses.
"Every time you make a purchase in any of our local businesses it has a positive ripple effect across our community.
"We're not asking people to spend a lot, we're just saying spend what you can and when you do, try and spend it with a local business because now, more than ever, our local businesses need us – remembering perhaps that these are the very business owners that have sponsored our local sports clubs, teams, schools and many other good causes. Well, now is the time for us to show our support for them."
Mandy says the campaign covers all sectors.
"From retail to hospitality, service, commercial operators and tourist operators we are celebrating and showcasing our courageous business community who have been taken to the brink and now we want them back in business and clawing their way back to a sustainable business model and we can't do that without the support of our residents and our community."
The launch video showcases all three Mainstreets and follow up videos will focus in on specific businesses in each of the Mainstreets.
View the video here and find out more on the www.buytauranga.co.nz website
More on SunLive...