Drought killing kiwifruit business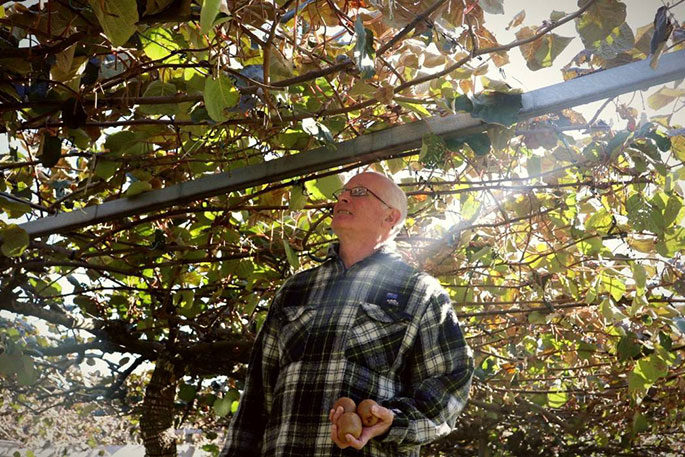 Watching the skies from his kiwifruit orchard in Waihī, Chris McHardy hopes for rain.
There's no saving this season's crop, which has already produced dismal results, but if there's any chance in overcoming the relentless drought plaguing the region, rain is all that's required.
Chris has been left battered and bruised from a drought that has delivered a "king-hit" to his kiwifruit business.
According to NIWA's New Zealand Drought Index, the Waikato district spent 61 consecutive days in drought, and, any rainfall that has hit the ground has largely missed the Hauraki, Matamata-Piako and the Thames-Coromandel districts.
"We've had less than 50mls here since Christmas, and that is unheard of," says Chris.
"I've been involved in farming and horticulture now for most of my life, and we've never had a drier time than this.
"It impacts on you financially, and, if you let it, it impacts in your head."
The family-owned orchard, Black Hill, is located up the road from Chris' property on Waihī Beach Road.
The orchard is in transition to becoming organic - a three-year process - and this year was Chris' first crop in transition.
Black Hill is divided into two maturity areas, and from the two sections, 38 and 40 per cent of the fruit, respectively, are undersized.
That number, along with rejected crop, made for 31,000kgs of substandard kiwifruit which can't be sold and will likely be made into stock feed.
Last year, the percentage of rejects was in the single-figures.
"It's so frustrating to work a whole year and spend a lot of money and energy to produce a crop, and when it comes to harvest, it's a complete failure.
"Some years you have poor crops, some years you have boomer crops, but this is a failure. So what do you do?"
The family purchased the Black Hill orchard four years ago and 2020 marked the growers' third crop of Hayward Green kiwifruit.
Their first crop produced 30,000 trays of Class 1 kiwifruit, a pleasing number for the family.
"That gave us the confidence to invest a large amount of money into putting a frost system into the orchard and put in a very big bore.
"Everything was looking good, but then last year, we did 23,000 trays. It was a dry season also, but nothing like this year.
"This year, we harvested less than 10,000."
Because of the poor results, the crop has not generated anywhere near enough money for Chris to be able to re-crop the orchard, a task which typically amounts to around $120,000.
The family has no other choice but to cut the orchard in half.
"This crop we've just picked is going to generate less than $100,000, so we don't have enough money to do everything that's needed to hang a crop and be confident it will do alright.
"I'm really concerned that we're expecting half the orchard to generate enough money to regenerate the whole orchard; we're way behind the eight ball.
"Unless next year is an exceptional season, I can't see it coming right."
Kiwifruit, like flowers in the garden, won't grow unless provided with the correct amount of water, Chris says, so a downpour of rain looks to be their only saviour.
And for many green growers, Chris says the drought will be their financial undoing.
At age 63, he has to work as a contractor doing kiwifruit work, because it is "the only way to get by".
"People constantly think there are these rich kiwifruit growers who earn $150,000 a hectare. That's a small group at the top of the Gold production."
According to Zespri's February forecast for grower return, Green growers could see a return of $65,171 per hectare.
That is compared to $159,688 per hectare for Zespri Gold.
"When you hear of rich kiwifruit growers, there are those people, but Joe average, green growers, we're not making much, so to take a king-hit from a drought like this, we've been kicked out of the park," says Chris.
"I just want people to be aware of the impact this drought has had on primary producers.
"It's heartbreaking when 40 per cent of your crop is just thrown away."
Outside Chris' home, the sun beams down. The grass is licked with dew, but down below, the soil is dry. It's forecast to rain, but Chris hopes have been up before.
"I would like to see rain.
"It's not going to help the situation we're in now, but it's going to give us confidence that maybe there's some water in the ground and we can keep going ahead."
More on SunLive...