Tauranga families to receive food parcel surprise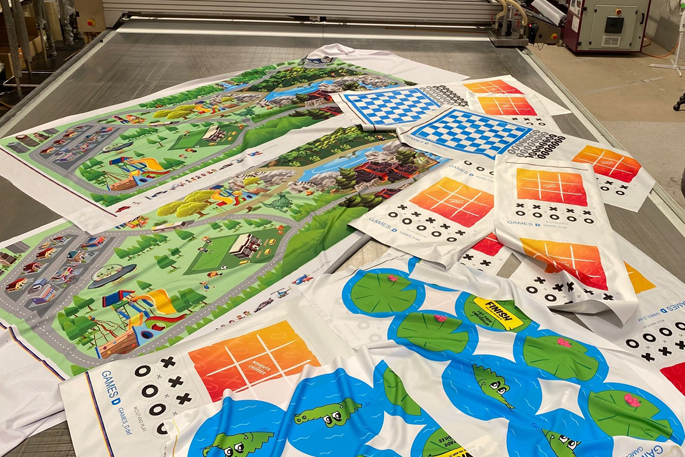 A textile production business will give Tauranga Foodbank clients a reason to smile this winter, as they prepare to print about 500 fabric board games for food parcels.
Children will be surprised with games such as drafts, lily-pads, racetracks and noughts and crosses when they open their food parcels over the coming weeks.
Textiles Alive owner John Heyworth says this initiative is an effort to give back to the families in Tauranga who are "doing it tough". He also wants to avoid wasting any fabric offcuts.
"If a family opens up their food parcel and there's something in there for the kids. You can only imagine what joy that is going to bring to that family.
"There's a whole bunch of reasons as to why we have excess fabrics. Rather than it goes to landfill, it should be put to good use and go to families."
By the end of winter, he hopes to have donated between 500 and 1000 fabric games to the foodbank. About 50 games are set to be slipped into food parcels this week, he says.
John says one of the stand-out games is a three metre by 1.5-metre race track with volcanoes and dragons.
Tauranga Foodbank Manager Nicki Goodwin says she is over the moon about the ongoing board game donations from the Mount Maunganui company.
"It just puts a smile on my face to be perfectly honest with you, it's just one of those things you can't turn down."
The families will be so happy to find something in the parcels especially for the kids, she says.
"We are delivering quite a few food parcels these days - and the kids get so excited when they see the boxes of food arrive. We can only imagine how excited they are going to be when they see something in there just for them."
Nicky urges anyone in need to approach the Tauranga Foodbank for support.
"The message we are trying to get out there now is that it is quite painless for people to approach us and use our services.
"Don't be afraid to email us or pick up the phone - it won't be anywhere near as traumatic as you think."
She says they are gearing up for a busy winter at the foodbank, as it is likely more people start to struggle financially.
"We are just trying to make sure we are prepared for a greater number of clients. The reality is that there is going to be fewer jobs.
"We want to reassure people that we are here, and we provide good, nutritious food that can really help them out."
Textiles Alive has also partnered with Snood New Zealand to donate free snoods to all volunteers at the Tauranga Foodbank.
The multifunctional headwear works to keep people warm and can act as a facemask alternative, says John.
More on SunLive...