Tauranga school bus struggles at level 2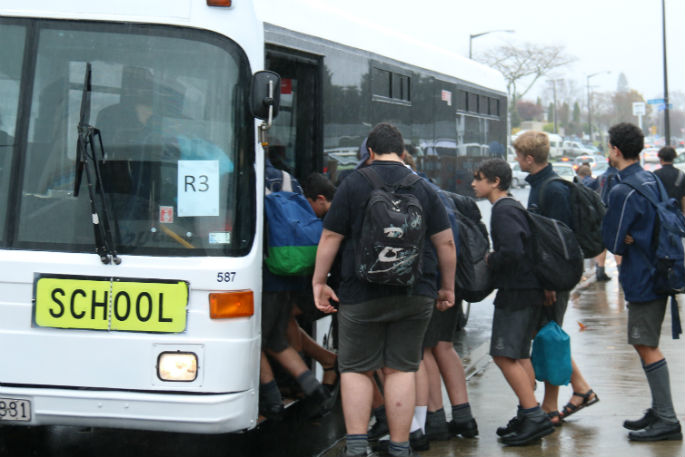 Some Tauranga parents are struggling with the school bus service this week, with students being left behind and several routes operating at limited capacity.
The school bus service resumed on Monday, as students returned to the classroom after eight weeks of lockdown.
But Sarah Nicol says her children have been left stranded at the bus stop twice this week when trying to get to Tauranga Intermediate School.
Sarah says her son and daughter were refused entry on the 804a Welcome Bay Tauranga Intermediate Bus on Monday and Tuesday because they didn't have ID.
"It's just been a pure struggle this week - the first two days they were turned away because they were told they needed identification."
Sarah's children say neither of the buses appeared to be full.
"I need my kids to get on the bus every morning. I work, and their father works, so it is the only way they can get to school. It has just been one giant headache, worrying if they have made it onto the school bus or not."
Sarah has been in contact with the Bay of Plenty Regional Council and Tauranga Intermediate School to try and solve the problem.
"Ideally something would have been sorted before school started this week."
In a written statement, Regional Council transport advisor Melissa Winters says this specific incident is being investigated.
"We are aware that two children had reported being asked for ID and refused entry onto the bus. It is not our policy to ask students in uniform for ID, and the incident is being investigated."
She says parents have been asked to wait at the bus stop with their child if possible, in case they are unable to get on the bus.
Another Tauranga Intermediate School mum says many Welcome Bay parents have been steering clear of the school bus this week.
"Lots of Welcome Bay parents are driving their kids to and from school so the kids don't have the added stress of missing the bus as well as coping with returning to school after a long break," says Kerry Mitchell.
She says herself and the neighbours have been carpooling and sharing drop-offs and pick-ups.
A Maungatapu Primary father is frustrated after finding out his two children can't use the school bus service because of capacity restrictions.
Route 901a route for Maungatapu Primary can only carry 20 passengers during level 2.
The Ministry of Education has exempt dedicated school buses from physical distancing rules, meaning many are operating as normal.
However, Melissa says the 901a route for Maungatapu Primary is integrated with Bayhopper and is not exempt by MOH from the physical distancing rules like dedicated school buses.
Peter Bremner says he relies on the service to transport his kids to and from school but has missed out as registrations were taken "first in first serve".
Over the weekend, Peter received an email from the school asking parents to register children if they wanted them to use the bus service.
"Because 20 other families replied before we did, we have missed out.
"The school bus is essential for us to - my wife and I are full-time professionals. All of a sudden it is our responsibility to find a way to get our kids to and from school."
Maungatapu Primary took to their school Facebook page saying the 20 children who have been registered to use this service during alert level 2 will be the only children put on this bus.
"A roll is taken each morning and afternoon to monitor this and for tracking and tracing purposes."
Regional Council say they have provided seven additional buses to increase capacity in the most affected areas.
Melissa says they are also working closely with schools to ensure that everyone is aware of the reduced capacity of the buses.
"Parents have been asked to consider making alternative arrangements to get their children to and from school where there are capacity issues on their child's bus."
They are continuing to look for ways to increase the capacity on the school network, she says.
More on SunLive...