River dolphins baffle scientist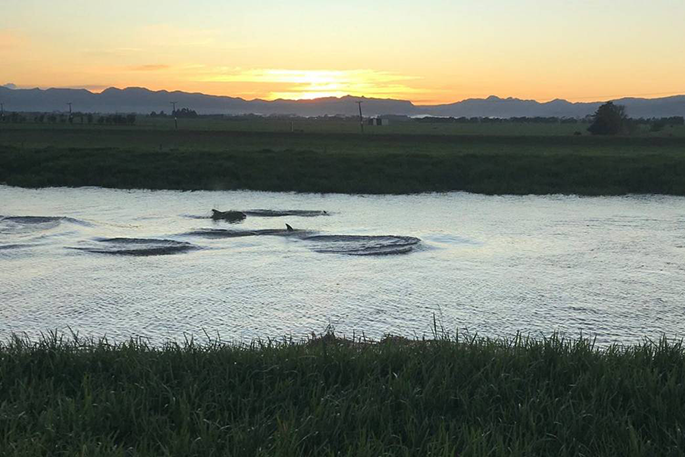 The pod of dolphins seen cruising kilometres up a Waikato river were likely following their stomachs.
The behaviour of the estimated 60 dolphins surprise both bystanders and scientists, who say their actions highlighted how much there is still to learn about the marine mammals.
On Monday, the dolphins - some around 2.5m long - made their way from the Firth of Thames up the silty Piako River and were spotted in Ngatea, an inland swim of 12km.
Niwa marine mammal scientist Dr Krista Hupman says telling by the shape of the dolphins' fins, they appeared to be either bottlenose or common dolphins, though both species swimming in an estuary was "extremely rare".
"I haven't heard of any reports of animals being in there before. That's not to say they haven't been, but it's just not something we hear of very often," she told Stuff.
Dolphins swimming within brackish water - salt water and fresh water mixed together - is also not common.
"It's very strange to me that they had travelled all that way.
"Because often when I hear of an animal in an estuary, it might be just one. But a pod of 60? That's a very large number to see in an inland region."
For dolphins to travel that far inland, there needed to be some reward, she says.
"The normal activities for dolphins are socialising, resting, foraging or milling. Resting and socialising they can do anywhere, milling is travelling back and forward, which they can do anywhere.
"So why would they go up the river? The only thing I can guess at is foraging, and looking for some type of food."
But searching that far for food was also bizarre, Krista says, as the Hauraki Gulf already offers dolphins a diverse range of prey.
"That's why I am surprised, because there is such a diversity of prey in other areas. What would drive them to take some sort of prey that far inland? It's anyone's guess, but if they had gone that far, they would have likely been chasing something."
Krista says it's odd events such as Monday's that highlight how much there is left to discover about dolphins.
"When something odd like this occurs, it shows how much more we need to study them to really figure out what they're doing."
Those who witnessed the pod moving at a great pace through the Hauraki Plains on Monday said they had to "pinch themselves".
Hauraki District Council mowing labourer Peter Pakinga, and Waikato Regional Council works supervisor Ian Sara says the unique visit is something the grandchildren would have loved to see.
"Everybody was just aghast watching it, and everyone said it was something we might never get again," says Peter.
More on SunLive...