COVID-19 news from May 20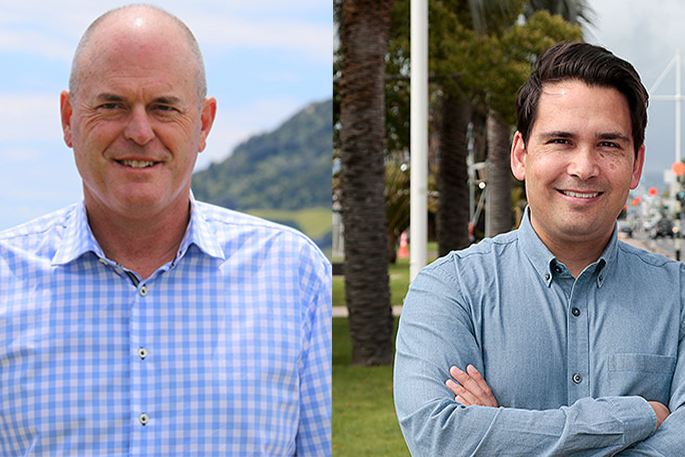 Simon Bridges' leadership is under threat, more than 2000 jobs will be axed by two of NZ's biggest employers, a tracing app made traction - and another day of no new cases.
There are no new cases of COVID-19 in the country on Wednesday and by early afternoon 92,000 people had downloaded the Health Ministry's contact tracing app on its first official day of release.
Bay of Plenty MP wants to be party leader
Simon Bridges has not fared well during the COVID-19 pandemic, with a disastrous poll this week showing only 4.5 per cent want him to be prime minister and the National Party's support has fallen to 30 per cent.
Simon threw down the gauntlet on Wednesday morning, saying he's confident he has the numbers to win a leadership vote which was later confirmed for Friday.
Shortly after 4pm, MP Todd Muller sent an email to colleagues signalling his intent to challenge for the party leadership.
The email went on to say that a majority of the caucus did not believe Bridges could win the 19 September election.
One well placed MP - a Simon supporter - told RNZ it was a "line call" on who would win the vote.
Senior MP Judith Collins and former leadership contender says she will not be mounting a challenge.
Major job losses
The day began with Fletcher Building announcing it would slash about 1000 jobs in New Zealand as it moves to reduce staffing by 10 per cent.
The company said the COVID-19 crisis was likely to have a significant impact on its business in New Zealand and Australia, with about 500 jobs to be cut across the Tasman.
In New Zealand more than 400 operating sites were closed during the level four lockdown and the group's New Zealand businesses were trading at 80 percent of forecast May revenues.
Chief executive Ross Taylor says the news would be hard for staff to hear.
Meanwhile, more than 1300 cabin crew workers for Air New Zealand have been told their jobs are being cut, E tū union announced this afternoon.
E tū says cabin crew were told yesterday how many job losses they faced.
Of the long and mid haul crew, 950 are being made redundant, as well as 300 domestic crew in Auckland, Wellington and Christchurch, and just under 100 across the regions.
On Monday, the airline announced 300 engineering and maintenance jobs will go.
One cabin crew member, who wished to remain anonymous, says they're "absolutely devastated by the news".
The union says the process is being rushed and heavy-handed.
Another zero day
New Zealand has recorded a third consecutive day without a new COVID-19 case, Director-General of Health Dr Ashley Bloomfield announced at the Beehive.
The number of confirmed cases remains at 1153, and the combined total of confirmed and probable cases is 1503.
There are 35 active cases with one person in hospital.
App ready to use
The government's new COVID-19 contact tracing app is now available.
Ashley says the NZ COVID Tracer app will be helpful for getting the country towards alert level one, but not critical.
He says the number of cases is still the biggest factor.
The app's main function is a QR code reader to identify when people visit venues like cafes, with the information stored for up to 28 days.
A bluetooth option was also expected to be ready next month.
Size of gatherings may increase
Prime Minister Jacinda Ardern says Cabinet will consider increasing the limit of 10 people at gatherings on Monday.
Jacinda says COVID-19 is still in the community.
"One case can become 90, and it would only take a few cases of those for us to go back into lockdown."
She says the data suggests the approach taken is the right one.
Global cases of infection edge towards 5 million
There are almost five million cases of coronavirus globally, according to the Johns Hopkins University tracker, with 4,897,567 confirmed.
World Bank president David Malpass warned up to 60 million people will be pushed into "extreme poverty" by the coronavirus.
He says the bank expects global economic growth to shrink by five per cent this year as nations dealt with the pandemic and 100 countries - home to 70 per cent of the world's population - had already been granted emergency finance.
Australia reduces restrictions
Australian officials announced a raft of plans on Wednesday to speed up the resumption of public life to boost the ailing economy amid a diplomatic spat with major trading partner China.
The government is also talking with Australian universities about allowing the return of some international students, a sector that contributes more than $A30 billion ($NZ32.1b) to domestic coffers.
New South Wales will allow people to resume recreational travel from next month, effectively reopening tourist regions on its southern coast that were badly damaged by huge bushfires before the epidemic.
More on SunLive...