Baristas loving the LIDDA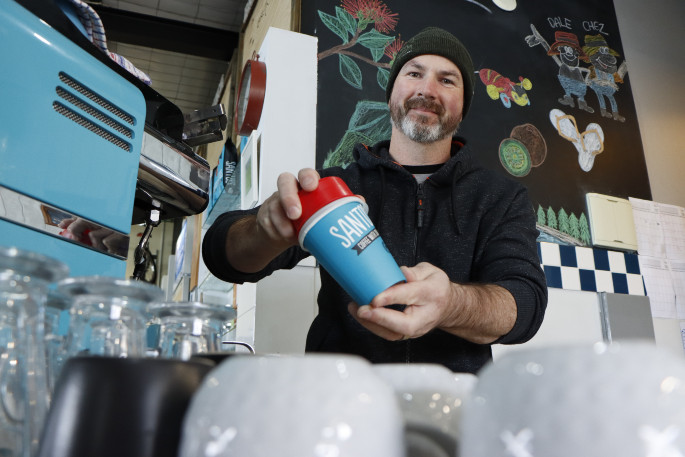 The focus around being able to purchase food and drink in a contactless way has shone the light on a small and effective Kiwi invention called the LIDDA.
"My wife came to help me run my coffee cart, when I noticed that she had difficulty putting the lids on the cups," says Hamilton barista Rob Parr. "She has arthritis in her hands."
Rob tried out various ideas and materials, finally coming up with a lid applicator that can be simply squeezed to secure the lid. When he tells the story though, he likes to say that he created a simple tool out of love for his favourite barista.
It cost a fair amount of money, but the designer had his LIDDA patented and the design registered.
"My customers love it, as they can hear the tiny 'pop' as the lid goes on securely," says Rob.
"The baristas receive the benefit of eliminated steam burns along with a fast and effective seal on the cup," says Paula Schlegel who has come on board to help Rob market his innovative product.
"Have you ever taken that first drink and had the lid pop off spilling the coffee down your front?
Customers are also stoked with the fact that their lid has not had someone's hands all over the area they drink from, nor has it been close to their nose or eyes."
The obvious health and safety improvements that the LIDDA provides quickly became apparent to café owners like Simon at Chapel Café in Tauranga who has adopted it for use with his takeaway hot drinks.
With the lockdown and the return to Alert Level 2, café owners are becoming even more mindful of their customers' health and safety, with the LIDDA providing a way to apply a lid to a hot drink without the baristas hands coming in contact with any area where the customer may drink from.
"I unfortunately have purchased a coffee with coins and watched in horror as after placing my coins in the till the barista made my coffee and put his hand all over the area my mouth was to make contact," says Paula.
"I have also seen the same thing happen in hospital coffee shops. No one asks for a free topping of germs with their takeaway drink."
The LIDDA is also in use at the Gather Café in Papamoa.

More on SunLive...