LIVE: NZ's zero COVID-19 trend continues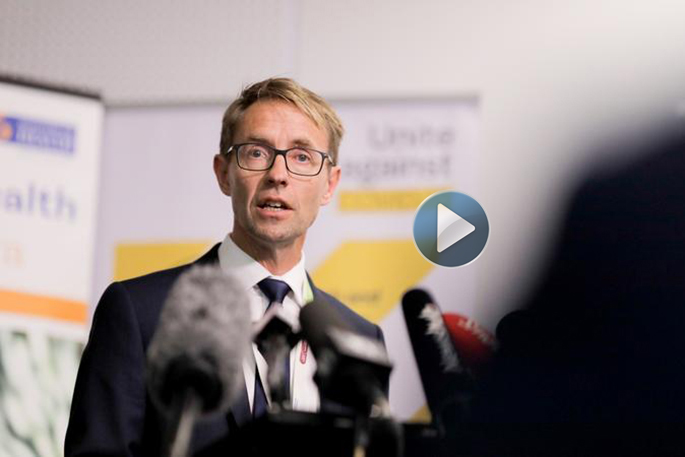 UPDATE: The Director-General of Health is once again reporting zero new case of COVID-19.
Ashley says with no new cases today, the total number of confirmed and probable cases remains at 1499.
He says the total number of confirmed cases is at 1149. This is the number that is reported to the WHO each day.
There are no additional deaths to report.
There is no change to the number of people who have recovered from COVID-19. The number remains at 1433 or 96 per cent of the total number of cases in New Zealand.
Ashley says two people remain in hospital.
He says one is in Auckland City Hospital and the other is in Middlemore Hospital.
Neither of the cases are in ICU.
Laboratories carried out a total number of 2570 tests yesterday.
A total number of 230,718 tests have been carried out to date.
Last week, there were four days in a row where no new cases were reported in the country.
On Friday, there was one case reported and another reported on Sunday.
There were zero cases reported on Saturday.
Do Bloomfield said he'll be virtually attending the World Health Assembly, which is being held tonight in Geneva, and he will lead New Zealand's team present at the meeting. Health Minister David Clark will also be present.
"New Zealand is co-sponsoring a resolution on Covid-19, the purpose of the resolution is to agree, at a high level, the future areas of work to be undertaken on Covid-19 by member states and the World Health Organisation and other organisations," Dr Bloomfield said.
Nearly 800,000 students headed back to school today for the first time in eight weeks, many more parents are also able to return to their offices.
Since the country stepped into level 2 on Thursday, retailers have been able to reopen under a number of guidelines, but the transition wasn't as smooth as some businesses would have liked.
In Dunedin, police broke up several parties in the city's student quarter which were flouting level 2 rules on Saturday night. On the same night two males were seen lighting a couch on fire in the middle of Leith St.
The incidents came a day after the University of Otago praised students for their behaviour during the lockdown.
During the level 3 and 4 lockdown, police arrested more than 90 people and nearly 50 firearms were seized in a crackdown on organised crime.
-Additonal reporting by RNZ.
EARLIER:
As New Zealand heads into its first full week of Alert Level 2, Director-General of Health Dr Ashley Bloomfiled will be delivering the latest COVID-19 results.
He will be joined by Police Commissioner Andrew Coster for the All of Government COVID-19 National Response update at 1pm today.
SunLive will be providing updates throughout the afternoon for those who miss the 1pm update.
What we know so far
On Sunday, there was one new confirmed case of COVID-19 in New Zealand.
The Ministry of Health says the case is linked to the Rosewood cluster as a household contact of an earlier case.
New Zealand's combined total of confirmed and probable cases is 1,499.
"We now have 1433 people reported as having recovered from COVID-19, an increase of five on Saturday."
This is 96 per cent of all confirmed and probable cases.
There were two people receiving hospital-level care for COVID-19 – one each in Auckland and Middlemore hospitals. Neither of these patients is in ICU.
"We still have 16 significant clusters."
There are no additional deaths to report.
More on SunLive...