BOP native tree haven inspires children's books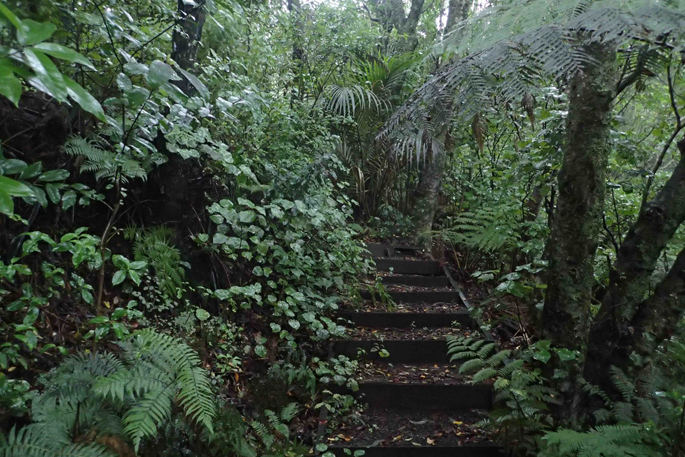 Two decades of planting are paying off for Jim Robinson and Nikki Slade Robinson, who are slowly converting their Bay of Plenty block into a native bush wonderland.
Jim and Nikki moved into the three hectare Ohiwa block in 2003, but had purchased and started controlling pest species like gorse from the mid-1990s.
"The property has always had half a hectare of mature forest featuring kohekohe," Jim explains. "But initially farm stock could get in — the damage was obvious."
"Fifteen years down the track, our block has closed in and got much more dense. It's starting to look pretty cool with all the plantings! There's a lot of māhoe, tī kōuka, and flax, which I've moved around to establish that first generation covering. It's ideal now to start getting the kind of trees that'll last hundreds of years in; we're ready for the next layer."
Jim and Nikki will receive 315 trees from Trees That Count this year, which will be planted in early winter to plug many gaps around the property.
The new trees will sit amongst those personally gifted from friends and family over the years.
"The opportunities through Trees That Count are so accessible for people who have big plans, but not the money to carry it out alone. It's awesome that the world is changing to provide opportunities like these."
A big part of the Ohiwa block project is accessibility, and the ability to enjoy the bush once planted. To this end, Jim has built around two kilometres of networking tracks. They're functional in not only simplifying planting and invasive weed removal (wild ginger, honeysuckle, pampas), but in allowing them, and visitors, to enjoy it.
The fruits of two decades' labour lend themselves to this kind of enjoyment. "I could walk down to the letterbox now, I'd see two kererū, six kotare, pīwakawaka, waxeyes...so much bird life."
Jim is frank about his other motivation for the work: "I'm a nutcase! I'm a multi-sporter and runner, so I've always used this like training. I love the hard work, it's entertainment and it's fun."
Nikki — perhaps better known as the award-winning author of The Little Kiwi's Matariki — also gains professional inspiration for her children's books from the bush surrounds.
"The birds and the native bush on our property inspire ideas and feature heavily in a lot of my books. They become illustrative elements — almost all the books have grown out of living on this property," she says.
The couple had always been native tree enthusiasts, planting at events around Wellington and Mana Island before their move to the Bay of Plenty. They love that their goal to restore their property to native bush is shared by many in the area.
"This whole area has so much happening with planting. If you draw a two kilometre radius around our place there'd be about 10-15 landowners and two care groups planting and trapping. Within a 5k radius, about six care groups planting and trapping, with the Ohiwa Headland Sanctuary leading the way. The volume of stuff that's happening out there — it's awesome to see it."
Jim is also involved in the Motu Trails cycleway, which each winter has community planting days to restore the coastal environment of Opotiki's Dunes Trail.
Through this project, he met Trees That Count Regional Advisor Wayne O'Keefe, who has given advice for the planting on the Robinsons' land.
"Wayne knows his stuff and he's an awesome guy. He visited to walk different areas of the property and make species recommendations; he has advised lots of pūriri for the birds."
The restoration of the Ohiwa block is underpinned by a keen environmental awareness.
"All you can do is your own little bit. If you do your little bit and ten thousand others do theirs too, that'll make a difference. If there's a solid two hectares of native bush at our place, that'll help. None of us can change the world single-handedly, but we can all do our own little bit towards the whole," says Jim.
More on SunLive...