Tauranga teen takes on national speech comp finals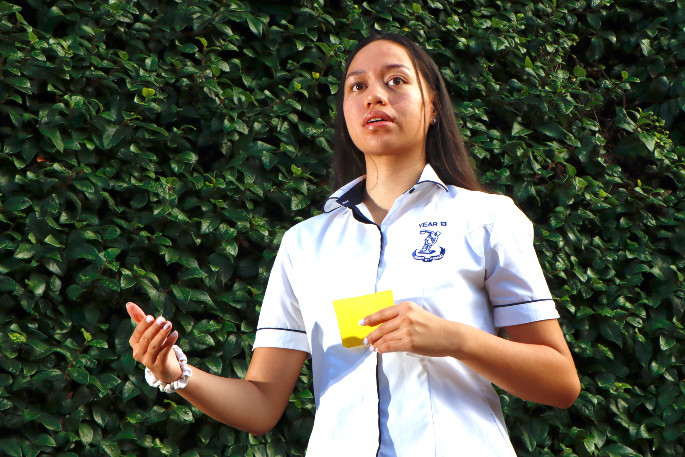 A Tauranga teen has overcome anxiety to earn herself a place in a national speech competition.
Ngariki Tamainu decided to push herself to enter the annual Race Unity Speech Awards to make the most of her last year at school.
The 18-year-old competed in the semi-finals this week and has earnt herself a spot in the national final tomorrow.
As one of six national finalists, she is looking forward to representing the Bay of Plenty.
The theme for this year's competition is 'Titiro whakamuri, kia anga whakamua - To face the future, look to the past'.
Ngariki used the taniwha as a representation of racism and spoke about what the future holds in terms of racism and how to overcome it whilst using examples from the past such as the invasion of Parihaka in 1881.
The year 13 student at Tauranga Girls' College says she had to overcome the challenge of public speaking.
"I've struggled with anxiety a lot that's why I mainly don't go for things.
"I just decided to try out. I didn't actually think I was going to go forward with it though."
"When I started writing and planning [the speech], I really enjoyed it," she says.
"I think personally this topic was just very homebound and that's why I'm so proud to be able to talk to people about this."
Having found her talent in public speaking she plans to continue with it.
"It allows you to express how you're feeling and it makes me feel like I'm making a change in some way."
This year due to COVID-19 restrictions the competitions have been held online and despite the lack of a live audience Ngariki says she was still very nervous the first time she presented her speech.
The Race Unity Speech Awards have been held annually since 2001 and provide an opportunity for Year 11, 12 and 13 students to grow an understanding of race relation issues in New Zealand and share their ideas on how to promote unity.
Ngariki will be competing at 10am Sunday, May 16 and the livestream can be found here.
More on SunLive...