Staying inside the bubble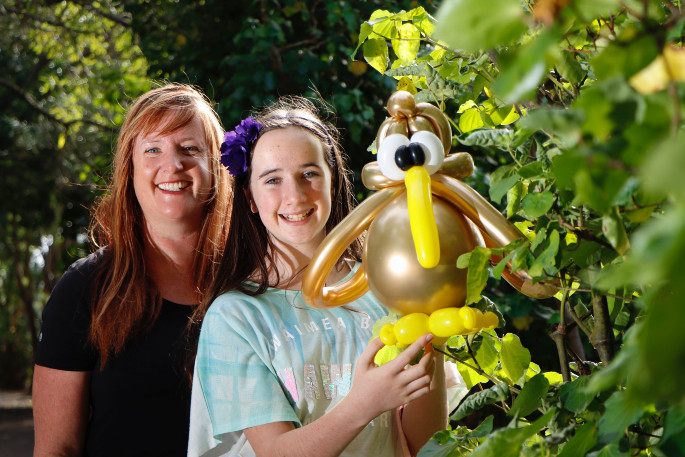 It wouldn't be a stretch to say Donna Dancealot 'The Balloon Lady' has been the queen of bubbles over the last few weeks.
Her air-filled creations have been appearing every day along the popular central Tauranga walkway, providing colour and more than a little bit of joy to those who discover them.
"I'm trying to make people smile in these strange times," Donna says.
It's a simple goal and it also helps this professional – and certified – balloon artist to keep her skills honed.
She put a new balloon creation up every day for 34 days during the lockdown, keeping to her local neighbourhood. She has now dropped back to once every two days.
They are usually popped up in a tree or somewhere shady so they last a bit longer. She checks up on the old ones at the same time and removes any that are starting to deteriorate. They are all made out of natural latex rubber so they break down in nature anyway, but she has been a little restrained in what she creates.
"I can do life-size people but I haven't gone that crazy."
Children have been leaving thank you notes in the trees in appreciation of the fun balloons.
She has photographed all the balloons and posted them on her website.
When the bubble burst on public events, big birthdays and other celebrations, it had an immediate effect on Donna, her business BDazzled and her regular sessions at Papamoa Plaza.
"I am a small business so I work from home. I normally do parties and events and (a display) at the Papamoa Plaza. So that came to a halt."
However, she is back into the swing of things now, thanks to a very busy Mother's Day weekend and is happy to be back doing what she loves.
For those who think balloon artistry is just something you need to practise, that's only partly correct. It takes years of practice before someone can even contemplate studying towards becoming a Certified Balloon Artist (CBA).
Every year Donna also completes further training courses, competitions and industry events.
More on SunLive...