Opotiki's beach hoons "must be stopped"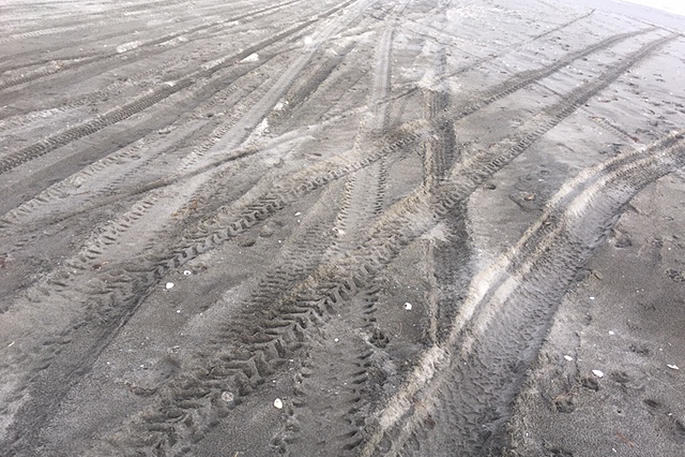 Dune hoons hurtling along Opotiki's beaches are terrifying locals and damaging vulnerable ecosystems.
It's an ongoing issue and Opotiki District Council hopes new bylaws being brought in later this year will curb the problem.
Opotiki man Andrew Morrison and several of his neighbours are concerned at the vehicles causing "daily damage" to the beach.
The issue is particularly apparent at the Pohutukawa Drive access which, Mr Morrison said, had been "grossly abused" by vehicles flattening an area of dunes and now needed urgent action by the council to rehabilitate.
Andrew says the problem had increased during the nationwide lockdown.
"During the COVID-19 lockdown, there were a number of characters escaping the law and the council by driving down the beach.
"There have been confrontations; I haven't been involved, but there have been some confrontations."
He says in recent months, people have driven further along the dunes to secluded areas to camp, which had further damaged dunes and the "especially sensitive" dotterel protection zone.
There is also an issue with motorbikes speeding through the dunes and posing a danger to people walking on the beach.
Andrew would like to see the police and council take further action to prevent damage to Waiotahe Beach and its dunes area.
"The truth is that many people are infringing consistently, and many are simply using the beach as a road or racetrack whether for entertainment, to avoid police, to avoid using the highway or whatever reason occurs to them.
"That is not the same as respectable access for permitted fishing or similar."
Council planning and regulatory group manager Gerard McCormack says vehicles on beaches were a frequent issue, causing safety concerns and environmental damage.
"For people with young children on the beach, the thought of a fast-moving four-wheel-drive hurtling through the dunes is terrifying.
"In addition, each damaged dune plant raises the risks in these fragile ecosystems, allowing the dunes to blow and be washed away, killing native wildlife and plants."
Gerard says there are legitimate uses for vehicles on beaches such as launching and retrieving boats and moving heavy fishing equipment.
With the council unable to be everywhere at once, it relies on public reporting of such problems.
People can report issues, including details such as registration numbers, dates, times and descriptions, via the council's Antenno app.
The council has received five complaints in the last year that relate to vehicles on beaches.
Gerard says the prohibition of vehicles from beaches as one of the key submission topics during a bylaw consulation earlier this year.
The consultation closed at the end of February and hearings are likely to take place within the next couple of months depending on the COVID-19 national alert levels.
"There was a lot of feedback on the bylaw proposal to further restrict vehicles on beaches, both for and against the proposed restrictions," says Gerard.
"Those bylaws will go through the statutory process and we'll have new bylaws operational by August."
He says police ae the ones responsible for regulation of dangerous behaviour and illegal vehicle use on beaches.
So, if people saw dangerous behaviour like speeding, drink driving, or driving without a licence, they should call the police directly.
Some people have suggested more visible signage to alert people to the consequences of their actions.
But Gerard says from experience, signage didn't last long and is often the target of vandalism.
"Some signs have had more success – the attractive signs that include drawings by our Coast Care children and volunteers tend to be respected, but appear still to be largely ignored."
The problem isn't just limited to the Opotiki district with the Whakatane District Council having similar issues.
At Ohope, people have moved the large concrete blocks used to restrict access in problematic areas, or simply driven around them to create even more areas of damage.
"I think most readers will appreciate that with many hundreds of kilometres of coastline in the Opotiki district, it would be almost impossible to fence off the whole beach area," says Gerard.
"Community attitudes could make it very clear to the small minority of people who are dangerous or destructive that the wider community does not want this behaviour. Report it when you see it and the council or police can follow through on fines and enforcement."

More on SunLive...