Trapped in muddy waters for five hours in BOP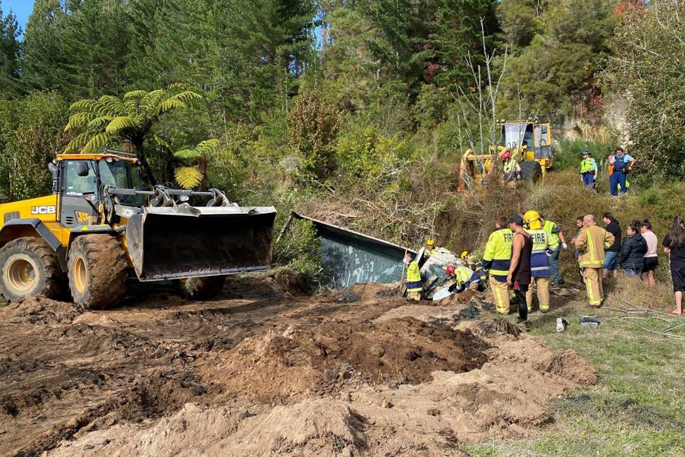 Trapped with the weight of a crumpled truck around his legs and mud and water up to his chest, Boyce Kingi was spurred by the composure of his rescuers.
They arrived in droves to the crash in the eastern Bay of Plenty on Sunday. A farmer came with a digger, locals donned shovels and some tried to dig out the mud by hand.
It took almost five hours to free the 49-year-old truck driver in what firefighters described as a complex rescue.
Had the crash happened in winter, when the water runs high along the drain next to the rural highway that weaves through eastern Bay of Plenty farmland, it could have ended differently.
"They stopped a funeral," he told Stuff from his bed at Waikato Hospital.
"I was worried. The predicament was that bad. The services certainly know how to put a positive light on things. I think I have to wash a couple of firefighters bikes for a month, and owe them a beer. I owe them my life."
Boyce, a father of four, had been on the early morning run carting a 10-tonne load to a dump site on Sunday morning.
As he travelled State Highway 30, not far from his home in the small village of Te Teko, something went awry and the truck lost control. It left the road and plunged over a bank and into a deep water-filled ditch.
"I was basically a passenger from that point, it was out of control and I went for the ride.
"I was just hoping no vehicle came the other way, and ended up a few metres down a bank in a flowing drain.
"I had three-odd tonne of dirt on top of me."
The crash happened about 500 metres before the intersection of Braemar Road.
"After about three or five minutes I heard cars stopping and people talking, and what I'm guessing is a farmer who climbed onto the cab and started reassuring me.
"They'd heard the bang and rang emergency services. The relief when you hear sirens."
Boyce was conscious but trapped. The truck was wedged into the ditch on the driver's side, pinning his legs amid the partially submerged cab.
Water and mud was up to his chest. He couldn't see or feel what was beneath. He doesn't recall any pain.
"I knew I was in a bit of a predicament."
A local farmer with a digger was one of the first on scene sometime after 9am, Boyce says.
Then firefighters, ambulance and police. Locals arrived. Some attempted to dig the mud out with their hands. Boyce could see family members through the cab's window.
One firefighter climbed into the cab with Boyce reassuring him, while two others worked at the front window with cutting equipment.
"There were people with shovels, big loaders going, services cutting the roof off but nothing could really be done until the heavy lifting crane turned up as the vehicle was under water."
Visibility was an issue as rescue services could not see what was beneath Boyce's chest.
It took four and a half hours to free the truckie of 25 years. Two tow trucks were used to take the weight of the truck and pull it free enough to clear the water so rescuers could see what was beneath.
"They cut me out. Once I could move my legs out I was put onto a splint and dragged up the bank. I remember cheers going up.
"I think I passed out."
Around 10.30am the TECT Rescue helicopter flew in. Crew wore full personal protective clothing due to the risk of hazardous materials in the truck, the rescue helicopter said.
Boyce was flown to Waikato Hospital and on Tuesday afternoon was doing well. He suffered no broken bones but did have cuts and "crushing injuries", he says.
"Everyone is saying it's a miracle."
He could not thank emergency services enough.
"They were all so professional. Thank you is two words but that is nothing compared to what I'd like to say. They saved my life."
More on SunLive...