Projects to pause to ease traffic congestion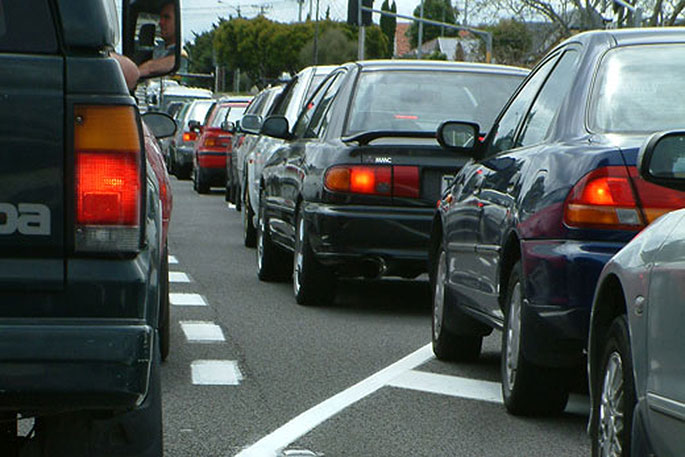 Daytime roadworks are being halted on some of New Zealand's busiest highways as a plan to ease predicted traffic congestion as the country moves into Alert Level 2.
With a significant increase in travel expected, Waka Kotahi NZ Transport Agency General Manager Transport Services Brett Gliddon says most planned daytime maintenance work and potentially disruptive construction work on the state highway network in major centres will be paused on Thursday and Friday.
Works will also be haled on Monday in order to ease congestion for those who need to drive.
"We know that travel is likely to spike when we move to Level 2 on Thursday as more people resume their daily trips, and there will be some unavoidable congestion and delays.
"We're hitting 'pause' on roadworks on our busiest highways for the first few days of Level 2 to avoid making those delays worse.
"Please plan your journeys in advance and allow plenty of time. If you can, stagger your journey to avoid travelling during peak times. Walking or cycling is a great option for some trips."
Projects affected in the Bay of Plenty include:
-SH2 Baypark/Te Maunga to Chapel Street Viaduct incl Maunganui and Hewletts Road (Bay Link project exempt as long as all pre-COVID-19 traffic lanes remain open).
-SH29/29A Tauriko to Maungatapu roundabout.
-.SH2 Ōmokoroa to Bethlehem at Te Paeroa roundabout.
-SH30 Sala Street and SH30A Intersection to Rotorua Airport (Rotorua Eastern Corridor Stage One project exempt as long as all pre-COVID-19 traffic lanes remain open).
-SH5/36 from 3km north and west of Ngongotaha roundabout to Fairy Springs, Rotorua.
At the moment, the pause on roadworks in the above locations in the Bay of Plenty is only for Thursday and Friday, between the hours of 6am and 6pm.
Depending on the level of delays/disruption, the 'pause' on roadworks for the Bay of Plenty may be lifted early.
Brett says Waka Kotahi will closely monitor traffic flows around the country, and the pause on daytime work may be extended if needed.
He says it's important to travel safely at all Alert Levels.
"In preparation for moving to Alert Level 2, and an expected increase in travel across the country, Waka Kotahi is encouraging everyone to play it safe and plan ahead."
Traffic volumes on state highways in New Zealand cities during Alert Level 3 have been 30% to 60% lower than usual, and a significant increase in travel is expected with the move in to Level 2.
For further information see: https://www.nzta.govt.nz/about-us/coronavirus-disease-covid-19-services-update/frequently-asked-questions/roadworks-and-projects/
Plan ahead for a safe, enjoyable journey. Keep up to date with:
Phone: 0800 4 HIGHWAYS (0800 44 44 49)
More on SunLive...