LIVE: No new cases of COVID-19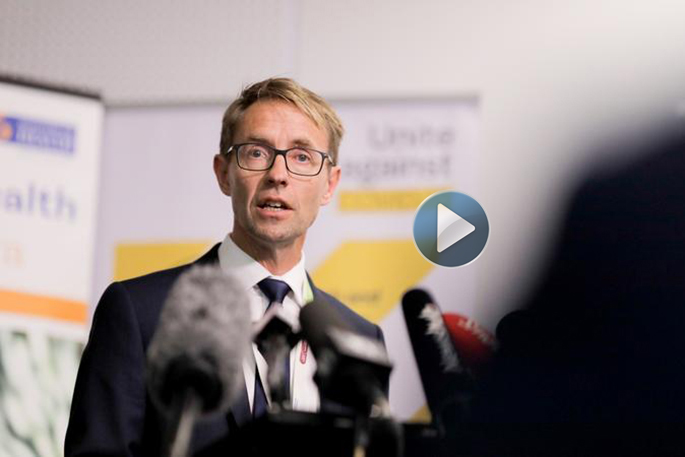 UPDATE: The Director-General of Health is again today announcing no new cases of COVID-19 in New Zealand.
This is the second day in a row that there have been no new cases of the virus.
Ashley Bloomfield says these numbers are "encourgaing" as New Zealand moves into Alert Level 2 tomorrow.
The total number of confirmed and probable cases is 1497.
There are now 1147 confirmed cases.
A total of 1042 people have recovered from COVID-19.
Ashley says this is 12 more than yesterday and accounts for 94 per cent of cases.
Two people remain in hospital. No one is in ICU.
There are no additional deaths. The death toll remains at 21.
New Zealand is moving into a phased alert level 2 this week, with retail, malls, cafes, restaurants, cinemas and other public spaces including playgrounds and gyms able to reopen tomorrow.
Schools will return to normal classes from Monday 18 May, while bars will have to wait until Thursday 21 May to reopen.
• If you have symptoms of the coronavirus, call the NZ Covid-19 Healthline on 0800 358 5453 (+64 9 358 5453 for international SIMs) or call your GP - don't show up at a medical centre
EARLIER:
As New Zealand prepares to head into Alert Level 2 tomorrow, Director-General of Health Dr Ashley Bloomfield will give us the latest COVID-19 numbers.
He will be joined by Prime Minister Jacinda Ardern at 1pm, as the pair provide the latest update from the All of Government COVID-19 National Response at 1pm.
SunLive will be providing updates throughout the afternoon for those who ae not able to tune into the livestream.
What we know so far
Yesterday, there were no new cases of COVID-19.
The number of confirmed and probable cases remains at 1497.
There have been no further deaths. Two people are in hospital, but neither is in ICU.
There are 12 people that have recovered since yesterday. Ashley says 93 per cent of the cases in New Zealand have now recovered.
There are still 16 clusters, four of which have now closed.
Ashley acknowledged New Zealand's hard-working nurses on International Nurses Day.
He discussed how hospital visits will work under alert level two restrictions.
"On the ground, visits are managed by DHBs."
In high-risk areas, including emergency departments, intensive care and maternity wards, there can only be one visitor at a time, and one visit per day.
In other parts of the hospital there can only be one visitor at a time, but more than one person is able to visit during the day.
People will be able to enter their businesses to prepare for the move to level two on Thursday. Ashley says he has issued an updated amended order under the Health Act.
Jacinda says those needing to use public transport to get to work at alert level 2 should be vigilant.
"Plan your trip, keep your distance and track your journey," she says.
She encourages people to discuss the matter with their workplace.
More on SunLive...