A whim gone global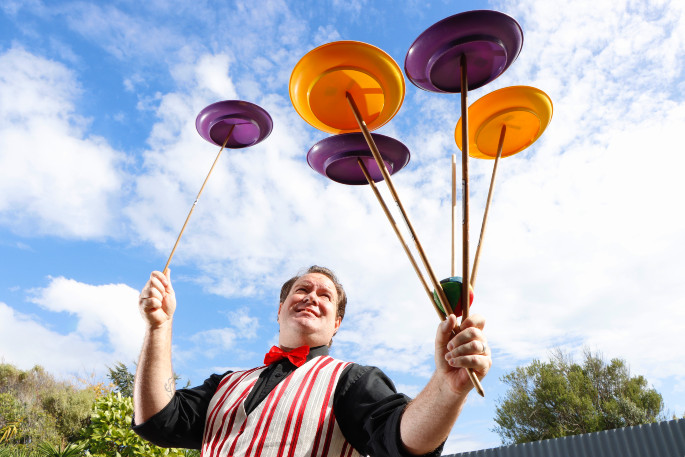 Three years ago, professional circus performer Jason Butler decided he needed a challenge to do while he was learning how to use hashtags.
"During February, there's a challenge called #handstandfeb, which is done through a lot of the circus and handstand communities," says Jason.
"During that month, you post a photo or a video online of yourself doing a handstand every day and hashtag it."
Hashtags gives people the ability to track the progress of others using the same hashtag, in this case doing handstands.
"While I was doing that, I thought it was a good opportunity to learn hashtags. I thought 'what am I going to do for March?'"
The Tauranga performer created the #multiskillmarch challenge.
"That didn't really take off as well because multi skills are quite difficult."
After March came April.
"I did one that was existing, which was #5ballApril and then May came along and I needed a hashtag, something to do for me."
He decided on the hashtag #trickadaymay.
"Every day you do a different trick, take a video of it, and post it online. It's about creating a little bit of fun, a little bit of content and if you can show off some cool tricks that's even better."
Jason says people can do the same trick every day if they want to map their improving progress. The tricks can be fun bar tricks right through to elaborate circus tricks.
"I started the hashtag throughout the circus community and in the first year we had maybe 15 people involved from around New Zealand and Australia that I knew, but it was very much my network of people that were doing it and a few of their friends."
The following year, the idea exploded across social media.
"Other circus community people had seen it and a friend I had toured with created a Facebook page for it."
The challenge is also on Instagram.
"Last year we had a couple of guys from Cirque du Soleil joining in and a guy from Russia."
This year even more have got involved.
"There are people from Uganda, Dallas, Chicago, New Jersey, Sweden, Mexico. There's a Kiwi in Berlin, Germany doing it. Another lady in Austin, Texas; probably a dozen people from New Zealand and about the same number around Australia.
"There's a lady who says she is 'uncomplainably stuck in Bali'. Her heart's in Australia, her residency's the UK but she's in Bali, says she's got nothing better to do for the month of May so is getting in on this as well."
"Last year there was a guy who did a different trick on his roller blades every day. Anything goes and that's the beauty of this particular challenge. You make what you want of it."
Jason says there's no rules.
"Just post a video every day, hashtag it and join the community if you want."
"Someone in Australia held a knife between her teeth, threw an apple into the air and caught it on the knife. Someone else saw that trick and decided to do one better. He caught an onion on a knife in his mouth, then took a giant bite out of the onion. People sort of one-up each other."
Jason's first video was balancing a peanut on his arm and throwing it into his mouth. He progressed up to six peanuts.
There are now more than 1000 videos online for #trickadaymay.
"It's gone global. I consider it like a child or beast - set it free and watch it grow."
Jason's Gold Coast Kiwi friend Joel Fenton, known as #stuntmanjoel, has balanced a can on his forehead while spinning a plate on a mouth stick, while spinning a basketball on his finger, then transferring the ball to an electric drill, and… there was more.
"He was doing four tricks in one, a multi-skill trick," says Jason. "Yesterday he solved a tiny Rubik's cube in his mouth while humming the New Zealand national anthem while spinning two toothbrushes on his fingers."
To find all the videos on Facebook or Instagram, Jason says to type in #trickadaymay
"It's that simple," says Jason.
"There's anything from juggling, to circus tricks, to handstand tricks, just entertainers and people that want to be involved.
"Have fun, that's what it's all about. Lockdown is making it explode more because people are saying they've got nothing better to do."
More on SunLive...