Tauranga teen wins regional race unity speech comp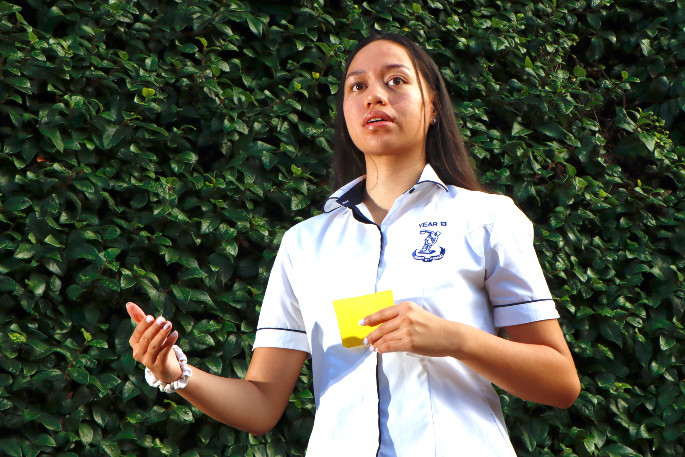 Turning 18 during a national lockdown hasn't stopped Ngariki Tamainu from taking on other challenges.
On April 17, the Tauranga Girls' College Year 13 student won a regional speech competition on race relations in New Zealand, earning herself a place in the national semi-finals.
"I couldn't believe it," says Ngariki after being told she had won.
Ngariki says the speech required overcoming the challenge of public speaking.
"I didn't think I'd go forward with my speech. I thought I'd write it but not actually present it, but as I started writing I felt I needed to be heard."
The NZ Race Unity Speech regional competition, with the topic 'Titiro whakamuri, kia anga whakamua – to face the future, look to the past' required a novel approach for judging this year. Originally planned to be held at the St George Church in Gate Pa, each participant had to compete in front of a camera as the regional speech competition was held online to comply with COVID-19 restrictions.
"We had been preparing for a while, email-wise," says Ngariki. "On the night all the judges and speakers were together on Zoom."
The Race Unity Speech Awards, which have been held annually since 2001, provide opportunity for Year 11, 12 and 13 students to grow an understanding of race relation issues in New Zealand and share their ideas on how to promote unity.
The Race Unity Speech Awards are coordinated by the New Zealand Baha'i Community with support and sponsorship from the New Zealand Police, the New Zealand Human Rights Commission, Manukau Institute of Technology, the Maori Language Commission and the Office of Ethnic Communities, Multicultural New Zealand: Federation of Multicultural Councils, Studio Marque, Speech New Zealand and the Hedi Moani Charitable Trust.
The national semi-finals and finals will also be held online, during Youth Week from May 11-17.
More on SunLive...