The enduring joy of ice-cream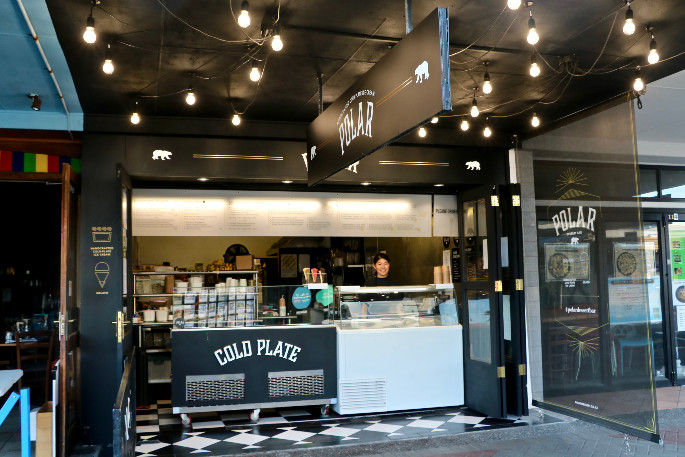 Polar Dessert Bar is the latest to be featured in the No Place Like Home series, sponsored by Tourism Bay of Plenty.
Ian and Pam White, the couple behind Polar Dessert Bar, have been bringing decadent and fun treats to Mount Maunganui's main street for four years. But their love affair with New Zealand and the Bay stretches back much longer.
Originally from the UK, Ian and Pam have been in the hospitality sector for 30 years, previously owning their own restaurant and catering businesses. But it was New Zealand they came to for their holidays, returning every year for 20 years and travelling around the country.
Finally, in 2014 they made the move permanent, bringing their vast hospitality experience with them. But they needed a new idea.
"We spent six months wandering up and down the beach, thinking about what we were going to do with ourselves," says Ian.
Ian and Pam were running Yo & Co (on Prince Avenue in Mount Maunganui) which offers frozen yoghurt treats but saw an opportunity for a late-night trade on the main street.
The result was Polar Dessert bar and a menu of 'fun, joyful big eats' including bubble waffles and cold-plate ice-cream.
"Coming to Polar is about having fun. There's a real buzz and positive vibe. There's music going and people can see their dessert being made right in front of them. The cold-plate ice-cream gets bashed together and rolled at the end – it's a bit of theatre with your dessert. We see a lot of smiles."
But social distancing has made creating that experience difficult, Ian said.
"We have to be super careful about how we manage everything now. But we hope we can get back to creating that buzz again in a safe way."
The eatery is operating under alert level three with both delivery and contactless pick up options. But Ian says, if people can, their business greatly appreciates dealing directly with locals.
"We've got an incredible sense of community. Kiwis are a tight knit bunch; they will help you out. Right now, businesses like ours are fighting for our survival.
"If locals want to support us, I think every operator would say the same – take the time to write a review, share a photo and, if you can, please pick up your order rather than using a delivery service.
"Those things will have the biggest impact."
More on SunLive...