Dark teen fantasy a winner for Matt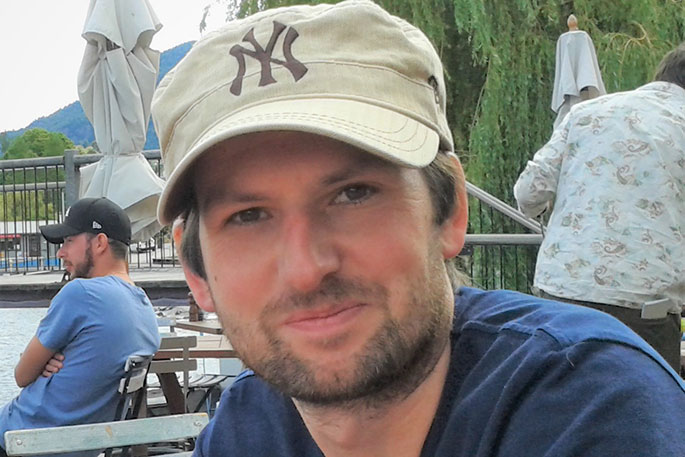 A resurrected, first-attempt novel tucked away in a drawer for several years has earned Christchurch writer Matt Norman a week-long writer's residency in the Bay of Plenty and mentorship from an award-winning New Zealand writer.
The inaugural Wright-Murray Residency for Speculative Fiction Writers was launched in December last year and attracted a large number of applications, representing authors from a wide range of backgrounds and experience.
Matt's novel, Dark Days, is an edgy teen romp, infused with fantasy, magic and death. It's a long way from his day job as a sterilising technician at Southern Cross Hospital in Christchurch.
"I started writing it about three or four years ago. I'd read a lot of these sorts of books and thought I could probably write my own. I put it aside after about 3000 words and only picked it up again at the beginning of the year."
Matt has written other speculative fiction work in the interim, including a novel published last year by an Australian independent publisher, called Road Trip Z, about a group of friends on a postapocalyptic road trip across a zombie-infested America.
"Being an 80s baby, I grew up with Steven Spielberg's Amblin films while bingeing on Josh Whedon's Buffyverse and Firefly universes in my teenage years. Both helped to shape my imagination. Reading Rowling's Potter and Martin's Game of Thrones series grew my fascination with the genre. Speculative fiction writer is a term that fits me perfectly."
Matt, who originally hails from Suffolk in England, says winning the first Wright-Murray Residency award is "a fantastic feeling".
"I am thoroughly grateful for this opportunity. The residency will support my journey, harnessing my potential through mentorship and peer support."
Award-winning writer and residency co-sponsor Lee Murray, who will be mentoring Matt, says most of the residency applicants proposed working on novel projects, but there were also several short fiction projects, novella and short story collections, as well as a performance piece.
"It was clear from the quality and the scope of the work offered that the genre of speculative fiction is thriving in New Zealand.
"Our SpecFicNZ committee found it an absolute pleasure and a privilege to read this work which included several young adult high fantasy and dystopian texts, climate change and supernatural thrillers, paranormal mystery, alternative history, and creature horror, among others. It was encouraging to see that many of the narratives incorporated a New Zealand context or connection."
The Wright Family Foundation also sponsored the residency, including a week at a Bay of Plenty country retreat, to help identify speculative fiction writers working in isolation and offer support.
"It is important to nurture the arts and artists, as they are a vital link to creativity and the overall wellness of society," says Wright Family Foundation founder and chief executive Chloe Wright.
To celebrate the launch of the residency, SpecFicNZ has offered all finalists a manuscript assessment on an excerpt of their writing. The finalists are:
Craig Arthur (Dunedin) for his gritty apocalyptic thriller Pinkfrost.
Octavia Cade (Cambridge) for her science-fiction/fantasy novelette based on the lives of Lise Meitner and Lina Stern.
Melanie Harding-Shaw (Wellington) to develop her untitled adult monster sci-fi novel.
Diana McLean (Thames) to develop her untitled off-world eco-fiction novel. Jana Mittelstaedt (Wellington) for her literary dark fiction fantasy Soul Retrieval.
Sue Perkins (Nelson) for her young adult techno-futuristic novel, part of the Rak Shoma series.
Jamie Sands (Auckland) for his solar-punk series The Singing, The Dancing & The Wonder.

More on SunLive...