Papamoa community props up family after house fire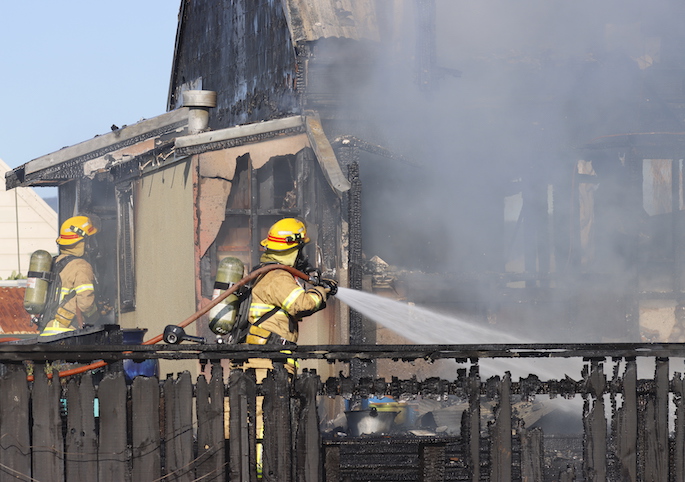 A Papamoa family is grateful for the "amazing" community support they have received after watching their home burn to the ground.
Brett and Sandra lost everything in the fire and Sandra's daughter Leana spoke to SunLive about their ordeal.
Brett was upstairs when he saw plumes of smoke coming into the house on Wednesday morning.
He got out of the house and was met by Sandra, who was at a police cordon. She was on her way home from work when she saw her house engulfed in flames.
Leana says she is still in shock so she can't imagine what her 60-year-old mum and 70-year-old step-dad are feeling.
"She doesn't have a gown or slippers. It's the small things that you just take for granted every day in your life. She's got none of it, and he's got nothing of it.
"They're retirement age, and it's a whole lifetime of things that you build up - memories.
"Brett's had that house for nearly 40 years. It's their home, he brought his kids up in that house, it isn't just a house.
"[It's a] worst nightmare, but at the end of the day they're ok and that's the most important thing."
Leana says it is even harder for her parents at the moment because of the alert level three restrictions, they can't just walk into a shop and replace things.
Having grown up in Papamoa, Leana says the community support there is amazing and it's shown even more after the fire.
She says people have offered support in any way they can and local business Pizza Library have helped to feed the family and the firefighters.
"Papamoa is such a beautiful community. I grew up in Papamoa and that community is amazing, they just rally around you.
"My mum and dad are both very much loved in the community and they're such amazing people.
"Literally, Brett would do anything. There's been times where mum has had a bit of a giggle because somebody has got stuck on the beach in their car and before mum would even mention it, Brett will be out the door, there with his big green truck and his winch helping them, he's just always there.
"He would actually take the skin off his back to help anybody. He's an incredible person, they just don't deserve this," Leana says, while holding back tears.
She says the fire fighters were there most of the day and were amazing, trying to help the couple salvage what they could after putting the fire out but there was very little.
"They were just so kind and thoughtful."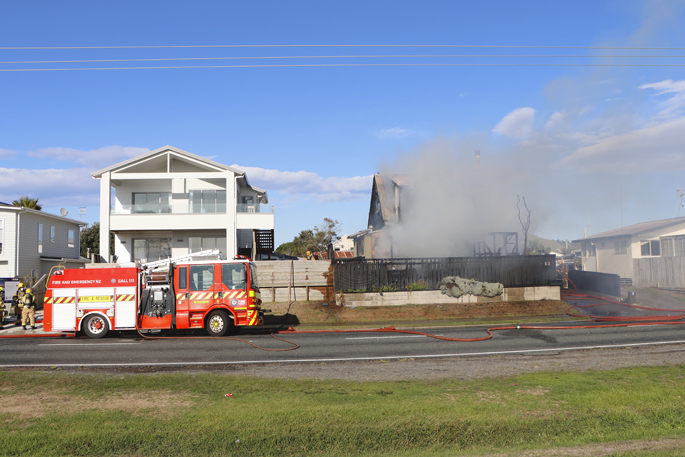 All that could be saved was the fire place, despite it being burnt, because Brett is sentimental about it and a log with ferns growing in it from the rear of the house that Sandra wanted, says Leana.
Fire and Emergency New Zealand received a call to the fire on Papamoa Beach Road, near McCullum Place at 8.52am on May 6.
Four fire trucks worked to put out the blaze and a fire investigator was sent the scene to determine the cause says FENZ northern communications shift manager Daniel Nicholson.
Leana says the cause of the fire is still unknown.
The couple, who have been together for nearly 20 years, have insurance and are working through the process now.
Family friend Barbara Noghera set up a Givealittle page yesterday to help after the tragedy - so far it has raised $4364.
"I felt a Givealittle page was the most efficient way for people to help," says Barbara.
"They are like family to me and I feel for them so much with what they are going through."
The Givealittle page for Sandra and Brett can be found here.
More on SunLive...