Tauranga teens triumphant during lockdown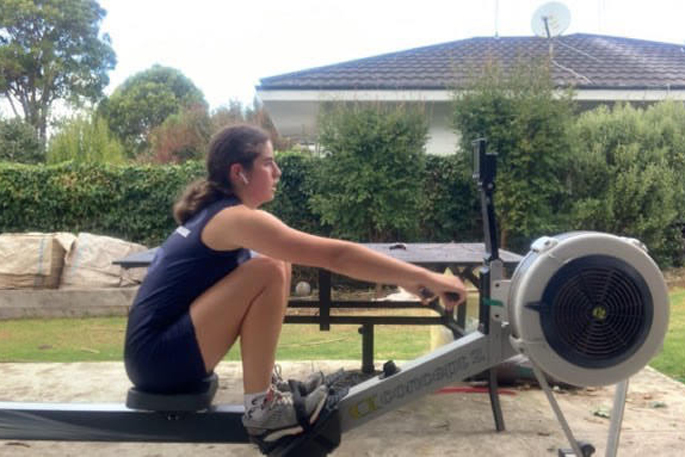 Three Tauranga Girls' College students haven't been idle during lockdown. They have been winning competitions in their fields.
Kelly Brown says it was "gut wrenching" when the Maadi Cup regatta, the national school rowing championships, were cancelled by lockdown. The regatta was originally scheduled for March 30.
"It was quite disappointing, especially because it was going to be my last chance to compete there. It is my final year of school rowing. We've spent the last 11/12 months working towards it."
The year 13 student would have been entering the under 18 single scull competition.
In typical kiwi fashion, Indoor Rowing New Zealand and Olympic gold medallist Peter Murray teamed up to host the Eric Murray invitational competition so rowers didn't miss out on competing.
Competitors were set a challenge to row the longest distance in a set amount of time on their rowing machine.
Kelly took out the under 18 competition rowing 1902 metres in seven minutes.
The 17-year-old was surprised to win but says it was a nice surprise.
"It was quite a nice shock. It was something different to try and end the season on a bit of a high rather than the low everyone had been left in."
Kelly is hoping to get a scholarship for rowing at a university in the United States next year and has continued her training during the COVID-19 restrictions by rowing or cycling for an hour or two each day.
Leading up to the regatta she was training twice a day, six days a week.
She can't wait for level two so she can get back out on the water when the Tauranga Rowing club reopens.
"As soon as we're in level two, I'm going out there on the first morning."
Anamaya Taylor won't be taking part in much sport at the moment after breaking her arm skateboarding but she entered the Earth Guardians junior character design competition prior to her accident.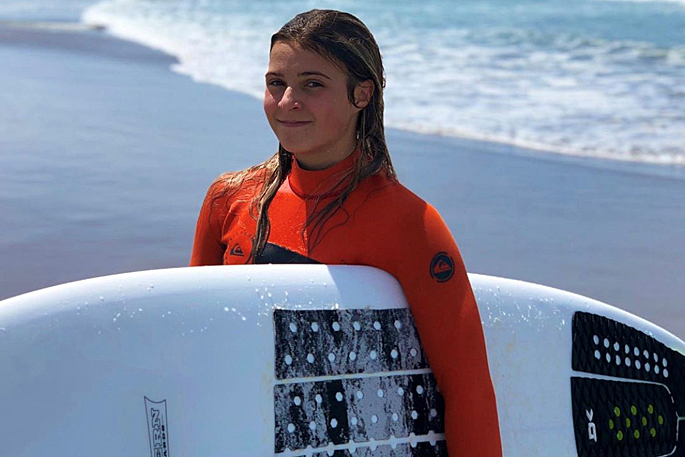 Anamaya Taylor loves surfing and football as well as art.
She is one of five winners of the Massey University College of Creative Arts Go Costume section with her creation Zanoth.
The bubbly 13-year-old was really excited to enter and started working on her creation straight after her art teacher suggested the competition.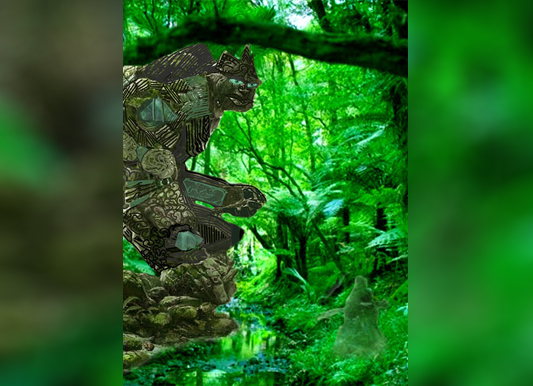 Anamaya's earth guardian Zanoth.
Taking inspiration from the streams running behind her Tauriko home and the taniwha, Zanoth is a guardian of New Zealand's creeks and rivers.
He can judge whether people are pure or not and uses greenstone to harness this power and listens to the Maori sky and earth gods as well as past chiefs to get perspective on people, Anamaya says.
"I didn't want it to be some kind of alien sent from a different planet. I really wanted it to harness New Zealand's power.
"I went down to the garden and took some photos and then worked off it from there."
The year nine student used the Photoshop and Procreate programs to digitally create her guardian.
Ngariki Tamainu also referenced the mythical Maori taniwha in her award winning race unity speech.
She is one of 22 regional semi-finalists for the annual Race Unity Speech Awards. The theme for this year's competition is 'to face the future, look to the past'.
Ngariki used the taniwha as a representation of racism and spoke about what the future holds in terms of racism and how to overcome it whilst using examples from the past such as the invasion of Parihaka in 1881.
The year 13 student decided to enter the competition to make the most of her last year at school.
"I came to the realisation that the school had so much to offer and I wasn't really taking grasp of everything that was given to me.
"Then when I started like writing and planning [the speech], I really enjoyed it.
"I think personally this topic was just very homebound and that's why I'm so proud to be able to talk to people about this."
The 18-year-old has overcome her struggles with anxiety to enter the competition and says it has held her back in the past.
The competition is normally held in person but this year because of lockdown speakers are competing online.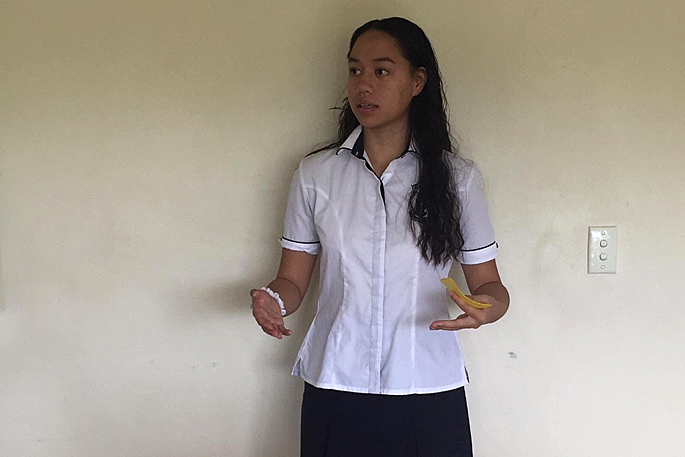 Ngariki Tamainu practising her race unity speech.
Despite not having a live audience to contend with Ngariki was still "very nervous" when delivering her oration.
Since becoming a semi-finalist she has been brushing up her skills by video calling her friends and practicing in front of her family.
The national semi-finals are being held from May 11 to 13 with the final on May 17.
More on SunLive...