PM: Microsoft investment welcomed news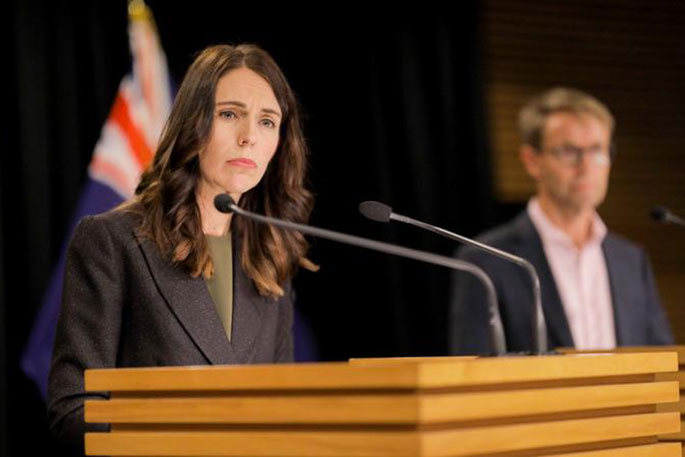 Prime Minister Jacinda Ardern says the news that Microsoft will make an investment in New Zealand to establish a data centre for its cloud services is welcome news.
"International companies like Microsoft wouldn't be investing here ... if they didn't have full confidence in the NZ economy."
She says it's subject to normal regulatory processes.
"It signals to the world that New Zealand is open for business."
By tackling the virus early, Jacinda says New Zealand is well-positioned to rebuild the economy.
She says while latest figures show a promising employment rate, with the unemployment rate rising slightly from four per cent to 4.2 per cent, it does not take into account the worst of the lockdown.
"Obviously, a huge amount has changed in the last six weeks in New Zealand, and this global 1-in-100-year health and economic crisis will contribute to unemployment rising, of that there is no doubt.
"But we will continue to support people, to help protect jobs, to help grow jobs and help support peoples' incomes."
Employment growth shows strong economy heading into COVID-19
News that nearly 20,000 New Zealanders entered work in the first three months of the year shows the economy's underlying strength heading into COVID-19, says Finance Minister Grant Robertson.
Stats NZ reported today that the number of employed people rose by 19,000 over the March quarter, while the number of unemployed was up by only 5000. The employment rate rose to 67.5 per cent, while the unemployment rate also rose slightly from 4 per cent to 4.2 per cent, remaining near its lowest levels in a decade.
Wages were also rising at an annual rate of 3.6 per cent, with average ordinary time hourly earnings up to $33.14. This was well above inflation at 2.5 per cent.
"The numbers show that this Government's economic plan has been working, as businesses had the confidence to increase employment and invest in their workforces by raising wages," says Grant.
"Obviously much has changed in the last six weeks in New Zealand. While these numbers reflect the position New Zealand was in before the worst of COVID-19, they show we were in a strong position. The amazing work all New Zealanders have done through Level 4 and Level 3 to stay home and break the chain of transmission now means we're well-placed to get a head start on our economic recovery."
The Government's focus is on cushioning the blow of COVID-19 on the economy by supporting businesses with cashflow and helping workers maintain or find employment.
"We do know that this global 1-in-100 year health and economic crisis will contribute to unemployment rising further. The investments we've already put in place are designed to minimise these impacts, and support those who are out of work to find new employment.
"We went hard and early in our economic response, putting in place the wage subsidy scheme to protect jobs and incomes. The scheme has paid out more than $10.6 billion, covering the wages of more than 1.7 million workers.
"Our $3 billion tax refund scheme put into law last week will start paying out in coming days to support viable businesses with cashflow and costs like rent. This is being complemented by the Small Business Cashflow Loan scheme, the Business Finance Guarantee and a range of tax measures to encourage investment."
APEC economies agree to keep markets open and trade flowing in response to COVID-19
The 21 Asia Pacific Economic Cooperation ministers responsible for trade have committed to work together to ensure trade and investment continue to flow to help counter the impact of COVID-19.
"In these troubled times, our region has recognised how important it is to act in concert to keep supply chains open and trade flowing, especially in essential goods and services," says Trade and Export Growth Minister David Parker.
"This new commitment will promote a more stable trading environment for our food exporters. It will also help provide reliable access to the critical medical supplies we need.
"Global cooperation, not national protectionism, is the best way to address the global challenge of this pandemic. This APEC commitment complements our other efforts, which include ongoing trade negotiations, the recent New Zealand-Singapore Declaration on essential goods, and similar commitments we have made in concert with other countries."
APEC trade ministers also acknowledged the economic impact of COVID-19 on the most vulnerable communities and sectors, and undertook to ensure their recovery was a focus.
New Zealand, and other like-minded countries, see trade as playing a key role in the economic recovery from COVID-19.
So New Zealand has also joined other WTO Members overnight in a statement supporting the multilateral trading system and highlighting its role in responding to COVID-19.
"In this spirit we also recently joined a COVID-19 response alongside Australia, Canada, Singapore and South Korea to facilitate the flow of goods and services as well as the essential movement of people.
"It is in all our interests to ensure that essential goods and, in time, people involved in essential services, can go freely to where they are needed, while prioritising necessary public health objectives.
"We are also pleased to welcome the United Arab Emirates to the joint statement between New Zealand and Singapore, and now nine other countries on Ensuring Supply Chain Connectivity amidst the COVID-19 situation."
New Zealand COVID response earns investment confidence
Microsoft's decision to establish a datacentre region for cloud services in New Zealand shows the advantage this country has as a safe haven for business as we move ahead with our economic recovery from COVID-19, says Minister for Government Digital Services Kris Faafoi.
"Our Government took quick and decisive action responding to COVID-19, and that is being recognised globally, with the likes of this decision by Microsoft.
"This means job opportunities in the near term for our construction industry and, in the longer term, for our ICT industry and local innovators. This also serves as a signal to the world that New Zealand is open for business and quality investment.
"New Zealand is a stable and globally competitive economy. We are party to a wide range of free trade agreements, have a regulatory regime which supports competition, an efficient tax regime, an open political system, and we encourage investment in innovation.
"This investment also recognises New Zealand's position as a leading nation in our changing digital world, and has flowed from conversations between Prime Minister, Jacinda Ardern, and Microsoft President, Brad Smith, last year.
"Cloud-based technologies are generally accepted now as being the way to work and innovate digitally. As such, Cloud is an important part of our Strategy for a Digital Public Service.
"Today's decision by Microsoft means that the Government, and New Zealand businesses and people, will be able to access the scale and security of Cloud services offered by a major global provider in ways we haven't been able to before.
"Protecting New Zealanders' data and privacy is critically important. Onshore Cloud facilities give us stronger control of our data and reduce the concerns relating to storing data offshore.
"Today's announcement represents a positive step in New Zealand's digital maturity, as we all adjust to working and learning online.
"New Zealand also has a reliable, almost entirely renewable power supply, crucial for hyper-scale Cloud services, which fits the carbon neutrality commitments of companies like Microsoft.
"While I welcome this private investment, I want to be very clear that Microsoft's decision to establish its Cloud facilities in New Zealand has been made through the company's independent due diligence, and this is not a government procurement."
More on SunLive...