Tauranga's How to Dad learns how to dinner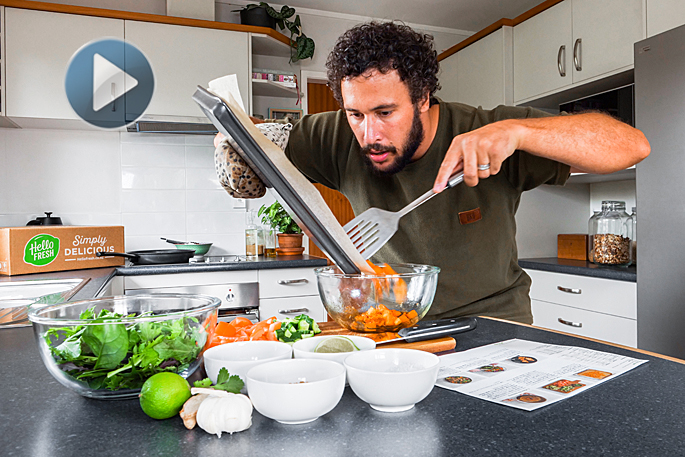 An iconic New Zealand infomercial star has joined forces with a well-known YouTube dad to launch a comedy cooking series to provide entertainment for Kiwis spending more time in the kitchen.
Tauranga's Jordan Watson aka How to Dad knows all about making life easy. The "self-taught dad" and father-of-three has a YouTube series which provides hilarious parenting hacks.
Jordan has partnered with HelloFresh to create a mini-series featuring high profile Kiwi names, coming together to cook easy-to-prepare meals. The duos will share kitchen tips and tricks in true How to Dad style, while demonstrating with a few handy hacks you don't need to be a chef to enjoy simple delicious dinners.
Filmed during lockdown, the first episode of "How to Dinner" has infomercial queen and television star Suzanne Paul teach Watson some key presenting tips via a video call as they whip up a dish together.
Suzanne says friends laughed when she told them about the new project and says it's well known she's no cook or foodie and used to survive on a diet of toast and takeaways.
"I don't like the whole palaver of thinking about food, from grocery shopping to actually planning what to eat and then having to set about making it.".
A stint watching cooking shows with fiance Patrick Kuhtze saw her try and replicate some of the meals but that too was a disaster.
"I always bought way too much food and would buy things I had no idea how to cook. I made polenta that you could have used as a doorstop."
"Jordan was hilarious, my role was to get him to sparkle and shine and try to get him to hold things up properly for the camera, I'd often say to him 'don't just wave that willy nilly hold it up for the camera'."
Suzanne says despite her role being that of presenting coach the experience has given her a new appreciation for cooking.
"My favourite HelloFresh recipe to make is the Seared Salmon with Leek and Caper sauce, it's beautiful, in the past I would have thrown it into the oven with a squeeze of lemon if I could have even been arsed to do that."
Jordan says he's excited about the new series and is looking forward to working with his celebrity guests, to bring to life some delicious meals.
"I'm always looking at new ways to keep my audience engaged and to not just post the same old stuff - a cooking show of sorts was a bloody exciting prospect and the fact it was for a meal kit company we already use just made sense.
"I hope that it will open people's eyes to just how simple making good, tasty dinners can be and that it helps people channel their inner home cook," he says.
Recent HelloFresh research shows that meal kits are making it easier for family members and children to learn cooking skills and cooking was shared across more family members.
Jordan isn't surprised that meal kits have helped spread the cooking responsibility around the family.
"For me and my wife, cheesy as it sounds, it has brought us even closer. We have a routine of cooking together and it's fun, we have a glass of wine. Our kids have also opened their eyes and mouths to new and exotic flavours,"
He says his on-screen co-star also had plenty of tips to share and has a presenting style that's as unique as his own!
"Suzanne is all about the smile. It's hard for a guy like me as I'm usually pretty dead-pan. I don't know where she gets her energy from but I want a fresh batch of it delivered to my door. She is an absolute pro and so funny, a Kiwi icon to this day."
HelloFresh CEO Tom Rutledge says during tough times food can be a way to bring joy and people together.
"Weeknight dinners are about getting food on the table, not putting together some far-fetched Instagram-worthy tableau. Sometimes it all looks too easy on a cooking show and we almost forget that there's an army of shoppers, sous chefs and washer-uppers just out of shot!
"Jordan and Suzanne are bringing an authenticity and a reality to what it actually takes to put together a meal with a step-by-step process in a fun and engaging way. It shows that it's an activity that all of the family can be a part of which provides a great means of escape at these times," he says.
Kiwis can catch the How to Dinner series on How to Dad, Suzanne Paul's and the HelloFresh social media accounts. The series will also be available on Eat Well's website.
More on SunLive...