Why the long face?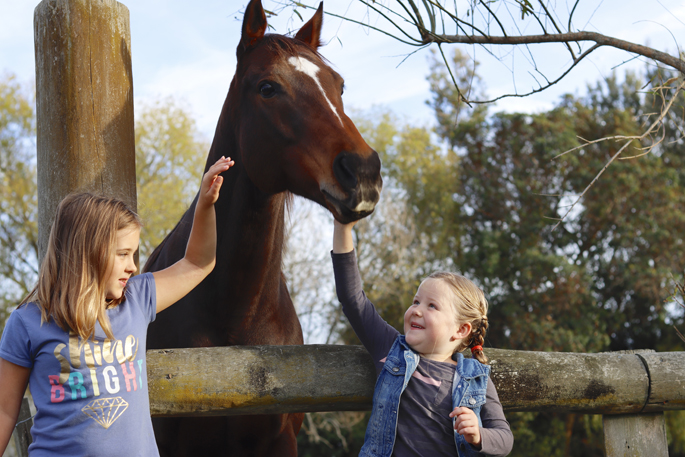 Oliver the horse has been puzzled as to why he hasn't been able to visit his local bar lately. His owner Sally Bottomley says Alan Bundy, the bar owner, and Oliver have a mutual special fondness for each other, but the horse hasn't seen Alan in weeks.
The Papamoa icon – the horse that is, not the bar owner - has been staring over his fence on Sandhurst Dr wondering why he also can't hustle his usual admirers for carrots. Everyone has been staying away.
Well not quite everyone. Sienna Crowley, age ten, and her sister Olivia, age eight, are best buddies with Oliver and have been making sure he's not been too lonely during the national Alert Level 4 lockdown. They first met Oliver about two years ago while out cycling with their mother Stef Crowley.
"We live down the road," says Stef. "Olivia is adamant she's going to be a vet when she's older and she's been animal-mad since she was about four years old. She begged me to stop and say: 'hello' to the horses."
On one occasion when the trio paused on their regular ride to see Oliver, Sally was there and invited them in. Sally leases the paddocks where Oliver and two other horses spend their days and has made sure they have been kept well cared for during the national emergency, visiting them daily.
"We struck up a friendship and I've helped her on occasions with a couple of small horses," says Stef. "It's a semi-win-win. She's down the road and I can help out some times when she needs a small hand."
Stef and her husband who grew up experiencing farm life consider themselves very lucky to have friends like Sally and Oliver who can give their girls a similar farm experience in the midst of suburbia.
"Sally invites us to come and ride and we've helped decorate Olly for some of the community events he's been involved in," says Stef.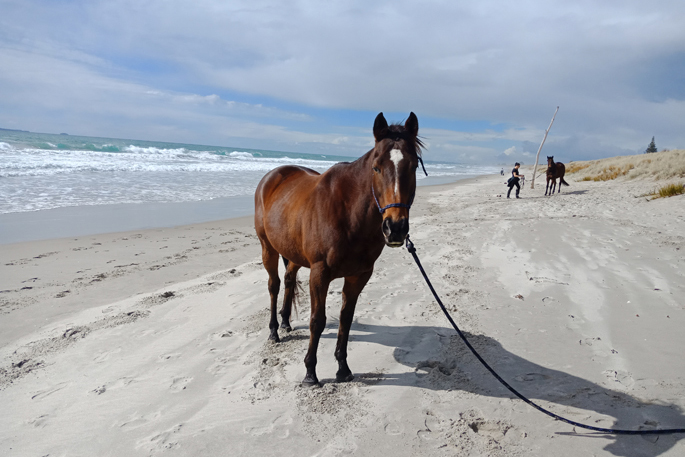 Sally often hears stories about Oliver's friendly interactions.
"Most people who come past say it's just wonderful to be able to live in an area and see these beautiful creatures standing there in a built up area, well cared for," says Sally. "It's good psyche for the locals.
"I hear stories about Oliver. Half the time I hear about him hustling pavement walkers for treats all day. "He knows how to turn on the charm and hustle his public, don't worry about that.
"He also loves the local cats who visit him. He dines with his buddy the pheasant and enjoys saying: 'hello' to friendly dogs when out and about."
Oliver has also won ribbons and a first at the Tauranga A&P show with Rochelle Turner. So he's used to plenty of admiring attention.
"Some of his used horse shoes are at the old Papamoa Tavern," says Sally. "They have re-purposed them I believe.
"Oliver has his photo up behind the bar at Bundy's, but also has his photo in the Papamoa Police Station and made the Police Gazette with photos of a couple of Police officers outside the station. He was delivering chocolates to thank them for returning his rope which got dropped during a ride."
Oliver, a thoroughbred originally from Great Britain, is an ex-racehorse, racing as 'Foodie' in Hong Kong during the 2014/15 and 2015/16 racing seasons, with three wins to his name.
"He's a laid-back chilled dude," says Sally.
Oliver's also used to rides along the Papamoa beach, which he's bound to resume on a more regular basis soon, now that the country has moved to Alert Level 3. Sally took him down to the beach on ANZAC Day before dawn.
"There was a guy there with a New Zealand flag," says Sally. "It made his day seeing Oliver. There were smiles for miles with Oliver on the beach, with many thanking me for bringing him out. Somehow something as simple as a horse going for a walk along a beach brings joy back into our complicated lives."
Clearly, retirement years are going well for Oliver the ex-racehorse. Brock van Leeuwen from ConTact C.A.R.E, and Stef who works in holistic services at Right for Life Massage and Energy Centre have on occasion also worked with the horse and his paddock mates, giving them some loving pampering.
"He is an ex-racehorse but so docile. The girls have had great fun with him. It's a mutual love of kindness and community," says Stef.
"To put his personality in perspective," says Sally, "his cartoon character would be SpongeBob SquarePants."
More on SunLive...