LIVE: Three new cases of COVID-19 today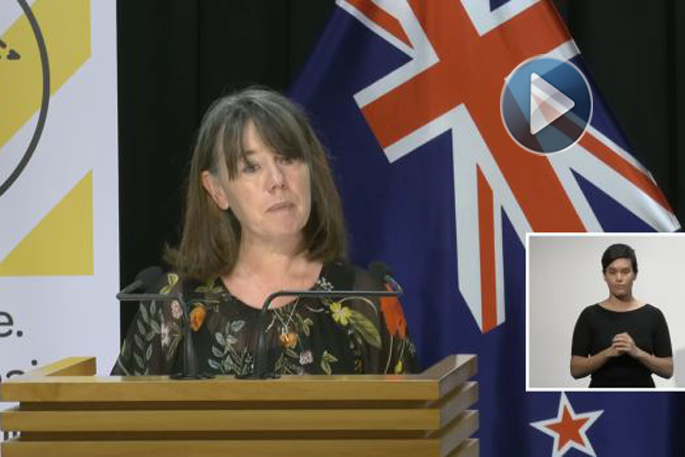 There are three new confirmed cases of COVID-19 in New Zealand today.
One of these cases is linked to overseas travel, one is linked to a known case but is still under investigation and the other is still being investigated, says Director of Public Health Dr Caroline McElnay.
There are 1132 confirmed cases and 347 probable cases bringing the total of combined cases to 1479.
Caroline says she is pleased to report there are no further COVID-19 related deaths. The current number of COVID-19 related deaths is 19.
Yesterday there were 5328 tests carried out bringing the total to 134,570 tests carried out to date.
Caroline says 1252 people have recovered from COVD-19 which is 85 per cent of cases.
There are 6 people in hospital with none of these people in ICU.
There are still 16 significant clusters, but Caroline says one cluster has not seen new cases in 28 days and will be closed.
Finance Minister Grant Robertson says there have been 281 breaches under level 3, an increase of 96 in the past 24 hours. He says the increase in numbers showed police were stepping up enforcement.
Most New Zealanders are doing the right thing and increases in breaches come from people making reports, Grant says.
He says there have been an increase in reports about parties at residential addresses which extend beyond those people's bubble
Grant warned those making plans for the weekend to cancel them now, as the virus had proven it will spread easily at events like these.
He said police would have a "dim view" on this kind of activity.
"Don't be an idiot, stick to your bubble and everyone will be better off."
EARLIER: The Minister of Finance Grant Robertson and Director of Public Health Dr Caroline McElnay will provide a COVID-19 update at 1.00 pm today.
What we know so far:
Yesterday there were three new confirmed cases of the virus.
One of the new cases is linked to an existing case, and the other two are still under investigation.
Director-General of Health Dr Ashley Bloomfield says there have been no further deaths.
There are seven people in New Zealand hospitals, and none are in ICU.
An earlier probable case had been reclassified as not a case, he says.
The total of both confirmed and probable cases in New Zealand is 1476.
Of those, 1241 cases are now recovered. This is about 84 per cent of the cases in New Zealand.
Ashley says there are no additional cases among the 16 clusters.
He says there was a significant increase in testing on Wednesday, with 5867 tests performed.
"Our new total of tests is 134,570."
More on SunLive...