The Weekend Sun back in people's letterboxes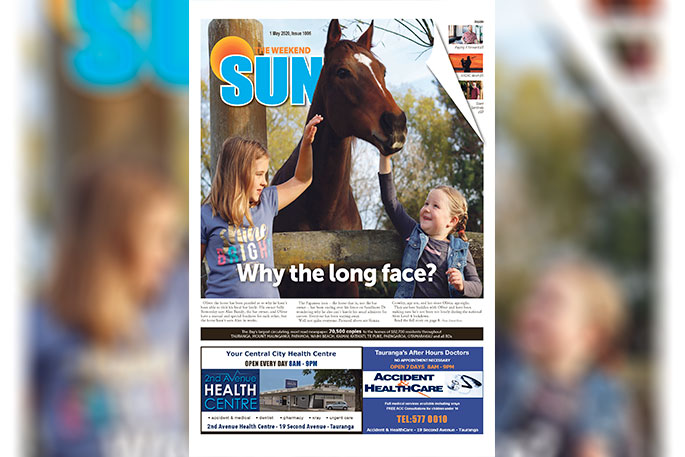 The long wait is over for The Weekend Sun lovers. The much loved and widely read Tauranga newspaper is back from today.
May 1 marks the first edition of the publication to be printed since New Zealand was placed into lockdown amid the COVID-19 pandemic.
The Weekend Sun did its bit by sitting out the lockdown during the month of April while the company continued to stream news via its hugely popular SunLive free news service.
Putting local people first is what it's all about at SunMedia and that goes for both our readers and our advertisers.
The move from Alert Level 4 to 3 this week has allowed SunMedia to be able to print The Weekend Sun and get it delivered to people's letterboxes under new safety guidelines.
The team at SunMedia have been working hard from home to make sure we could publish the paper this week.
From our sales staff, design team, newsroom, accounts and our lovely receptionist. Everyone has done their best to deliver a top quality product everyone knows and loves.
Editor Daniel Hutchinson says it was a pretty epic effort from everyone to pull that paper together from spare rooms and kitchen tables scattered all over the place .
He says today's edition of The Weekend Sun will continue a long tradition of "looking forward, not back".
"There is no point worrying about what's happened, so we will be looking at all the things people are doing to get back on track, whether that's the local council, businesses or the folks slugging it out at home.
"We're also aware that a lot of people are sick of relating everything back to this virus so we will be digging out stories about all the other things going on in our community as well.
"You simply can't beat the reach of a paper delivered into all mail boxes."
The May 1 edition will include a line-up of interesting people and personalities, opinion and fresh local news.
There will also be a special advertising feature on Safe Services – highlighting the businesses that will be open during Level 3. Contact us to be involved.
To advertise email ads@thesun.co.nz or share your news story by emailing daniel@thesun.co.nz.
If you don't receive your paper before dark today, we want to know about it. Please email your name, address and contact phone number to office@thesun.co.nz
More on SunLive...