Tauranga photographer takes golden steps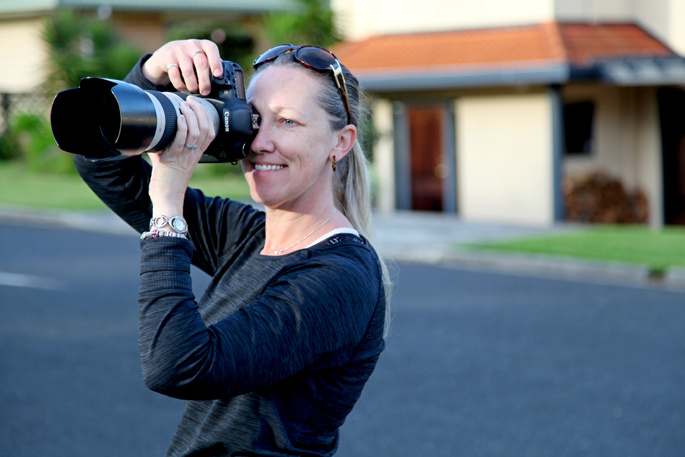 Tauranga photographer Alisha Taylor has managed to raise even more money for the Tauranga Community Foodbank and got "the shock of her life" while doing it.
Alisha thought she was going into a zoom meeting with the Tauranga Foodbank board as a thank you for the money she has helped raise but was greeted by Hilary Barry and Jeremy Wells from TV One's Seven Sharp instead.
She's this week's winner of the ASB Good as Gold competition and the foodbank will be given $2500. She receives the same amount for herself.
Upon hearing the news, Alisha burst into tears causing Hilary to start crying as well.
"It was all just a bit overwhelming, it's really unexpected, but also really beautiful to be acknowledged."
Throughout the COVID-19 lockdown Alisha has been walking the streets of Otumoetai photographing families for the Front Steps Project.
The global project, started by Cara Soulia and Kristen Collins in the United States, portrays people living in their bubble and raises money for charity.
To abide by alert level four rules, Alisha has walked to every family she has photographed and taken photos from a safe distance.
The professional photographer has taken photos for close to a hundred families and walked countless kilometres.
In exchange for the photographs, families are asked to donate as little or as much as they like to the Tauranga Foodbank.
"We didn't want to put pressure on people financially at this time, so it's just purely whatever they want to donate."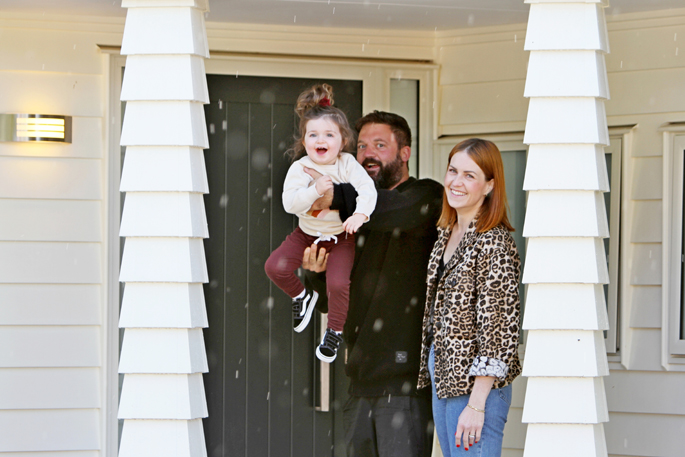 Todd and Katie Hunter with their daughter Tillie. Image: Alisha Taylor Photography.
Since bringing the project to Tauranga, Alisha has been joined by six other photographers and together they have raised $4815 for the foodbank - not including the prize money.
She says having the other photographers join the project has made it even more worth it because they've all put in effort as well.
Alisha has really enjoyed capturing memories for people and winning the competition is the icing on the cake.
"All the hard work and effort that's gone into it, I just loved every minute of it. Now to have this [win] on top, made it extra special.
"It's just amazing to be acknowledged like that and I'm just out there doing my own little project."
Tauranga Foodbank manager Nicki Goodwin helped set up the surprise for Alisha and says she giggled all day thinking about the shock she would get.
"It was so exciting, because Alisha has put in many hours to this project with no thought of receiving anything in return. No motivation there for her whatsoever.
"It was just to share some love with families in her neighbourhood with them having a memory and then asking for support for us, which she has done an amazing job with.
"Knowing that she was going to be surprised with some reward, even though that probably doesn't sit very comfortably with her, was brilliant because she deserves it."
Nicki is grateful to all the photographers involved in the project and says the money raised will enable them to buy all the staple food items needed to ensure their food parcels are useful and nutritious.
The demand for help from foodbank has increased during lockdown and Nicki thinks it will continue to grow.
Another win from the Front Steps Project is the awareness it has raised in the community about foodbank, she says.
"Maybe some of the people that Alisha photographed weren't even aware of our charity or what we did and now they are. So that's huge, that's priceless."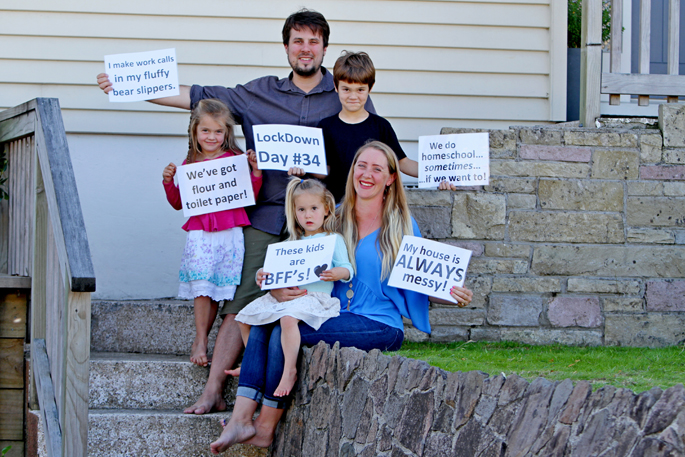 The Drinnan Family had fun capturing their lockdown memory. Image: Alisha Taylor Photography.
Alisha says the money she receives will help her business because her work came to an abrupt stop when lockdown started and will take time to build back up again as the restrictions ease.
She also plans to take her family out to celebrate when they can and have a separate soiree with the six other photographers that took part in the project.
More on SunLive...