Commemorating the Battle of Gate Pa in lockdown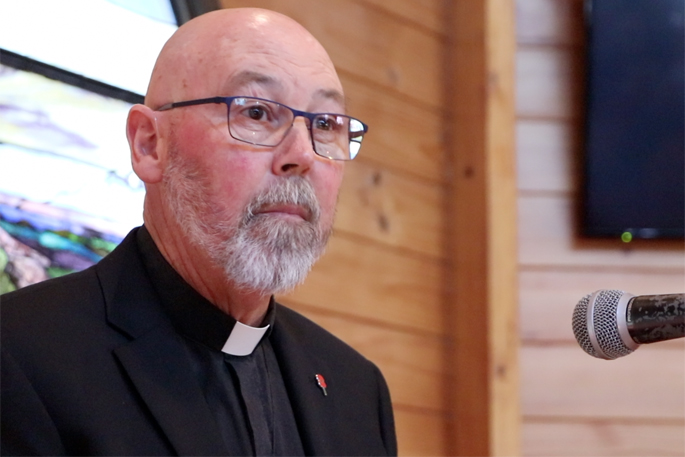 The Tauranga community is encouraged to pause and take a moment today to remember the 60 lives lost at the Battle of Gate Pa.
Today marks 156 years since the battle in Tauranga. Since 2014, the "60 Bell Service" has been held at the Anglican Parish of Gate Pa on April 29.
But under alert level 3 restrictions the service could not take place, so St George's Anglican Church has turned to social media to honour all Maori and British soldiers who fought and died in the tragic event.
St George's Anglican Church Reverend John Hebenton has shared a video to Facebook in place of the service, saying he hopes it will help people stop and mark today in some way.
"Normally we would gather to have a time of reflection, to ring the bell 60 times, to remember all those who died - Maori and British."
In the video, Lieutenant Colonel Cliff Simmons reads an account of the battle. The bell of St George's Anglican Church is then tolled 60 times to honour those who died.
Historian and project director of Pukehinahina Charitable Trust Buddy Mikaere says it's a real shame the usual events haven't been able to go ahead this year.
"It has been a bit of a loss this year. The service has become part of the calendar of events in Tauranga."
He says the video has already had quite a few hits and is the extent of what can be done today to commemorate the Battle of Gate Pa, also known as Pukehinahina.
Buddy says the number of people visiting the site over the past five years has steadily increased.
"It's probably one of the most significant events in the history of Tauranga, and I have just been blown away by the number of people that come and visit the site."
About 2000 people have been guided around the site by himself and Reverend John over the past year, he says.
"Between myself and John - we would have had a couple of thousand school kids come and visit the site. Last year, a whole lot of army officers came, along with cruise ships passengers and groups of former Tauranga students."
The increasing interest around Tauranga historical sites - like Pukehinahina, the Otumoetai Pa Historic Reserve and The Elms proves the need for a museum in Tauranga, says Buddy.
"There's a little historical go-around happening and all it does to me is underline how we really do need a museum so we have a central point where everything can be brought together. Then people can go out and visit different sites."
Buddy hopes the Tauranga community keeps kindness at the forefront of their mind when reflecting on the battle today and says he's looking forward to seeing everyone at the service next year.
More on SunLive...