A trolley full of trust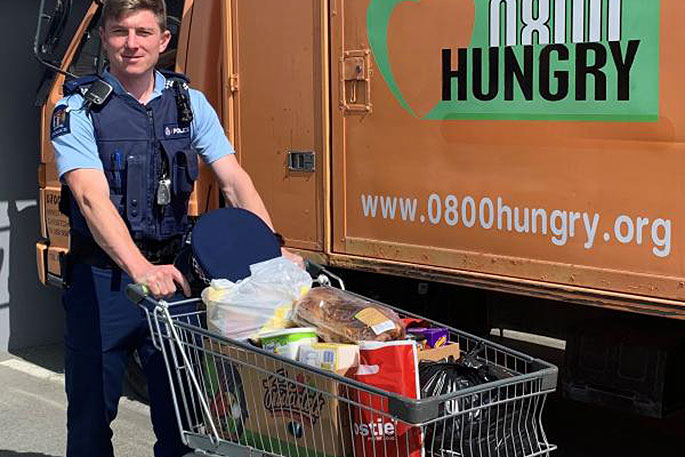 A call for assistance and a trip to the food bank have given a family a new insight into how Police can help in what might seem the least likely circumstances.
A desperate mother called police to her home to calm down her young daughter, who was out of control and damaging the property.
The girl is well known to Police and the family has a long history of family harm incidents, says Constable Harrison 'Harry' Pene, who attended the incident – before the Level 4 restrictions - with his colleague Constable Simon Kerr.
The pair spoke to the mother and daughter, who had calmed down but was still being disrespectful. When they spoke to the girl without her mother present, she opened up about her living conditions.
"Her walls slowly came down and we were able to pick up on those things she would brush off as normal at home," says Harry.
"Things like her mother's drug use, her brother's aggression, no food at home, fighting at school and truancy, lack of self-esteem, her social group not being supportive and her having to deal with adult problems as a kid.
"Once we had dealt with the talking and defusing side of the job we did a very brief walk through the house and noticed food was getting low and income was extremely tight."
The team visited the girl's school and talked with the principal. They learned the girl's struggles were well-known and the whānau was receiving support from the school and agencies.
Harry says he and Simon were keen to help – they remembered the lack of food in the house from their 'eyes wide open' scan and realised they could help relieve some of the pressure on the family.
"We knew it was the right thing to do and went straight to 0800 HUNGRY to organise a food parcel," says Harry. "Once we got that sorted we took it back to the house and unloaded inside.
"The family broke down in tears. The brother, who is anti-Police, was choked up and shook our hands and said thank you.
"We told them we hoped the food would help them de-stress a bit while they are on their journey to fixing their lives and to call Police at any time life just gets too hard."
Senior Constable Dean Stevenson, Harry and Simon's supervisor, commended their 'prevention in action' approach.
"It was a good effort from the guys," he says.
"Going that extra bit further can make a big difference to the people involved and reflects Police in a positive light, in this case with a family who may never have had a positive interaction with us before."
More on SunLive...