Accessing healthcare during Alert Level 3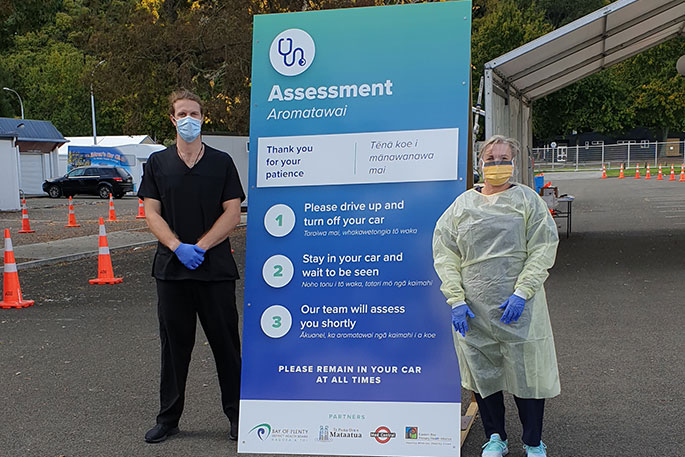 During Alert Level 3, as in Alert Level 4, medical centres and hospitals are still open.
You can access all the treatments, vaccinations and medicines that you need to stay well, whether or not you have COVID-19.
If you are concerned about any aspect of your health, call your GP. Your doctor may offer you a consultation by text, email, phone or video.
This is to stop person-to-person contact. If, however, your doctor feels you need a consultation in person, this will be organised for you.
You are allowed out during Alert Levels 3 and 4 to access medical support. You can drive to a medical centre or hospital. Just call first so you know what to do when you get there. For example, you may be asked to use a particular entrance, or to wait outside in your car until you are called.
Find the latest health information
Are you or your whānau unwell? The best ways to get support are to:
• call your family doctor for advice or information on all aspects of your health. If you think you've been exposed to COVID-19 through contact with someone who has it, it's important to let your family doctor know.

• call the dedicated COVID-19 Healthline number with any COVID-19 health-related concerns on 0800 358 5453. If you're outside New Zealand call +64 9 358 5453.

• you can also call the general Healthline number on 0800 611 116 for any other health concerns. All calls to Healthline are free and someone is available 24 hours a day, 7 days a week.

• call Plunketline if you have questions about your child or baby's health or wellbeing on 0800 933 922 and speak to a Plunket nurse. Plunketline runs 24 hours a day, 7 days a week.

• contact your midwife for support and advice during pregnancy and postnatally.

• for support with grief, anxiety, distress or mental wellbeing, you can call or text 1737 - free anytime, 24 hours a day, 7 days a week – to talk with a trained counsellor.

• In an emergency, always call 111.
If you're not sure what assistance may be available, or you don't know who to contact for help, call the Government Helpline on 0800 779 997, 8am to 10pm, 7 days a week.
COVID-19 Assessment Centres
All patients with the following symptoms are eligible to be seen at the drive-thru community-based assessment centres:
Cough
Shortness of Breath
Sore Throat
Runny Nose
All symptoms can be with or without fever. If you have your NHI number, please bring this with you. If you are unsure if you meet the eligibility, please call your General Practice or Healthline 0800 358 5433 for advice.
‍For the coming week, the operating times for the established static sites in the Eastern Bay of Plenty are as follows:
Tauranga (Trustpower Baypark Stadium, Truman Lane, Mt Maunganui, Tauranga)
| | |
| --- | --- |
| Monday-Friday | 9am-4pm |
| Saturday and Sunday | 9am-2pm |
Whakatāne (at Whakatāne War Memorial Hall)
From Monday 27 April, the times at the Whakatāne assessment centre are changing. The news times are:
From, and including Monday 27 April
Monday-Friday 9am-12.30pm
Saturday 10-4pm
Sunday Closed
Ōpōtiki (at Ōpōtiki Senior Citizens Hall)
Tuesdays 10am-2pm
Kawerau (at the Ron Hardie Recreation Centre Car Park)
Tuesdays 10am-2pm
Pop-up drive-through COVID assessment centres are continuing throughout the Eastern Bay of Plenty. The clinics ensure anyone with COVID-19 symptoms can access services without travel barriers. With future clinic times subject to change in response to the healthcare needs of the community, ongoing dates for all COVID-19 assessment clinic services will be kept up-to-date at www.tpoom.co.nz
-Sponsored content.
More on SunLive...