Virtual classrooms are a "remarkable" success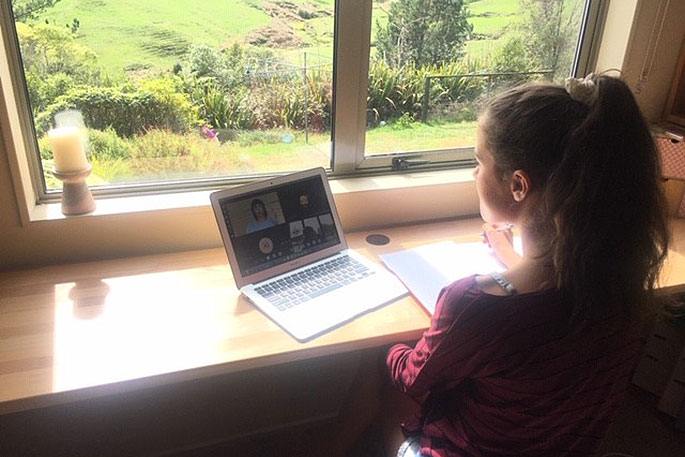 As we all adjust to a new normal with the current lockdown level conditions, teachers and staff at ACG Tauranga are doing all they can to ensure learning remains uninterrupted for their many students.
From their youngest preschool learners to the Senior College, the move to a 'virtual classroom environment' has been a success.
The Thompson family have three children who attend ACG Tauranga, Ellen in Year 9, William in Year 7 and Katharine who is the newest recruit in Year 1.
Their mum, Maria, is delighted with the online learning platforms the school has implemented and believes they are working extremely well across the whole family.
Ellen, William and Katharine have quickly adapted to the new style of school day and are enjoying their digital school experience.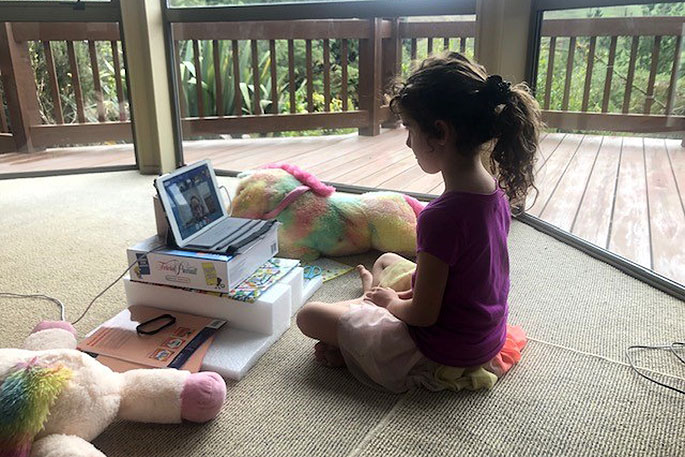 Katharine Thompson.
"We have been just so impressed with ACG Tauranga's virtual school environment, and it's quick and seamless integration. Our college-age kids are actively engaged in virtual school all day and to be able to accommodate Year 1 students too is incredible.
"My children miss seeing their friends but are connecting with them inside and outside of the virtual classroom. It helps that they are assigned both individual tasks and group work which ensures lots of contact with their peers.
"We thought that at best they would be given homework and maybe an online check-in every day, but were simply blown away that ACG have managed to maintain a full curriculum of activities from 8.30am to 3.15pm – a normal school day with all subjects being taught in the same depth and coverage as if they were in a physical classroom."
Maria admits to concerns about the amount of screen time her children might be facing but has found that, alongside academic learning, ACG Tauranga have also made engagement, collaboration and delivering lessons in more creatively interactive way a priority.
"In my daughter's Year 9 Spanish class, they were asked to create a PowerPoint presentation on either a famous Hispanic person or around baking a traditional Spanish dish. My 13-year-old chose to bake churros and within the normal timetabled slot, she had made a delicious treat and designed a PowerPoint complete with photos. After lunch, she was then able to login for a double Science lesson without feeling like she had been in front of a computer all morning."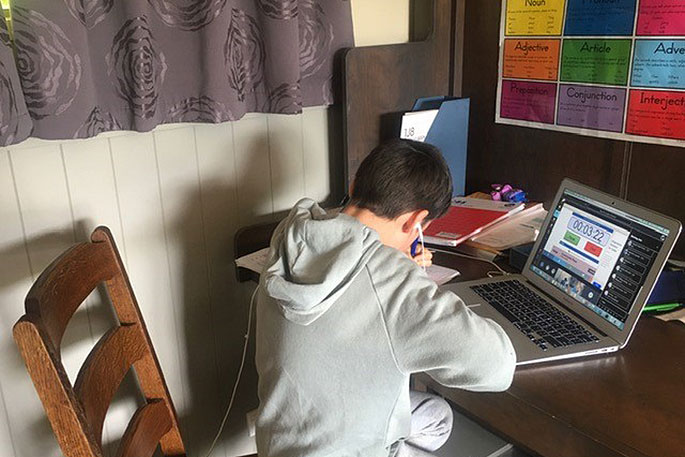 William Thompson.
Keeping younger children focussed on learning can be more of a challenge, so ACG Tauranga have also included 'mat time' which gives students a chance to talk and interact with their teacher and classmates between morning and afternoon lessons.
While enjoying the slower pace of life, the Thompson family are happy to know their children's education won't be negatively impacted by COVID-19.
-Sponsored content.
More on SunLive...