Level 4 lockdown to end on April 27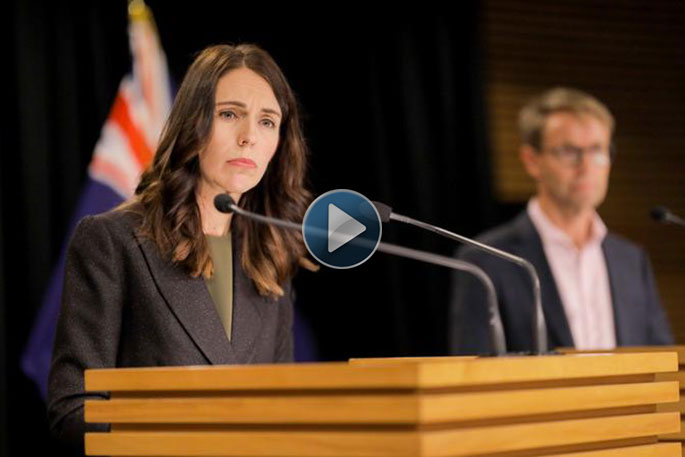 Prime Minister Jacinda Ardern has announced New Zealand will move from COVID-19 alert level 4 to alert level 3 at 11.59pm on Monday April 27.
The country will stay in alert level 3 for two weeks before a further review and alert level decision on May 11.
Prime Minister Jacinda Ardern is updating the public on Cabinets decision on whether or not to extend the alert level 4 restrictions this afternoon.
"Going hard and early to stamp out the virus, backed by an effort of 5 million New Zealanders to break the chain of transmission, means together we have helped stop the uncontrolled explosion of COVID-19 in New Zealand," Jacinda says.
"On the recommendation of the Director General of Health, who is confident there is currently no widespread undetected community transmission in New Zealand, today we are able to take a balanced approach in transitioning through alert levels and restarting our economy."
Cabinet wanted to make sure we lock in our gains, give ourselves some additional certainty, but take no more than two additional business days to do this before we restart our economy again, she says.
"We want to see kiwis back in work as soon as possible and our economy rebound before others.
Jacinda says at level 3, 400,000 more New Zealanders will return to work, with key sectors for our recovery like construction, manufacturing and forestry starting up again.
"Having our economy operating with a low threat of the virus is the competitive advantage we can seize if we get this next phase right. And I believe we can.
"But at level 3 we need to be even more vigilant and we must stick to the rules, continue to reduce contact and keep breaking the chain of transmission."
She says the country remains at level 4 until you next Tuesday.
"Let's stick with our plan and the mission we have. Stay strong, stay home, let's finish what we started."
This week businesses will be allowed to get ready to open, such as employers re-entering premises to receive stock if necessary, but they must stick to physical distancing and their bubbles.
Jacinda reiterates people should work and learn from home if they can at level 3.
"We still want the vast majority of people working from home, and children and young people learning from home. At-risk students and staff should also stay at home, and they will be supported to do so."
Early learning centres and schools will physically be open for up to Year 10 for families that need them at level 3.
Earlier: Prime Minister Jacinda Ardern will update the public on Cabinets decision on whether or not to extend the alert level 4 restrictions.
She will be speaking in Wellington following the weekly Post Cabinet press conference this afternoon.
Jacinda will be joined by Director-General of Health Dr Ashley Bloomfield live from the Beehive at 4pm.
What we know so far:
Today New Zealand's total number of COVID-19 cases has increased by nine, made up of seven new confirmed cases and two new probable cases.
There are no additional deaths to report and the total number of COVID-19 related deaths remains at 12.
Four of the cases the Ministry of Health is reporting today will continue to be investigated for links to confirmed cases.
The new combined total of confirmed and probable cases in New Zealand is 1440.
There are now 974 people with COVID-19 who have recovered – an increase of 62 on yesterday.
"Today there are 14 people in hospital with COVID-19. The total includes three people in ICU – one each in Middlemore, Dunedin and North Shore hospitals," says a statement from the Ministry of Health.
"Two of these ICU patients are in a critical condition.
"There are still 16 significant clusters – no change from yesterday. One additional case has been added to one of these clusters."
Alert Level 3 restrictions
Alert Level 3 will see many significant restrictions on New Zealanders' movements retained, but will permit aspects of the economy to reopen in a safe way that will allow the economic recovery to begin, says Prime Minister Jacinda Ardern announced.
"There are promising signs our go hard and go early elimination strategy is working and the lockdown is breaking the chain of community transmission. Any move to Level 3 cannot put those gains at risk.
"By design, Level 3 is a progression, not a rush to normality. It carries forward many of the restrictions in place at Level 4, including the requirement to mainly be at home in your bubble and to limit contact with others.
"Protecting the health of New Zealanders is our primary focus but we also need to position the economy for recovery. Importantly the test for a business opening at Level 3 moves to it being safe, rather than being essential," says Jacinda Ardern.
Changes at Level 3 include:
Minor extensions to bubbles.
Sticking to existing bubbles is recommended but some expansion is allowed if, for example, you have a caregiver that you need, children in shared care, a defacto partner who is caring for others, or you're a single person who wants the company of a sibling for example. Keep it exclusive and keep it small.
Some people can return to work and business reopens if safe
People must work from home if they can. Where that is not possible businesses may re-open but must comply with health and safety requirements around physical distancing and contactless engagement with customers.
Businesses only accessed by the staff, and without a customer facing function, such as building and construction or forestry can open under strict health and safety and physical distancing rules.
Businesses that are accessed by the public or customers such as retail, hardware stores and restaurants can open but only for online or phone purchases and contactless delivery or click and collect.
Partial reopening of education
Early childhood centres and schools will be available up to Year 10 only, but attendance is purely voluntary. For children who are able, distance learning is still the best option. Tertiary education will mostly be through distance learning.
Travel restrictions remain but move from local to regional
This recognises that more people will travel to work, or to take children to school. But to avoid taking potential COVID-19 cases to other parts of the country, restricting movement to what is necessary remains the goal.
Funerals and weddings
Funerals and weddings will be able to go ahead, but limited to 10 people. But they can only be services. No meals, food or receptions can take place.
"We have engaged with sector groups on the details announced so far. Further details will continue to be made available over the coming days," says Jacinda.
"The main message remains stay home to save lives. It remains the most effective way to break the chain of transmission. At Level 3 there are slightly more opportunities for you to come into contact with people outside your bubble. As a general rule of thumb, the goal of keeping two metres away from each other still applies.
"To eliminate COVID-19 will continue to take a team-of-five-million effort. Under lockdown we have shown our ability to put in place a virtual wall that has broken the chain of transmission. Our new line of defence when we reach Level 3 is common sense, following the rules and trust in one another."
More on SunLive...