Tauranga family's staycation success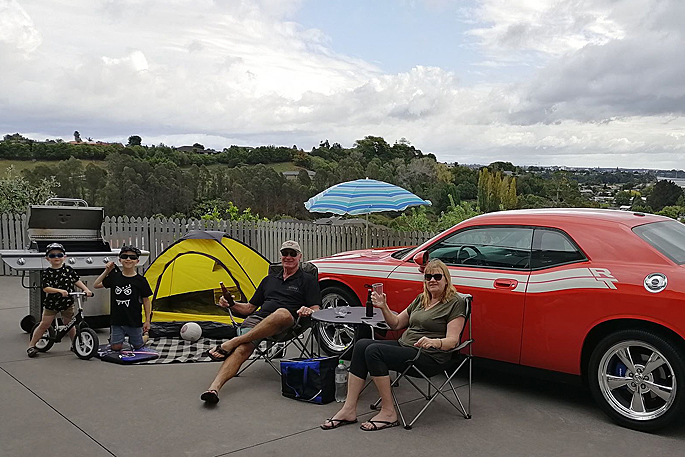 A little bit of rain isn't stopping one Tauranga family from having fun during lockdown on Staycation Day.
The Zimmerman family have set up tent in the driveway next to their pride and joy 2010 Dodge Challenger.
Jill says they are taking part in the day to entertain the grandkids and bring back memories of summer.
"Getting the grandchildren involved with something fun for them to do, it's something different.
"Also to take us back to the summer when it was really fun with the tent, [we've] just got to make the best out of what we've got at moment.
"The grandsons are having lots of fun playing in the tent."
Staycation Day, on April 18, has been created by vintage caravan expert Mike Mopar to give kiwis something different to do during lockdown especially as many people would normally go away for Easter weekend.
"So many of us have amazing caravans, camping gear and outdoor equipment," says Mike.
"We decided that being shut at home is no excuse not to use what we have.
"We created this initiative to help families amuse the kids during the school holidays and enjoy a change of scenery, even if it's only a few feet from their back door."
Jill's daughter Sarah and her sons Brooklyn and Austin live with her and husband Chris in their Welcome Bay home.
The Zimmermans are not strangers to camping in the backyard during the summer school holidays they set up the tent in the backyard instead of their usual summer break.
"The kids love it. It was good because every night at dinner time when we barbecued out on the deck they played in the tent waited for dinner to be ready and it worked out really good."
Normally Jill and Chris would head to Whangamata for long weekends and Beach Hop but seeing the classic car event has been postponed due to COVID-19 they are making the most of things at home.
"I think we've only missed one or two beach hops in 20 years," says Jill.
They were "absolutely gutted" when they found out Beach Hop had been postponed but are looking forward to going to the rescheduled event in November.
"Anything to do with cars we're there."
Mike says Staycation Day is a good way to break up the monotony of the nationwide lockdown.
"Everyone has been at home for quite a while now.
"Set up your tents, caravans and motorhomes, fire up the BBQ, stock up the chilly bin and play a few rounds of backyard cricket.
"You'll feel like you're on holidays, even though you're at home."
Jill and the family have been enjoying the day so far and will finish it off with traditional Kiwi barbecue.
More on SunLive...