Strength tipped for BOP commercial property sector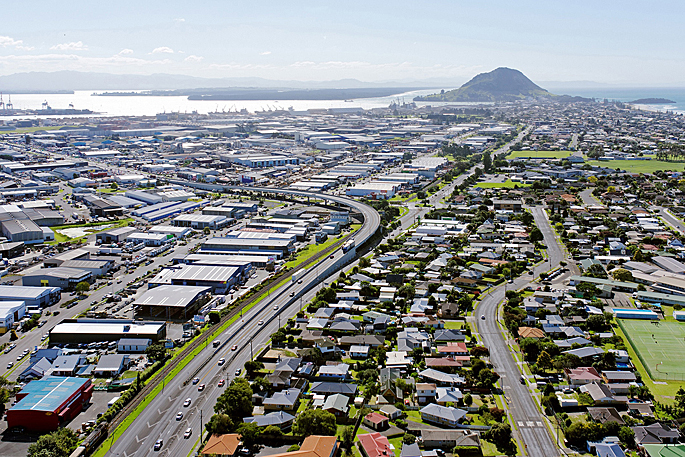 As Covid-19 floods the economic outlook with uncertainty, research from a real estate organisation suggests Tauranga's commercial property sector is entering the 'new normal' from a position of strength and the region's economic makeup promises future resilience.

Market analysis conducted by Bayleys Real Estate suggests that long-term economic and demographic factors will help to buffer the Bay of Plenty's commercial and industrial property market against major impacts from the coronavirus.

Bayleys Tauranga commercial sales manager Mark Walton says the full market implications from the coronavirus would take time to emerge. Bayleys' research was carried out before the business impacts of the virus and lockdown, but the findings offered cause for optimism for the Bay of Plenty.

"Tauranga and the Bay of Plenty will not be immune to the global economic impacts of coronavirus. But our analysis points to longstanding demographic and economic drivers which see our fast-growing region approaching these challenges from a strong position, and these will help to underpin long-term commercial property fundamentals," says Mark.

He says the research pointed to a stretched supply-and-demand legacy after years of population growth, and an ongoing economic stimulus from large-scale projects – both of which would help to cushion the region's commercial property scene from the impacts of an economic downturn.

"Added to this, the Bay's reliance on core horticultural and agricultural industries – 'essential services' in the language of lockdown – are helping to keep the economic wheels turning. The world still needs to eat, and that won't change.

"The Bay will continue to benefit from supplying that demand for primary products – and that will be an ongoing source of resilience for the region."

Key infrastructure would lend further support, with a third of New Zealand's exports passing through the Port of Tauranga, underpinning demand for industrial property, he says.

The local economy and property market would also derive ongoing benefits from major investments in road improvements, such as the $455 million Tauranga Eastern Link (TEL) motorway from Te Maunga junction to Paengaroa; the $45 million Maungatapu underpass between Welcome Bay and Turret Road; and the $102 million Baypark to Bayfair link upgrade adding two flyovers on State Highway 2, improving the link to the Port of Tauranga and connecting to the TEL.

"In addition to these investments, a number of 'shovel-ready' projects have been identified that could form part of the post-Covid-19 stimulus package to boost economic recovery," says Mark.

"These include roading projects such as the State Highway 2 Northern Link; land infrastructure development in the Eastern Corridor and at Tauriko West; city and port rail link alignments; urban intensification and public transport improvements at Te Papa Peninsula; and commercial ferry links for Tauranga-Mount Maunganui."

Bayleys' analysis provided a detailed picture of the strength the region's commercial property sector was carrying into the new, challenging environment, he says.

The research revealed that demand for commercial and industrial space had been growing strongly in Tauranga as the local economy boomed off the back of a fast-growing population, thriving agricultural industries and record trade volumes. A flourishing construction sector had delivered a raft of new property as development ramped up to meet demand.

"Conditions have been particularly tight in the industrial sector, where vacancies have hit historical lows, intensifying upward pressure on rents. Tauranga has also seen considerable investment demand for commercial and industrial property, with increasing interest from out-of-towners."

Between 2012 and 2019, annual investment sales averaged around $210 million, with a spike between 2015 and 2017 driven by a combination of more transactions and the sale of high-value institutional grade properties – including the new Trust Power building in 2015 for $41.2 million and 306 Cameron Road in 2016 for $41.5 million.

Yields for quality space remained tight across all major sectors. Industrial property, in particular, had seen yields tighten for both prime and secondary assets. Prime industrial yields now ranged between 4.5 and 5.5 percent – tighter than office or retail yields.

"In short, the demand for commercial and industrial property from tenants and investors has been far outstripping supply, which will help to underpin values and returns for landlords."

Growing demand for industrial space had led to tight conditions in all of Tauranga's major industrial areas. The overall vacancy rate was 2.4 percent in the third quarter of 2018, down from 4.4 percent a year earlier. The southern suburb of Greerton recorded the lowest vacancy at 1 percent.

Vacancies have risen marginally in nearby Tauriko, due to the completion of speculative developments at survey time – including multiple, smaller strata units, most of which had since been sold or leased. The Mount Maunganui industrial precinct, linked to the Port of Tauranga, had performed exceptionally well.

To the east, tight vacancies in Papamoa reflected growth constraints due to encroaching residential development. Rapidly falling vacancy in Judea near the CBD – home to largely older, secondary-grade real estate – reflected just how tight conditions had become across the city.

Mark says these conditions had driven across-the-board rises in industrial rents and further yield compression.

Land values had grown significantly, particularly in Mount Maunganui where prime industrial land sells for up to $1,100 per square metre. Industrial land values in the Tauriko business Park were now reaching around $500 per square metre and there remained a substantial shortage of vacant industrial land across Tauranga and the Western Bay of Plenty.

Supply of future industrial land was likely to come from greenfield areas such as the 250-hectare Rangiuru Business Park, near Te Puke – though supporting infrastructure would be required, he says.

Meanwhile, Bayleys' research pointed to multiple developments which were delivering a more vibrant Tauranga city centre – lending support to long-term commercial property fundamentals across the CBD.

These projects were led by the $130 million redevelopment of the Farmers building on the corner of Devonport Road and Elizabeth Street, to house 8,000 square metres of retail, 23 townhouses, 96 apartments and 322 parking spaces.

Other office, co-working and mixed-use developments, along with apartments, were on the way amid major civic and amenity improvements – including a new central library, civic administration building, open spaces and a hotel and conference centre.

The new $39 million-plus University of Waikato campus is set to bring 1,800 students into the CBD once fully operational, creating new demand for accommodation.
Further student accommodation worth $54 million is in the pipeline. A residential consent to build a $14 million four-storey student living facility and separate manager's accommodation on Selwyn Street, was approved in February. Resource consent for a $40 million tertiary student accommodation complex with 392 rooms on Durham Street, near the city's Waikato University campus, had also been granted.

The CBD was also poised to gain a lift from the project to turn Wharf Street into a pedestrian-friendly 'eat street'.

"Together, these major projects amount to a major rejuvenation of the CBD, which will support demand for commercial space to serve a growing concentration of apartment dwellers, students and workers.

"While retail and hospitality are currently bearing the full brunt of Covid-19 restrictions, and it's unclear when the sectors will emerge into a 'new normal', this once-in-a-generation renaissance of the central city will support recovery and add to the CBD's long-term attractiveness as a location for commercial property."

Bayleys' research noted that many larger office occupiers were well-housed in modern space along Cameron Road, and the city centre improvements had already lifted interest among smaller occupiers to venture back into the CBD.

New office builds in recent years had added to the stock of prime space, seeing rents generally tracking sideways while space was absorbed. Though there was solid investment demand, opportunities to buy well-let, modern office premises had remained limited.

Mark says Bayleys' analysis had shown that rising consumer spending, driven higher by sustained population and business growth, had provided a catalyst for new retail development.

Beyond the projects in the CBD, this had given rise to retail centre developments including the 70,000-square metre Tauranga Crossing, housing brands including PAK'nSAVE, Noel Leeming, The Warehouse, H&M and Event Cinemas.

A $155 million staged expansion of Bayfair Shopping Centre was increasing its footprint by 9,000 square metres, to 42,000 square metres – with 150 stores, a new Countdown supermarket, an all-weather dining precinct and, due to open in the final stage, a new seven-screen cinema complex.

Suburban shopping centre rents had been rising as new developments had set new benchmark levels, especially with the arrival of global brands such as H&M, Mark says
More on SunLive...