Tauranga students learning in lockdown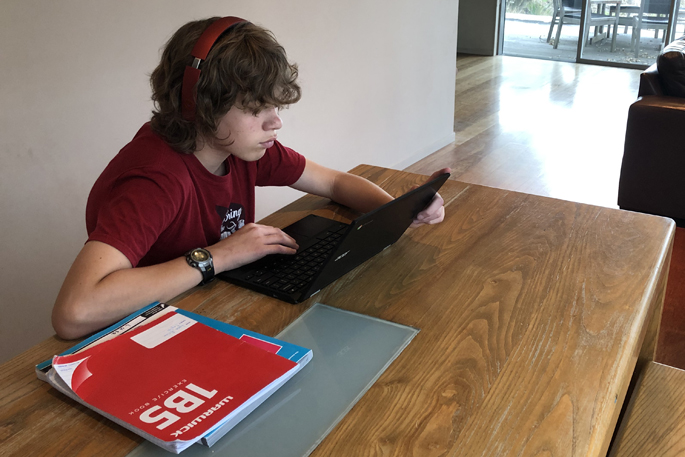 Tauranga students are relieved to be getting back into learning this week as term-two kicks off across the country.
But the first week of this term has been very different from most. Pupils in lockdown are learning from at-home classrooms, connecting with teachers and classmates through videoconference.
Mount Maunganui College year nine student Luca Ririnui says getting stuck into remote learning this week had its challenges, but overall was really enjoyable.
He and his three other siblings have been juggling rooms in the house to find privacy when participating in lessons over Zoom.
"I am relieved to be back - it gives us more things to occupy our time with rather than just sitting around."
He says his teachers have different ways of connecting with students.
"Some of them check in more often with a Zoom call, and others set work over a longer period.
"We also can e-mail them whenever, and some teachers have set up online chats for us to reach out when we need to."
Science, maths, english, physical education, social studies, drama and food technology are Luca's set subjects this term.
For hands-on classes like food technology, most of the work assigned in lockdown will be theory-based, he says.
"We have just been given a project on the ANZAC biscuit, - we have to find out about the history of it and the original recipe.
"At the end, there is an option to make the recipe if you have the supplies to do baking at home."
In his eyes, there are some real benefits to doing schoolwork remotely.
"It allows you to work at your own pace. If you are a bit behind you can take some extra time to catch-up, or if you are ahead there are resources for you to extend yourself."
Luca's mum Lee Martin says Mount Maunganui College is prioritising their students staying healthy and connected, rather than pushing academic work.
"However, the teachers have been great in setting specific tasks which can be submitted online.
"They have been making themselves available for whole group and small class instruction through online video chats which are providing the kids with some structure."
Luca says he doesn't have one designated learning space. "It's all over the place - if I have a call then I go to a room by myself but otherwise I am at the dining table or sitting in a chair in the lounge."
During his two week break in lockdown, he filled his time "reading, eating, chatting with friends online and sleeping." Partial reopening of education
Early childhood centres and schools will be available up to Year 10 only, but attendance is purely voluntary. For children who are able, distance learning is still the best option. Tertiary education will mostly be through distance learning.
Yesterday Prime Minister Jacinda Ardern announced schools will be open up to Year 10 only under level 3 restrictions, reiterating that attendance is purely voluntary.
More on SunLive...