Missing gigs and events? Check out MyTauranga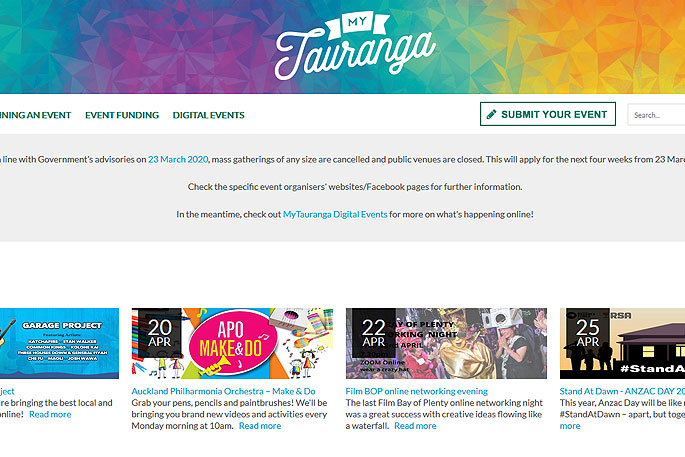 Tauranga loves its events. From farmers markets to festivals, and everything in between, there's never been a shortage of things to do in the city. Until COVID-19.
Life in lockdown has seen the cancellation of events across the country and many of us are missing the buzz of live gigs, the excitement that comes from learning new skills at a workshop, or simply attending a family-friendly event that keeps the little ones happy.
"We know our community is crying out for opportunities to connect and engage with one another through events, which is why Tauranga City Council has turned it's MyTauranga website into a virtual hub of live performance, online workshops, movie festivals, virtual exhibition tours and more," says Gareth Wallis, Tauranga City Council Community Services General Manager.
"With COVID-19 dominating every facet of life, now more than ever people could probably do with some entertainment, which is the reason we have created the online hub.
"Although it's important for people to stay informed about COVID-19, it can be a bit overwhelming and we saw a need to create an escape for people. Especially with kids at home while parents are still trying to work."
Gareth says the online platform is driven by the desire to help artists, promoters and event organisers who are severely impacted by the alert level 4 lockdown.
"Being an event organiser is a hard job at the best of times, so we really wanted to find a way to support them during this pandemic.
"Some events have moved online, and we want to help promote them the best we can. If there are any local event organisers or artists doing anything online, we encourage them to get in touch so we can help share their work."
MyTauranga Digital Events is a curated collection of online performances and workshops from New Zealand and around the world, catering to all ages.
The digital events include art exhibitions, DIY workshops and interactive programs for the kid's like the Auckland Philharmonic Orchestra's weekly Make and Do programme.
For those missing live gigs, there are events like Pato Entertainment's One Love Garage Project which will be streaming performances from local and international artists.
For ANZAC day, to support the #StandAtDawn campaign, Tauranga Libraries and Tauranga Heritage Collection have put together a selection of local historic photos.
For a list of digital events, visit MyTauranga.co.nz. New events will continue to be added and we invite artists and event organisers to list their events through the website too.
For more information visit MyTauranga.co.nz and follow @MyTauranga on Facebook.
More on SunLive...