Nursing students on the frontline of COVID-19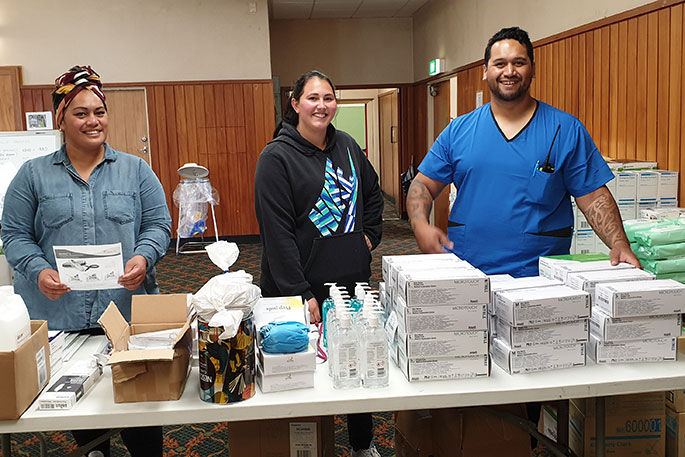 Three second year nursing students from Te Whare Wānanga o Awanuiārangi are getting work experience beyond expectations on the front line of the Whakatāne drive through COVID-19 Community Based Assessment Centre.
Brother and sister, Andre Aramoana and Jessie-Lee Tuari-Hape from Kutarere and their class mate Chelsea Aim-Linstead from Ōpōtiki were approached by a friend who works at the Eastern Bay Primary Health Alliance to lend a hand at the Whakatāne CBAC at the War Memorial Hall, and leapt at the chance.
"We're blessed to have this opportunity and totally soaking up this experience," says Andre who, along with his sister, are fluent in te reo Māori.
The CBAC, operated by Te Puna Ora o Mataatua and EBPHA with support from the Bay of Plenty District Health Board, opens and closes each day with a karakia.
The kaupapa Māori approach is one that the students really value.
"Just observing and listening we are learning a lot. The doctors and nurses have been giving us practical advice about our career paths," says Andre.
"You can hear their hearts, it's more than just a job for them – and for us it's really inspiring."
While the students don't have the expertise to give clinical advice, they are a calming influence.
"Some people pull up in tears; they're really worried and anxious. It's important to reassure them that they are in the right place and give them information about COVID-19 and how to stay safe," says Jessie-Lee.
As well as doing administration tasks alongside doctors and nurses on the front line, the trio have also been working behind the scenes inputting data.
"We can see the big picture, the logistics of how it all works and the importance of collecting the data," says Jessie-Lee.
The scale of this work experience that all three agree, they've never been exposed to before.
CBAC Site Manager Ngaire Lewis from EBPHA says the trio has been a great addition to the team.
"This is about encouraging and supporting the next generation of health workers in our community. COVID-19 is possibly the biggest health issue in their lifetime and they are part of the response and making connections with health workers that will be beneficial for them going forward."
This week the trio hope to have an opportunity to help out at the Ōpōtiki CBAC – providing familiar friendly faces in what for many is a stressful time.
For more information and opening hours of local Community Based Assessment Centres, visit https://covid19.bopdhb.govt.nz or phone 0800 358 5453.
-Sponsored content
More on SunLive...